Child Development and Learning eBook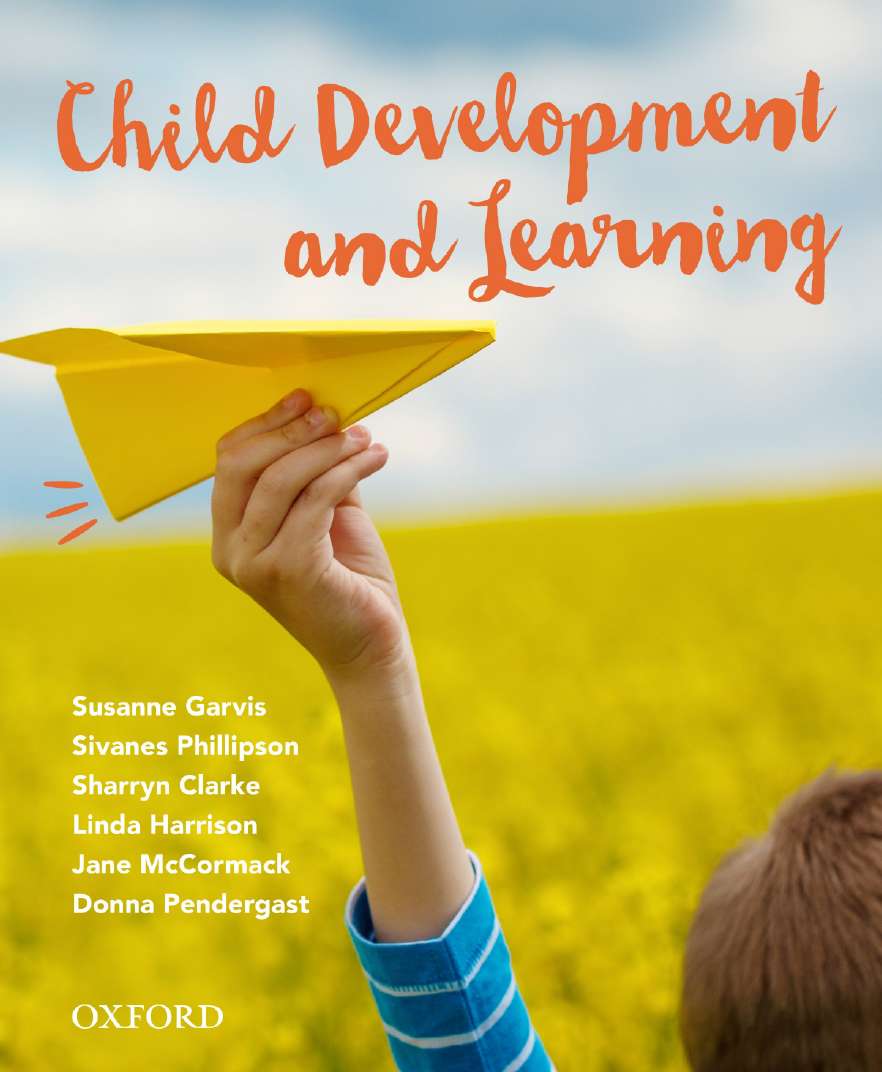 Child Development and Learning eBook
| | |
| --- | --- |
| ISBN: | 9780190306410 |
| Binding: | Ebook |
| Published: | 1 Aug 2018 |
| Availability: | Available |
| Series: | |
$89.95 AUD
$102.99 NZD
Add To Cart
Description
The theoretical, practical and planning guide to understanding child development and learning
Child Development and Learning integrates concepts of learning and development into one concise text for child development. With a clear and engaging style, it presents up-to-date research while offering practical applications that will relate to students' personal and professional lives. This book takes a holistic focus to understanding child development, incorporating the age ranges from infancy to adolescence. Within each of the five sections of the book there are four chapters based on chronological age, which look at the developmental stages within each domain. The sixth section provides an overview of how to plan for the five sections within the Australian education system, from early childhood education and care through the primary school years and senior schooling. Child Development and Learning allows students to link theoretical concepts with practical strategies while providing examples of how to effectively program and plan for learning and development.

Key Features
Covers the full age range of birth to 18 divided into the four categories of infancy (birth – 2 years), early childhood (3 – 8 years), middle childhood (9 – 13 years) and adolescence (14 – 18 years)
Provides important links with the Australian Curriculum and framework across birth to 18 years of age
Includes research based evidence and practical strategies
Each chapter includes a number of images, figures and links to custom videos
Stop and Think questions invite students to critically think about the content they are reading
Recommended further readings and revision questions are at the end of each chapter
Includes a section dedicated to Australian teacher education programs, providing links to Australian Curriculum documents along with examples of how to effectively program and plan for learning
and development.
Contents
PART 1: PHYSICAL DEVELOPMENT
1. Infancy Physical Development
2. Early Childhood Physical Development
3. Middle Childhood Physical Development
4. Adolescent Physical Development

PART 2: COGNITIVE DEVELOPMENT
5. Infancy Cognitive Development
6. Early Childhood Cognitive Development
7. Middle Childhood Cognitive Development
8. Adolescent Cognitive Development
PART 3: LANGUAGE AND COMMUNICATION DEVELOPMENT
9. Infancy Language and Communication Development
10. Early Childhood Language and Communication Development
11. Middle Childhood Language and Communication Development
12. Adolescent Language and Communication Development
PART 4: SOCIAL DEVELOPMENT
13. Infancy Social Development
14. Early Childhood Social Development
15. Middle Childhood Social Development
16. Adolescent Social Development
PART 5: EMOTIONAL DEVELOPMENT
17. Infancy Emotional Development
18. Early Childhood Emotional Development
19. Middle Childhood Emotional Development
20. Adolescent Emotional Development
PART 6: PROGRAMMING AND PLANNING FOR LEARNING AND DEVELOPMENT
21. Programming and Planning for Australian Early Childhood Education and Care
With Jenny Dwyer
22. Programming and Planning for Australian Primary Schools
23. Programming and Planning for Australian Secondary Schools
Authors
Susanne Garvis - Professor in the Department of Education, Communication and Learning, University of Gothenburg, Sweden and Guest Professor, Stockholm University, Sweden
Sivanes Phillipson - Professor of Education and Associate Dean International, Faculty of Health, Arts and Design, Swinburne University of Technology
Sharryn Clarke - Early Years Lecturer, Monash University
Linda Harrison - Professorial Research Fellow in Early Childhood Education, Macquarie University and Adjunct Professor of Early Childhood Education, Charles Sturt University
Jane McCormack - Senior Lecturer in Speech Pathology, Australian Catholic University and Adjunct Associate Professor, School of Education, Charles Sturt University
Donna Pendergast - Dean and Head of the School of Education and Professional Studies, Griffith University
Lecturer Resources
Lecturer Resources are available for lecturers prescribing Child Development and Learning for their course:
Instructor's Resource Manual
Test bank including short answer questions, true/false statements and multiple choice questions
Image bank
PowerPoint slides.
Request an inspection copy