Second Opinion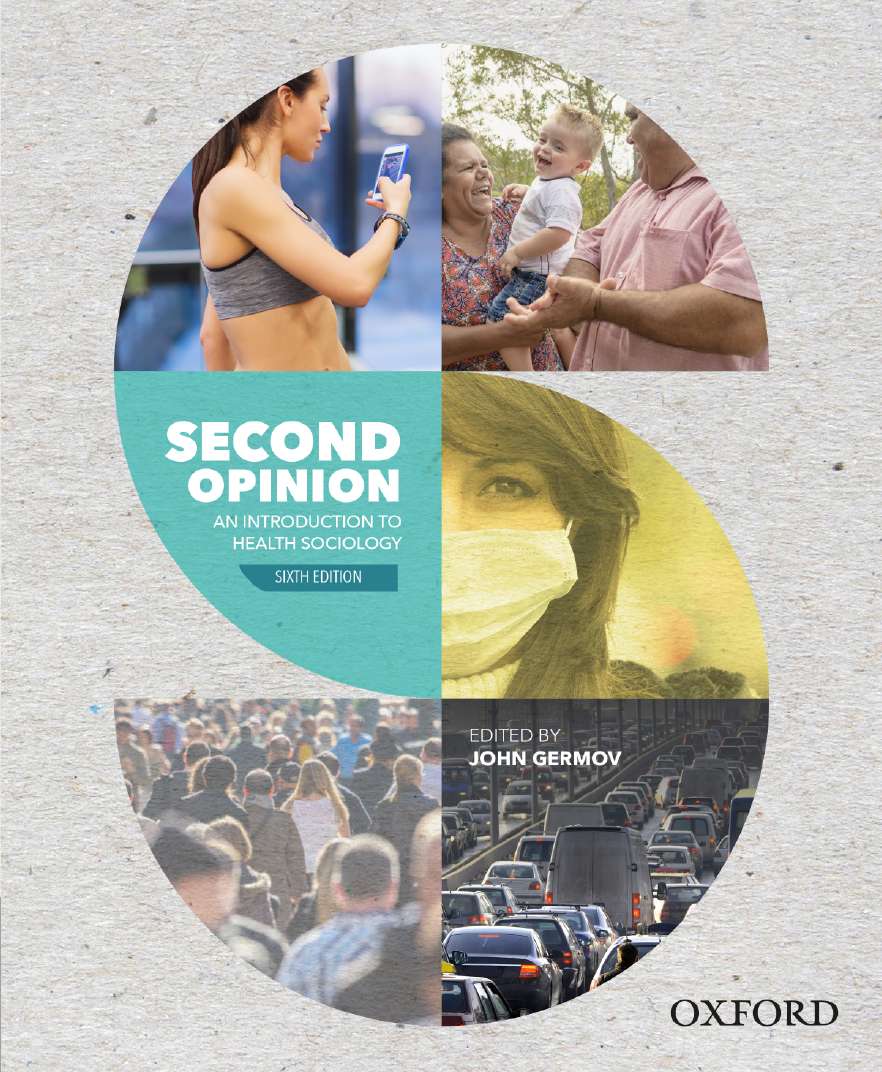 Second Opinion
| | |
| --- | --- |
| ISBN: | 9780190306489 |
| Binding: | Paperback |
| Published: | |
| Availability: | 524 |
| Series: | |
$113.95 AUD
$128.99 NZD
Add To Cart
Other options: Ebook $95.95 AUD $110.99 NZD Ebook Rental $57.95 AUD $65.99 NZD
Request an inspection copy
Description
Second Opinion: An Introduction to Health Sociology, sixth edition, is the leading health sociology textbook for Australian students. Accompanied by comprehensive online resources with innovative teaching and learning materials, this outstanding teaching text introduces students to the theories, concepts, issues and contexts of health sociology.

NEW TO THIS EDITION
New chapters: 11 – Young People's Health; 12 – The Social Determinants of Obesity; 18 – Health and Medical Technology
Chapter introductory vignettes encourage a sociologically reflexive approach
Doing Health Sociology boxes link theory to practice as well as highlight sociological research and theories for informing health care practice, health policy, and public understanding of the social origins of health and illness
Pause and Reflect questions have been integrated to assist in students' understanding of the content
Up-to-date documentaries and films that relate to chapter themes.
Contents
PART 1: HEALTH SOCIOLOGY AND THE SOCIAL MODEL OF HEALTH1. Imagining Health Problems as Social Issues
John Germov
2. Theorising Health: Major Theoretical Perspectives in Health Sociology
John Germov
3. Well-being and Wellness
Daniela Heil

PART 2: THE SOCIAL PRODUCTION AND DISTRIBUTION OF HEALTH AND ILLNESS4. Global Public Health
Alex Broom, Katherine Kenny, and John Germov
5. The Class Origins of Health Inequality
John Germov
6. Workplace Health
Toni Schofield and John Germov
7. Gendered Health
Dorothy Broom, Maria Freij, and John Germov
8. Indigenous Health: The Slow Road to Equity
Dennis Gray, Sherry Saggers, and Annalee Stearne
9. Ethnicity, Health, and Multiculturalism
Roberta Julian
10. Rural Health
Clarissa Hughes
11. Young People's Health
Julia Coffey

PART 3: THE SOCIAL CONSTRUCTION OF HEALTH AND ILLNESS12. The Social Determinants of Obesity
Lauren Williams and John Germov
13. The Medicalisation of Deviance
Sharyn L. Roach Anleu
14. Mental Illness: Understandings, Experience, and Service Provision
Anne-Maree Sawyer
15. The Illness Experience: Lay Perspectives, Disability, and Chronic Illness
Daphne Habibis
16. Drug Use and Abuse in Australia: Social Origins, Impacts, and Responses
Maria Freij and John Germov
17. Ageing, Health, and the Demographic Revolution
Marilyn Poole
18. Health and Medical Technology
Caragh Brosnan and Alex Dumas
19. Media and Health: Moral Panics, Miracles, and Medicalisation
John Germov and Maria Freij

PART 4: THE SOCIAL ORGANISATION OF HEALTH CARE: PROFESSIONS, POLITICS AND POLICIES20. Power, Politics, and Health Care
John Germov and Helen Belcher
21. Challenges to Medical Dominance
John Germov
22. The Sociology of Nursing
Helen Keleher and Melissa-Jane Belle
23. The Sociology of Complementary and Alternative Medicine
Alex Broom and Katherine Kenny
24. The Sociology of Allied Health
Lauren Williams and Tanya Lawlis
25. A Sociology of Health Promotion
John Germov, Maria Freij, and Katy Richmond

Appendix: Tips on Planning, Writing, and Referencing Health Sociology Essays
Glossary
Index
Authors
Lecturer Resources
Lecturer Resources are available for lecturers prescribing Second Opinion: An Introduction to Health Sociology, sixth edition, for their course:
Instructor's Resource Manual
Test bank of multiple choice questions
Image bank.
Request an inspection copy