Social Work eBook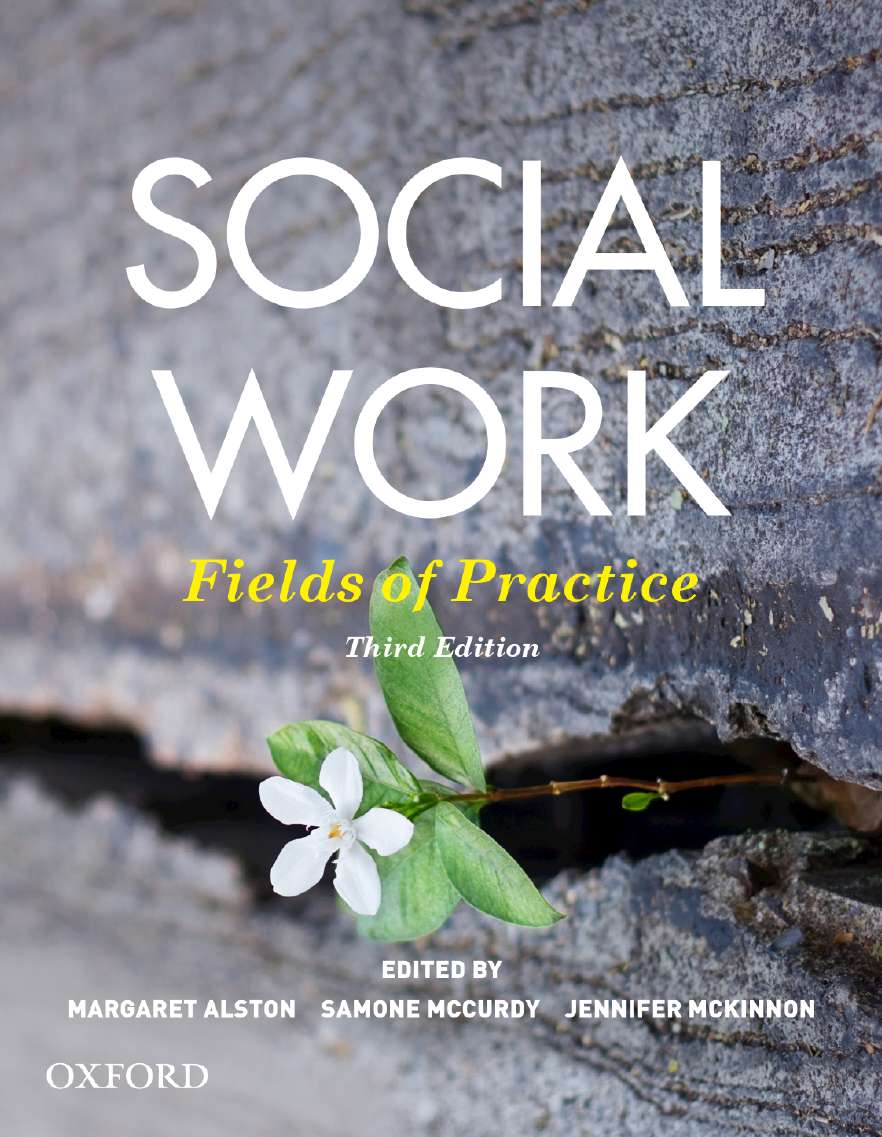 Social Work eBook
| | |
| --- | --- |
| ISBN: | 9780190309886 |
| Binding: | Ebook |
| Published: | 14 Mar 2018 |
| Availability: | Available |
| Series: | |
$78.95 AUD
$90.99 NZD
Add To Cart
Description
An expert guide to Social Work Fields of Practice.
Social Work: Fields of Practice, third edition, takes the form of a conversation with students by experts in the field. The chapters gradually unfold to cover many of the fields of practice a social worker is likely to encounter while working in the field. Short, concise chapters allow students and lecturers a flexible approach to learning and teaching as they move through the book in an order that suits them. The book begins by examining groups social workers may work with across the various fields and then explains the fields of practice by drawing on the experience and practice wisdom of each chapter author. It covers the eight core fields of practice mandatory for students to achieve accreditation, before addressing additional new and emerging fields in social work. Social Work: Fields of Practice provides an excellent grounding for social work students and ensures that they are well prepared for work in the social work field.

KEY FEATURES
A high profile team of three lead authors and 25 contributors – all specialists in their field with a wealth of experience
Covers the eight core fields of practice mandatory for students to achieve accreditation into the social work profession (as determined by AASW)
Addresses a wide range of fields of practice including the social work priority areas of Cultural Diversity, Indigenous Australians, Child Protection and Mental Health
Chapter objectives appear at the start of every chapter, outlining the key themes discussed in the chapter
Key terms appear at the start of each chapter and research boxes explain the field of practice through data and research details
Case studies provide either clinical or real-world examples engaging students in day-to-day practice
Review questions and further reading suggestions are at the end of each chapter.
Contents
CONTENTS
Context of Contemporary Social Work Practice
Margaret Alston, Samone McCurdy and Jennifer McKinnon

PART I: WORKING WITH PARTICULAR GROUPS AND COMMUNITIES OF INTEREST
1. Working with Women: A gendered analysis of social work practice
Margaret Alston
2. Social Work with LGBTI Clients
Mark Hughes
3. Social Work and People with Disabilities
Wendy Bowles and Marie Sheahan
4. Social Work and Indigenous Australians
Bindi Bennett and Sue Green
5. Social Work Practice with Ethnically and Culturally Diverse Clients
Linda Briskman
6. Working with Young People
Karen Healy
7. Working With Older People (Gerontological Social Work)
Mark Hughes and Karen Heycox

PART II: SOCIAL WORK PRACTICE SETTINGS
8. Social Work in Healthcare Settings
Fiona McDermott and Glenda Bawden
9. Social Work in Educational Settings
Louise Oliario
10. Social Work Practice in Mental Health Settings
Rosemary Sheehan and Melissa Petrakis
11. Social Work in the Field of Income Maintenance and Employment
Philip Mendes and Desley Hargreaves
12. Social Work in Child Protection Settings
Claire Tilbury
13. Criminal Justice: Extending the Social Work Focus
Chris Trotter
14. Social Work in the Domestic Violence Sector
Donna Chung

PART III: NICHE SOCIAL WORK PRACTICE FIELDS
15. Social Work in Rural and Remote Australia
Sarah Wendt
16. Palliative Care
Carol Quayle
17. International Social Work
Samone McCurdy

PART IV: EMERGING TRENDS AND ISSUES IN SOCIAL WORK
18. Social Work, Sustainability and the Environment
Heather Boetto and Jennifer McKinnon
19. Social Work in Post-disaster Sites
Tricia Hazeleger, Margaret Alston and Desley Hargreaves
20. Understanding Trauma and Resilience
Louise Harms
21. The Changing Face of Social Work in China
Zhaoen Pan (Penny) and Kerri Whittenbury
Authors
Margaret Alston - Professor, School of Humanities and Social Science, Newcastle University
Samone McCurdy - Lecturer, School of Social Work, Monash University
Jennifer McKinnon - Adjunct Professor, School of Human Services and Social Work, Charles Sturt University
Request an inspection copy