Mental Health and Collaborative Community Practice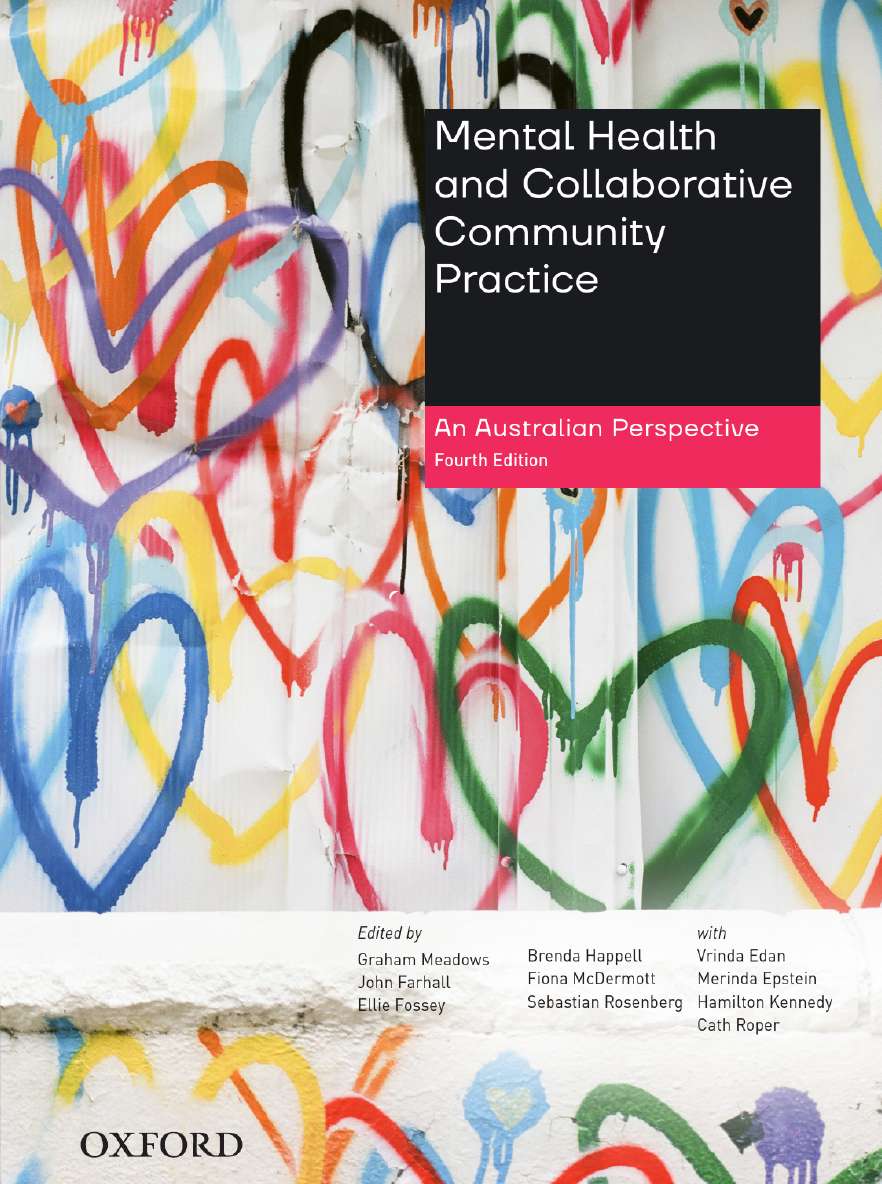 Mental Health and Collaborative Community Practice
| | |
| --- | --- |
| ISBN: | 9780190309916 |
| Binding: | Paperback |
| Published: | 5 Nov 2020 |
| Availability: | 0 |
| Series: | |
$139.95 AUD
$160.99 NZD
Add To Cart
Request an inspection copy
Description
A comprehensive reference on mental health in Australia and internationally
Mental Health and Collaborative Community Practice: An Australian Perspective is an authoritative, comprehensive reference on the state of mental health and mental health care in Australia and internationally. It provides the latest information on descriptions of the disorders, policy, and treatments for mental illness.
The fourth edition is updated with the most recent changes to policy and practice, including incorporating the new diagnostic tool ICD-11. With a strong focus on community collaboration and recovery and through the many stories of mental health care that are woven into the descriptions of disorders and their treatments, this edition provides guidance for a more personal approach to mental health care. An extended team of authors, editors and associate editors provide their interdisciplinary perspectives and lived experience to help readers understand and connect with the broad facets of mental health care.
NEW TO THIS EDITION
New associate editors with lived experience of mental health problems enable accuracy and respect to how people with mental illness feel about themselves and respond to medical, psychosocial and other interventions
New chapters engage with issues of social determinants and needs of specific groups in the community while others extend the range of diagnoses considered
New examples of mental health disorders and treatment in practice including personal stories of people with a mental illness and their experience of mental health care.
Contents
Part 1: The context for contemporary mental health care
1.1 Mental health care as a complex system
1.2 Critical environmental and social determinants of mental health problems and their care
1.3 Specific community perspectives in mental health
1.4 Advancing knowledge in mental health care
1.5 Delivering mental health care
1.6 Information on Australian mental health and its mental health care system
1.7 Mental health services across Australia
Part 2: Principles for collaborative community practice
2.1 Who provides mental health care and support?
2.2 Working collaboratively
2.3 Assessment in mental health
2.4 Case management
2.5 Psychopharmacology
2.6 Supporting recovery and wellness
2.7 Working with families
Part 3: Mental health problems considered in the context of the lifespan
3.1 Childhood mental health
3.2 Youth mental health
3.3 Mental health of older adults
Part 4: Mental health problems considered in terms of disorders
4.1 Neurodevelopmental disorders and associated psychiatric disorders
4.2 Schizophrenia or other primary psychotic disorders
4.3 Mood disorders
4.4 Anxiety, fear, obsessive-compulsive, stress-related and dissociative disorders
4.5 Feeding or eating disorders
4.6 Disorders of bodily distress or bodily experience, factitious disorders, and psychological or behavioural factors affecting disorders or diseases
4.7 Substance use disorders
4.8 Gambling and gaming disorders
4.9 Personality disorders
Authors
Graham Meadows is Professor of Adult Psychiatry at Monash University and Director of Southern Synergy at Monash Health.
John Farhall is Associate Professor of Psychology at La Trobe University and Consultant Clinical Psychologist at NorthWestern Mental Health.
Ellie Fossey is Professor and Head of Occupational Therapy at Monash University and Adjunct Professor in the Living with Disability Research Centre at La Trobe University.
Brenda Happell is Professor of Nursing at the University of Canberra and Executive Director of Synergy at ACT Health.
Fiona McDermott is Associate Professor in Social Work at Monash University.
Sebastian Rosenberg is Head of Mental Health Policy at the Australian National University and Senior Lecturer in Mental Health Policy at the University of Sydney.
Request an inspection copy