Mental Health and Collaborative Community Practice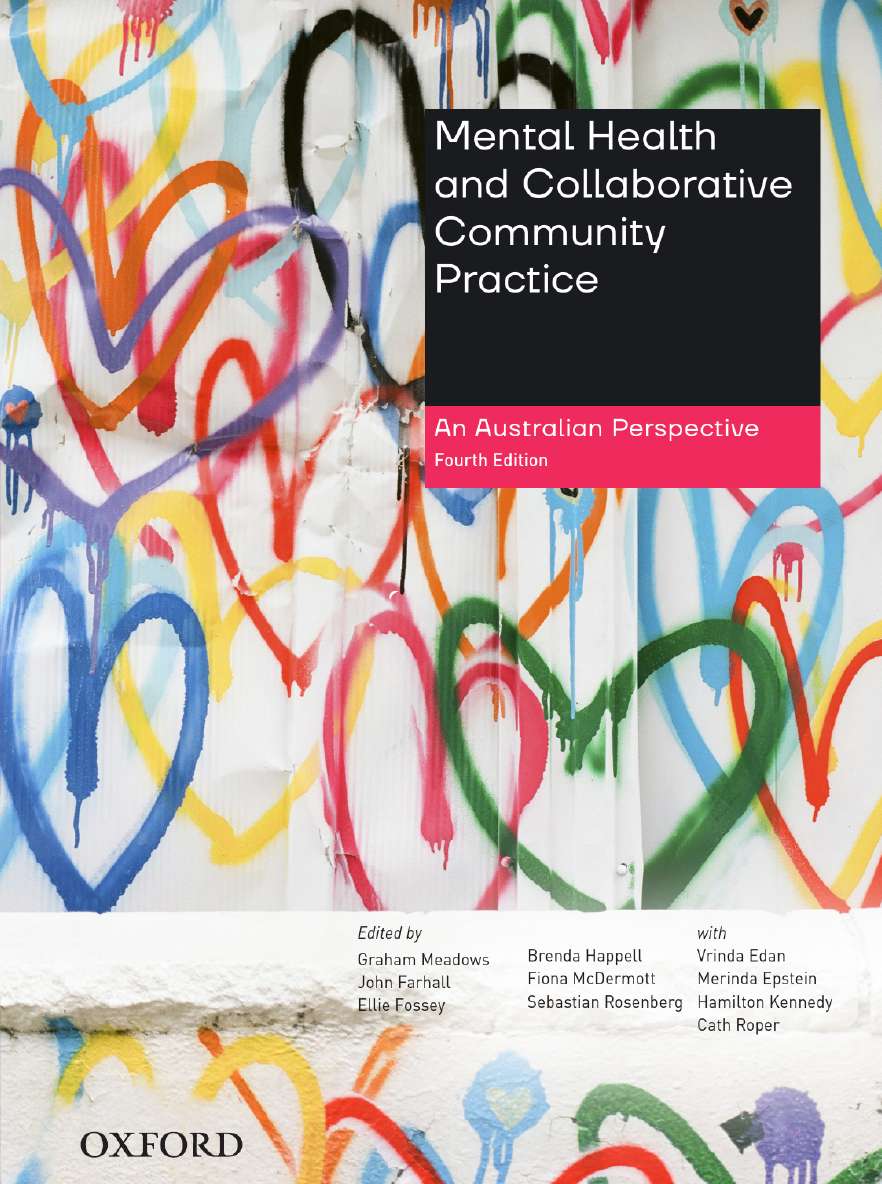 Mental Health and Collaborative Community Practice
| | |
| --- | --- |
| ISBN: | 9780190309916 |
| Binding: | Paperback |
| Published: | 5 Nov 2020 |
| Availability: | 904 |
| Series: | |
$139.95 AUD
$160.99 NZD
Add To Cart
Other options: Ebook $129.95 AUD $148.99 NZD Ebook Rental $69.95 AUD $79.99 NZD
Request an inspection copy
Description
A comprehensive reference on mental health in Australia and internationally
Mental Health and Collaborative Community Practice: An Australian Perspective is an authoritative, comprehensive reference on the state of mental health and mental health care in Australia and internationally. It provides the latest information on descriptions of the disorders, policy, and treatments for mental illness.
The fourth edition is updated with the most recent changes to policy and practice, including incorporating the new diagnostic tool ICD-11. With a strong focus on community collaboration and recovery and through the many stories of mental health care that are woven into the descriptions of disorders and their treatments, this edition provides guidance for a more personal approach to mental health care. An extended team of authors, editors and associate editors provide their interdisciplinary perspectives and lived experience to help readers understand and connect with the broad facets of mental health care.
NEW TO THIS EDITION
New associate editors with lived experience of mental health problems enable accuracy and respect to how people with mental illness feel about themselves and respond to medical, psychosocial and other interventions
New chapters engage with issues of social determinants and needs of specific groups in the community while others extend the range of diagnoses considered
New examples of mental health disorders and treatment in practice including personal stories of people with a mental illness and their experience of mental health care.
Contents
PART 1: THE CONTEXT FOR CONTEMPORARY MENTAL HEALTH CARE
1.1 Mental health care as a complex system
Graham Meadows, Fiona McDermott, Sebastian Rosenberg, Merinda Epstein, Allan Pinches, Jacques Boulet, Jonathan Harms, Richard Baldwin & Cassandra Hastie
1.2 Critical environmental and social determinants of mental health problems and their care
Susie Burke, Joanne Enticott, Anton Isaacs, Graham Meadows & Sebastian Rosenberg
1.3 Specific community perspectives in mental health
Pat Dudgeon, Sabine Hammond, Graham Meadows, Helen Milroy, Sally Morris & Sebastian Rosenberg
1.4 Advancing knowledge in mental health care
Fiona McDermott, Brenda Happell, Graham Meadows, Ellie Fossey, Suresh Sundram, Frances Shawyer (with Amanda Favilla), Catherine McNab, Brett Inder, Yoland Wadsworth, Flick Grey, Allan Pinches, Bridget Bassilios, Meredith Harris, Philip Burgess, Jane Pirkis & Marlena Klaic
1.5 Delivering mental health care
Graham Meadows, Sebastian Rosenberg, Alan Woodward, Joanne Enticott, John Farhall & Margaret Grigg
1.6 Information on Australian mental health and its mental health care system
Graham Meadows, Joanne Enticott, Carol Harvey, Vera Morgan, Frances Shawyer & Sebastian Rosenberg
1.7 Mental health services across Australia
Stephen Allison, Eddie Bartnik, Tarun Bastiampillai, Malcolm Battersby, Richard Benjamin, Lisa Brophy, Brett Emmerson, Valerie Gerrand, Margaret Grigg, Aaron Groves, Catherine Lourey, Graham Meadows, Mary Morris, Sebastian Rosenberg,
James Scott, Bruce Singh & Sebastian Rosenberg with Peggy Brown and Bernard Hughson
PART 2: PRINCIPLES FOR COLLABORATIVE COMMUNITY PRACTICE
2.1 Who provides mental health care and support?
Ellie Fossey, Cath Roper, Hamilton Kennedy, Rory Randall, Annette Mercuri, Louise Stone, Grant Blashki, David Huppert, Kylie Boucher, Fiona Best, John Farhall, Marilyn Cugnetto, Justin Scanlon, Bani Aadam, Melissa Petrakis & Harry Minas
2.2 Working collaboratively
Brenda Happell, Cath Roper, Graham Meadows, Louise Byrne, Helena Roennfeldt, Annette Mercuri, Flick Grey, Laura Collister, Brett Scholz, Noel Renouf, Fiona Smith & Lisa Brophy
2.3 Assessment in mental health
Graham Meadows, Bani Aadam, Sally Buchanan-Hagen, Marilyn Cugnetto, Indigo Daya, John Farhall, Sabin Fernbacher,
Ellie Fossey, Caroline Johnson, Robert King, Lyn Mahboub, Harry Minas, Melissa Petrakis, Cath Roper, Neeraj Sareen, Justin Scanlan & Timothy Wand
2.4 Case management
Ellie Fossey, Cath Roper, Sandy Watson, Kath Thorburn, Vrinda Edan, Jaz Chisholm, Melissa Petrakis, Bridget Hamilton, Carol Harvey, Nikolaos Kazantzis, Neil Thomas, Harry Minas & Lisa Brophy
2.5 Psychopharmacology
Nicholas Keks, Judy Hope, Graham Meadows & Carmela Salomon
2.6 Supporting recovery and wellness
Ellie Fossey, Cath Roper, Priscilla Ennals, Marc Morel, John Farhall, Robert King, Neil Thomas, Nikolaos Kazantzis,
Alexandra Petrik, Frances Shawyer, Sarah Francis, Tara Hickey, Anne Williams, Rob Stanton & Brenda Happell
2.7 Working with families
Brendan O'Hanlon, Carol Harvey, Abner Poon, Rose Cuff, Peter McKenzie & Jeff Young
PART 3: MENTAL HEALTH PROBLEMS CONSIDERED IN THE CONTEXT OF THE LIFESPAN
3.1 Childhood mental health
Barbara Keeble-Devlin
3.2 Youth mental health
Cristina Mei, Faye Scanlan, Roxxanne MacDonald & Patrick McGorry
3.3 Mental health of older adults
Christos Plakiotis, Sagarika De Fonseka, Rhoda Lai & Daniel O'Connor
PART 4: MENTAL HEALTH PROBLEMS CONSIDERED IN TERMS OF DISORDERS
4.1 Neurodevelopmental disorders and associated psychiatric disorders
Chad Bennett, Tareq Abuelroos & Hamilton Kennedy
4.2 Schizophrenia or other primary psychotic disorders
Cherrie Galletly, Margaret Grigg, Bernie McCormick & David Castle
4.3 Mood disorders
Kay Wilhelm & Marlies Alvarenga
4.4 Anxiety, fear, obsessive-compulsive, stress-related and dissociative disorders
Daniel Fassnacht, Erin Parker, Mike Barry, Michelle Banfield, Darren Jiggins, David Clarke & Michael Kyrios
4.5 Feeding or eating disorders
Phillipa Hay, Stephen Touy, June Alexander & Sally Morris
4.6 Disorders of bodily distress or bodily experience, factitious disorders, and psychological or behavioural factors affecting disorders or diseases
Akshay Ilango, David Clarke & Graham Meadows with Graeme Smith
4.7 Substance use disorders
Maree Teesson, Louise Mewton & Andrew Baillie
4.8 Gambling and gaming disorders
Stephanie Merkouris, Daniel King, Chloe Hawker, Kate Sommerville & Nicki Dowling
4.9 Personality disorders
Sathya Rao, Jaydip Sarkar, Jillian Broadbear, Rita Brown, Flick Grey & Danielle Jaeger with Bruce Falconer
Authors
Graham Meadows is Professor of Adult Psychiatry at Monash University and Director of Southern Synergy at Monash Health.
John Farhall is Associate Professor of Psychology at La Trobe University and Consultant Clinical Psychologist at NorthWestern Mental Health.
Ellie Fossey is Professor and Head of Occupational Therapy at Monash University and Adjunct Professor in the Living with Disability Research Centre at La Trobe University.
Brenda Happell is Professor of Nursing at the University of Canberra and Executive Director of Synergy at ACT Health.
Fiona McDermott is Associate Professor in Social Work at Monash University.
Sebastian Rosenberg is Head of Mental Health Policy at the Australian National University and Senior Lecturer in Mental Health Policy at the University of Sydney.
Request an inspection copy