Social Determinants of Health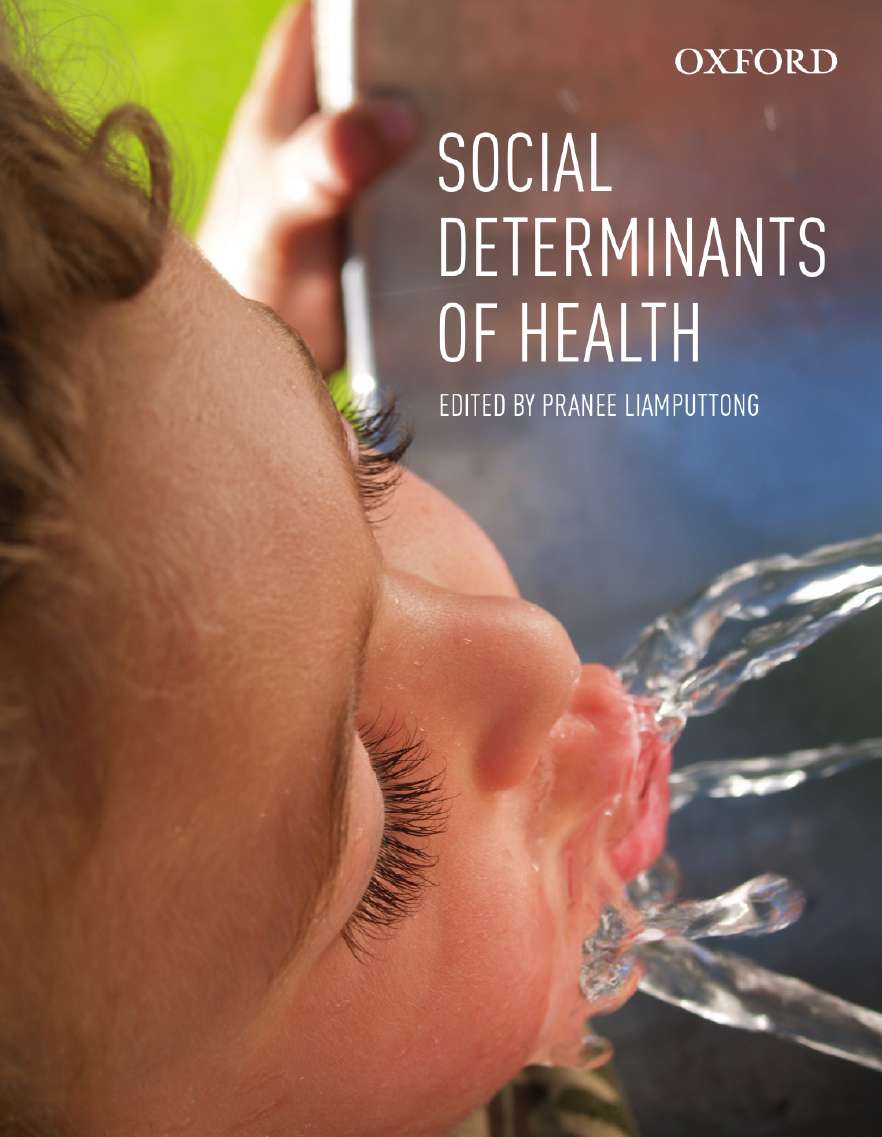 Social Determinants of Health
| | |
| --- | --- |
| ISBN: | 9780190313524 |
| Binding: | Paperback |
| Published: | 23 Apr 2019 |
| Availability: | 120 |
| Series: | |
$91.95 AUD
$105.99 NZD
Add To Cart
Other options: Ebook $84.95 AUD $97.99 NZD Ebook Rental $49.95 AUD $56.99 NZD
Request an inspection copy
Description
Understand the forces and trends that combine to shape the health of individuals, communities and populations.

Social Determinants of Health introduces a range of topics related to health and well-being in the context of a conceptual framework of determinants of health. It provides an introduction to some of the important ideas that underlie the field of public health, aiming to give students an understanding of the causes of health, rather than just the effects of health status in society.

By examining the social, cultural, economic and environmental determinants of health, students will gain a greater understanding of current issues in public health in terms of their causes and interrelationships. This book demonstrates how an understanding of social determinants will support students to become knowledgeable health professionals allowing them to practise effectively in the modern healthcare context.

KEY FEATURES
Each chapter is free-standing, but all are linked through the framework of social determinants of health
Case Examples demonstrate theory in real-world settings
Stop and Think questions and Reflection exercises encourage students to consolidate and articulate the theory learnt in a chapter
Key term margin notes highlight important concepts.
Contents
1. Health, Illness, and Well-being: An Introduction to Social Determinants of Health
Pranee Liamputtong
PART I: SOCIAL DETERMINANTS OF HEALTH AND CONCEPTUAL FRAMEWORKS
2. Health as a Social Construct
Cassandra Wright & Peter Higgs
3. Culture as a Social Determinant of Health
Pranee Liamputtong & Dusanee Suwankhong
4. Deviance, Difference, and Stigma as Social Determinants of Health
Pranee Liamputting & Somsri Kitisriworapan
5. Social Justice, Human Rights and Social Determinants of Health
Debra Miles
6. Health Promotion Principles and Practice
Kate McBride, Freya McMillan, Emma George & Genevieve Steiner
7. Economic Determinants of Health and Disease
Elizabeth Martin & David Brain
PART 2: SOCIAL DETERMINANTS OF HEALTH AND APPLICATION
8. Social Determinants of Australia's First Peoples' Health: A Multilevel Empowerment Perspective
Lisa Jackson Pulver, Megan Williams & Sally Fitzpatrick
9. Gender and Sexuality as Social Determinants of Health
Tinashe Dune & Pranee Liamputtong
10. Health throughout the Life Course
Christopher Fox
11. Health and the Living Environment
Liz Hanna
12. Health and the Media
Linda Portsmouth
13. The Social Determinants and the Healthcare System
Yvonne Parry & Eileen Willis
14. Social Determinants of Health on a Global Scale
Deborah Gleeson & Susan Chong
Authors
Pranee Liamputtong is a medical anthropologist and Professor of Public Health at the School of Science and Health, Western Sydney University, Australia.
Request an inspection copy