Becoming a Nurse eBook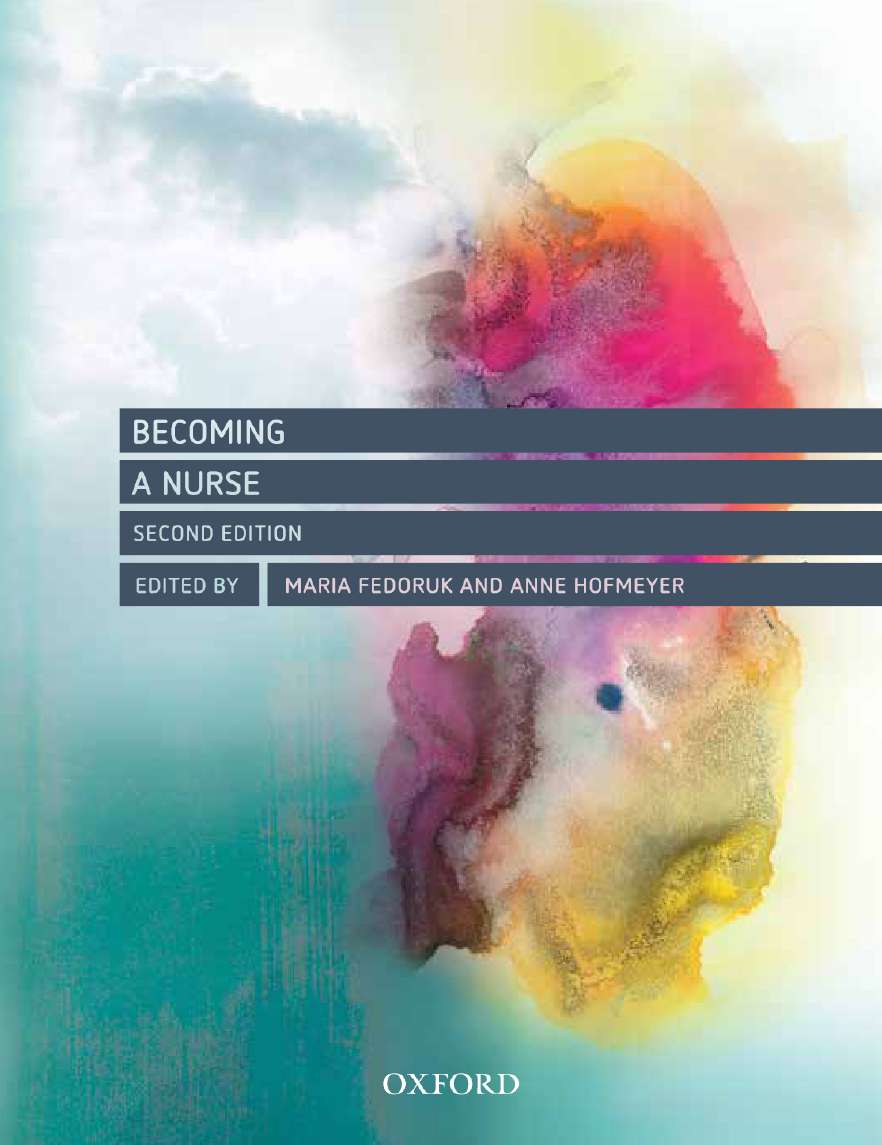 Becoming a Nurse eBook
| | |
| --- | --- |
| ISBN: | 9780195596311 |
| Binding: | Ebook |
| Published: | 1 Nov 2014 |
| Availability: | Available |
| Series: | |
$53.95 AUD
$61.99 NZD
Add To Cart
Description
Becoming a Nurse is a clear and concise introduction to the contexts of the contemporary nursing environment. The second edition takes an evidence-based approach to equip student nurses with the core knowledge and skills necessary for their undergraduate program and clinical placement and to take into their careers. Written with everyday, accessible language and a systematic structure, Becoming a Nurse covers key topics in nursing including the Australian healthcare system, communication technologies, leadership and evidence-based practice. Each chapter is rich with features to support student learning and competency development, and has been updated throughout to include the latest references and research in nursing.

Key features
Critical reflection sections encourage students to self-reflect, as well as explore and critique ways of thinking and behaving in nursing practice
Theory to practice sections demonstrate the clinical application of theory and research to practice
Discussion questions at the end of each chapter help students develop and apply their knowledge of key concepts

New to this edition
New chapters:
3. Interprofessional collaboration
4. Cultural diversity in healthcare
6. Research in clinical practice
10. Translating knowledge into practice
13. Health information systems and technologies
New systematic structure and revised pedagogy for improved clarity and consistency
References and resources have been updated throughout
Contents
Introduction
Introduction
You as an individual
The Historical development of nursing
Professional boundaries
summary
2. Transition from Student Nurse to Registered Nurse
Transition
Transition to Professional Practice Program
Summary
3. Interprofessional Collaboration
Introduction
Terminology and definitions
Contextualisation of IPC
Benefts and challenges of IPC
Inerprofessional capabilities
Challenge to future health practitioners
Summary
4. Cultural Diversity in Healthcare
Cultural diversity in Australia
Culturally competent care—what is it?
Cultural competence development through daily practice
Summary
5. Entering Clinical Settings
Transition from university to the clinical setting
Prior work experience
Career goals
Transition to Professional Practice Program
Summary
6. Research in Clinical Practice
Introduction
What is research?
Summary
7. Australia's Healthcare System
Australia's healthcare system
Australia's healthcare workforce
Changes to service delivery
Summary
8. Leadership in Nursing and Healthcare
Introduction
Leadership and emotional intelligence
Leadership and nurses
Clinical leadership
Leadership for the future
Summary
9. Essential Competencies for the Registered Nurse
Essential competencies
Skills and competencies
Beginning registered nurse competencies
Other nursing competencies
Summary
10. Translating Research Knowledge into Practice
Introduction
What is knowledge translation?
What is evidence-based practice?
Summary
11. Safety, Quality and the Registered Nurse
Introduction
Safety, quality and the registered nurse
Violence in the workplace
Harassment in the workplace
Everyone's responsibility
Summary
12. Legal Responsibilities and Ethics
Introduction
Nurses' legal responsibilities in relation to professional practice
Ethics
Patient rights
Non-clinical ethical issues
Whistleblowing
Summary
13. Health Information Systems and Technologies
Introduction
eHealth
Nursing informatics
Nursing informatics competencies
mHealth
Summary
14. Lifelong learning and the Registered Nurse
Introduction
Continuing professional development
Lifelong learning
Career planning
Applying for a position
Taking care of yourself
Summary
Authors
Maria Fedoruk - Program Director of the Stage 2 Bachelor of Nursing program, School of Nursing and Midwifery, University of South Australia
Anne Hofmeyer - Senior Lecturer, School of Nursing and Midwifery, University of South Australia
Sample Pages
Read a sample chapter from Becoming a Nurse:
Request an inspection copy