Statutory Interpretation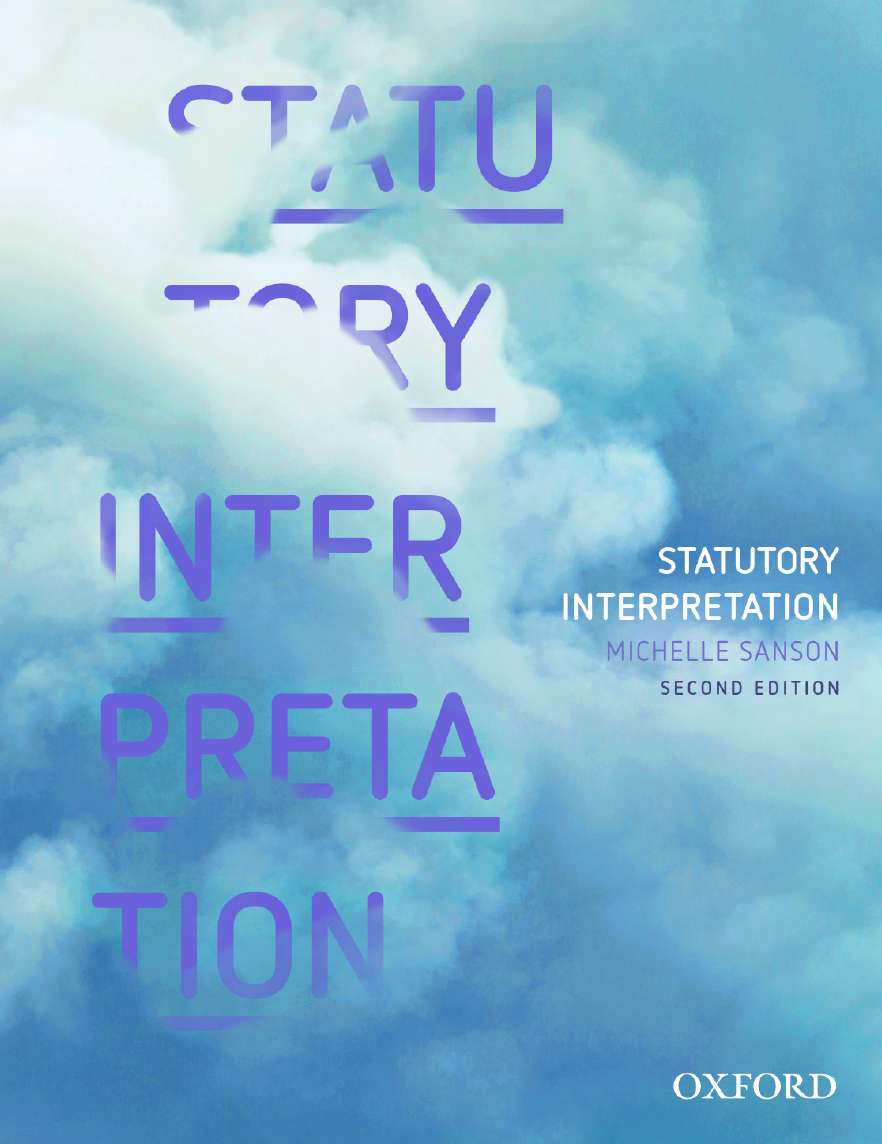 Statutory Interpretation
| | |
| --- | --- |
| ISBN: | 9780190304577 |
| Binding: | Paperback |
| Published: | 20 Apr 2017 |
| Availability: | 753 |
| Series: | |
$94.95 AUD
$108.99 NZD
Add To Cart
Request an inspection copy
Description
Statutory Interpretation 2nd edition revitalises learning of statutory interpretation as a living, breathing and dynamic tool for understanding and applying the law. The book is specifically designed to engage students with statutory interpretation and equip them with improved skills required for future legal practice. It is structured to align with the length of a typical semester, and in addition to research and analysis of statutory interpretation rules and principles, Statutory Interpretation provides case scenarios and application exercises. Chapter 14 'A Synthesis: Practical Skills and Exercises' has been designed as a consolidating chapter to which readers will repeatedly refer and contains a Statutory Interpretation Index (SII2) synthesising the book's rules of statutory interpretation, a user-friendly flow diagram summarising statutory interpretation method, a worked example of its application, and a set of four practical exercises.
New to this edition
Updated examples and case references

Additional case exercises

Expanded discussion on:

principle of legality
statutory discretions and obligations
legislative intention in pre-native title legislation
interpretive techniques including reading down, straining and reading in
use of international law in statutory interpretation

New section of dominant and subordinate provisions
Contents
1. Introduction to Statutory Interpretation
History and evolution of statutory interpretation
The role of the judiciary in interpreting legislation
Practical outcome of this book
Structure of this book
Guidelines for interpretation of this book
2. Creation of Legislation
Legislative power
Drafting styles
Plain English drafting
Drafting conventions
The political dimension
Parliamentary procedures
Legislation example
Conclusion
3. Interpretation Legislation
Gender
Age
Number
Distance
Time
Meaning of 'may' and 'shall'
Commencement
Amendment
Repeal
Invalidity
4. Context and Purpose
Context
Purpose
5. Intention and Interpretive Techniques
Intention
Interpretive techniques
6. Intrinsic Materials: Statute Components
Long title
Short title
Preamble
Objects clause
Definition sections
Headings
Schedules
Notes
Punctuation
Examples
Penalties
7. Intrinsic Materials: The Text
All words have meaning
Ordinarily, the meaning is the ordinary meaning
A technical or legal meaning may be used
Current meaning
Dictionary meaning
Consistent meaning across an Act
Variants of words
Limiting words
Hendiadys
Temporal expressions
Common words and expressions
What if the intrinsic materials are inconsistent, or in conflict with one another?
8. Extrinsic Materials
Using extrinsic materials to interpret text
Using extrinsic materials for context and purpose
Common law approach to use of extrinsic materials
Which extrinsic materials can be used?
Proliferation and limits
9. Traditional Common Law Approaches
Common law and statutes
Traditional common law approaches
Literal rule
Golden rule
Mischief rule
Latin maxims
10. Statutory Presumptions
Legislation does not have extraterritorial effect
Legislation does not take jurisdiction away from the courts
Legislation does not bind the Crown
Penal provisions are strictly construed
Remedial or beneficial provisions are broadly construed
Taxation provisions construed to the taxpayer's benefit
Legislation enacting a word or phrase approves of its common law interpretation
Legislation does not operate retrospectively
Legislation does not remove property rights
Other statutory presumptions
11. Fundamental and Human Rights
Non-interference with fundamental rights
What is a fundamental right?
Principle of legality
Practical application
Human rights
The Australian Capital Territory approach
The Victorian approach
12. International Law in Statutory Interpretation
Legislative conformity with international law
Sources of international law
International treaties
Customary international law
General principles of law
13. Interpreting Specific Instruments
Delegated or subordinate legislation
Codes
Quasi-legislative bodies and 'soft' law
Constitution
Other documents
14. A Synthesis: Practical Skills and Exercises
Statutory Interpretation Index 1 ('SII2')
Practical Methodology
Practical Exercise A: Criminal law
Practical Exercise B: Tort law
Practical Exercise C: Contract law
Practical Exercise D: Property law
Further Reading
Index
Authors
Michelle Sansonis an international lawyer, humanitarian, and academic at Western Sydney University and Sydney City School of Law.
Lecturer Resources
The following resources are available for lecturers who prescribe Statutory Interpretation for their course:
An Instructor's Resource Manual
Sample Pages
Read a sample from Statutory Interpretation 2nd edition:
Request an inspection copy