Ethics and Legal Professionalism in Australia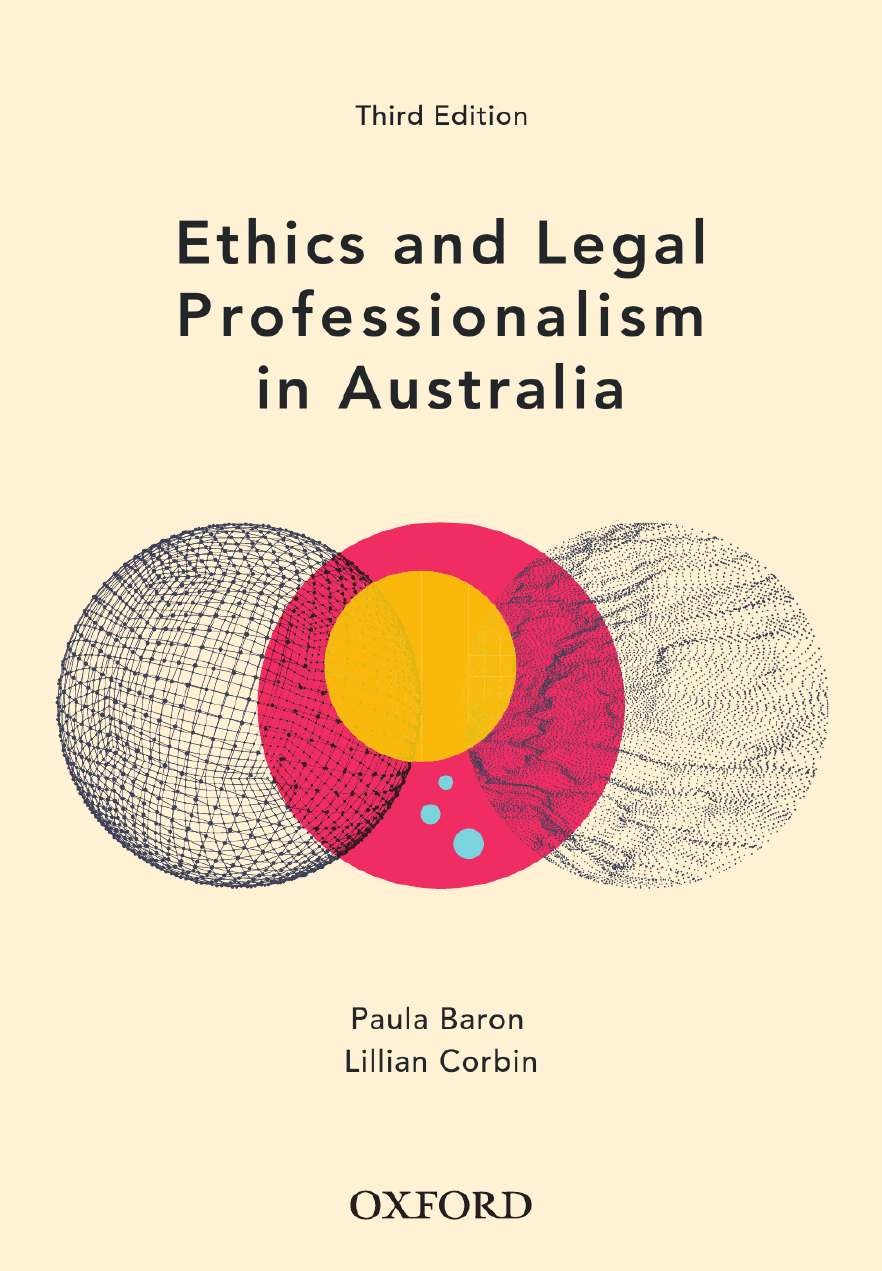 Ethics and Legal Professionalism in Australia
| | |
| --- | --- |
| ISBN: | 9780190323837 |
| Binding: | Paperback |
| Published: | 4 Sep 2020 |
| Availability: | 841 |
| Series: | |
$99.95 AUD
$114.99 NZD
Add To Cart
Request an inspection copy
Description
Understand the fundamental principles of lawyering and how to apply them to professional conduct
Ethics and Legal Professionalism in Australia introduces students to the ethics and professional responsibilities that they will encounter in practice. It outlines the concepts, rules and conflicts relating to legal ethics in addition to exploring the ambiguous ethical aspects associated with being a lawyer.
The text offers a thematic approach, with each chapter focusing on one theme and how it relates to lawyers' professional obligations. It aims to encourage the development of students' 'moral compass', guiding them on how they might address ethical dilemmas and difficult situations before they are faced with these in reality.
This third edition retains the original focus and principles of the previous editions but has been thoroughly updated to address the considerable changes to the legal profession and the environment.
NEW TO THIS EDITION
Updated to reflect rapid technological advances and ongoing globalisation processes
Stronger focus on health and wellbeing, addressing the mental health issues amongst lawyers
More case studies included throughout
Significant updates to chapters:


2: The Framework of Lawyering – updated to include the application of Uniform Law in Western Australia
5: Loyalty to the Client – References to Lawyer X (Nicola Gobbo) case – Gobbo, while representing a number of significant criminal identities, also acted as a police informant providing information that contributed to the arrest and conviction of those clients
6: Confidentiality - More detail relating to the Lawyer X case, and a discussion of the case of Collaery. The case is ongoing at the time of writing. It concerns the Commonwealth Government's action in seizing documents from an Australian lawyer representing Timor-Leste. Documents seized included a brief relating to a then current action against the Australian Government before the International Court of Justice
7: Competence – more detail added on a lawyer's competence as to understanding and using technology, detailed discussion of mental health issues raised in misconduct proceedings and updated to include the relationship of wellbeing to competence
9: Service and Access to Justice – updated to include more on seeking to define access to justice and identifying types of vulnerability.
Contents
1 What is 'Lawyering'?
2 The Framework of Lawyering
3 Truth and Honesty
4 Fidelity to the Law
5 Loyalty to the Client
6 Confidentiality
7 Competence
8 Civility and Courtesy
9 Service and Access to Justice
Authors
Paula Baron is Professor Emeritus in the School of Law at La Trobe University.
Lillian Corbin is a former Professor in the School of Law at the University of New England.
Lecturer Resources
The following resources are available for lecturers who prescribe Ethics and Legal Professionalism in Australia, third edition, for their course:
Instructor's Resource Manual including:

Chapter objectives
Key terms
Tutorial activity
Short answer questions with suggested solutions
Sample essay topic with suggested list of criteria
Further reading
Test bank of multiple choice questions and answers
For more information about these resources please contact your Oxford Learning Resource Consultant.
Request an inspection copy