Media Law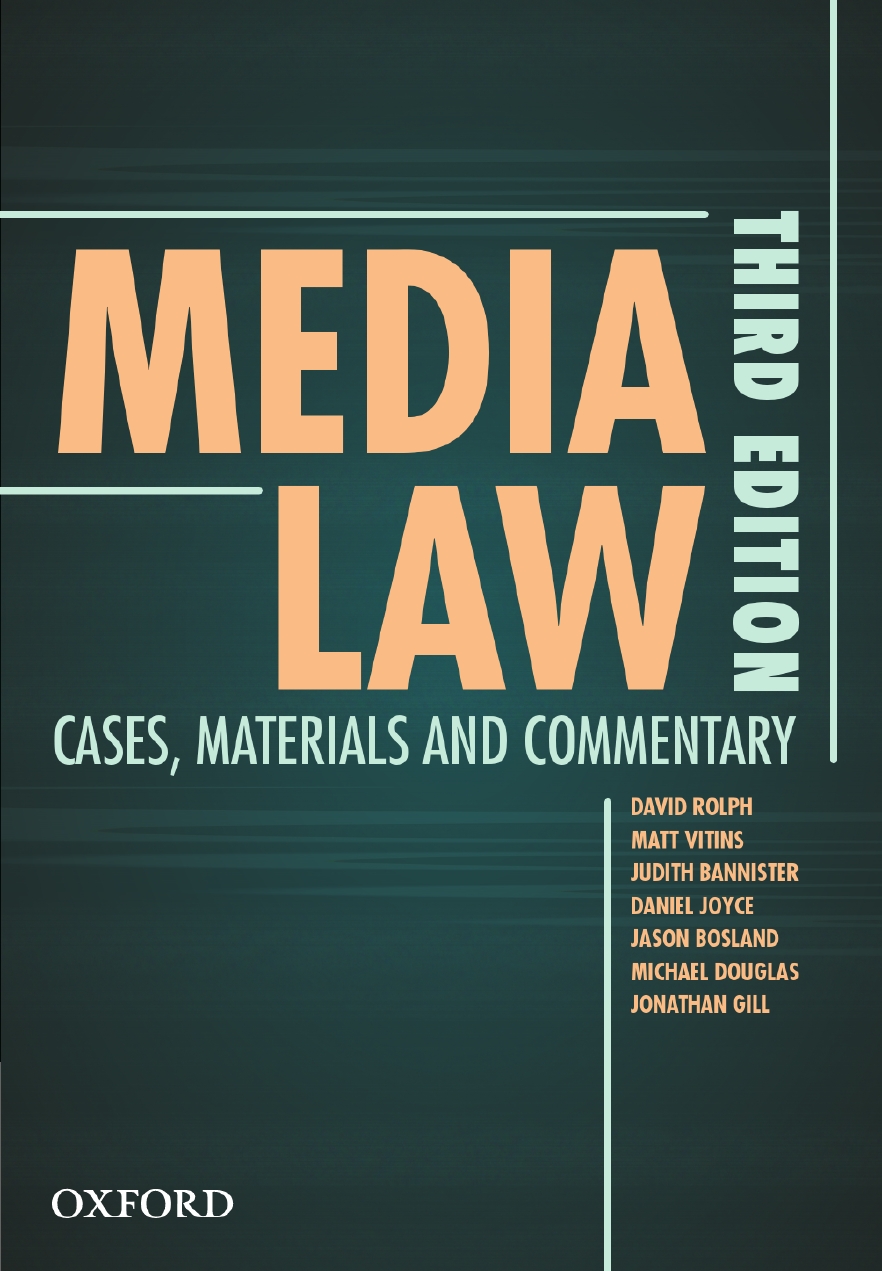 Media Law
| | |
| --- | --- |
| ISBN: | 9780190323868 |
| Binding: | Paperback |
| Published: | 21 Apr 2022 |
| Availability: | 772 |
| Series: | |
$139.99 AUD
$160.99 NZD
Add To Cart
Other options: Ebook $125.99 AUD $144.99 NZD Ebook Rental $69.95 AUD $79.99 NZD
Request an inspection copy
Description
A critical introduction to the principles and application of media law.
Media Law: Cases, Materials and Commentary introduces the key concepts of media law and how to apply these theories in practice. It examines the basic principles underpinning areas of law that are most relevant to the media, including defamation, contempt of court, invasion of privacy, breach of confidentiality, and freedom of information. Critical perspectives from varying academic disciplines provide conceptual frameworks through which Australian media law can be understood and interpreted.
Written by an extended team of authors, the third edition includes new cases and recent changes in legislation to defamation laws and privacy laws. It equips you with updated excerpts from cases, legislation and author commentary, and places these excerpts in legal and media contexts.
Updated to reflect significant changes in legislation to national, uniform defamation laws, online content and privacy laws, including online privacy.
A strong focus on critical perspectives help you form your own ideas and prepare for professional work.
Includes a new chapter on suppression and non-publication orders to address the impact this has on the day-to-day practice of court reporting.
New case studies provide you with current examples to demonstrate how theoretical principles can be applied in practice.
Updated discussion questions encourage critical reflection.
Contents
Preface
Acknowledgements
Table of Statutes
Part 1: Introduction
1. The Social and Political Role of the Media
2. Freedom of Expression
Part 2: Media Regulation
3. Print Media and Journalists
4. Broadcasting Services
5. Online Content
6. Media Ownership
Part 3: Defamation and the Protection of Reputation
7. Liability for Defamation
8. Defences to Defamation
9. Remedies for Defamation
10. Injurious Falsehood, Negligence and Misleading or Deceptive Conduct
Part 4: Contempt and Open Justice
11. Contempt of Court
12. The Principle of Open Justice
13. Suppression Orders
Part 5: Privacy
14. Privacy
15. Breach of Confidence
16. Information Privacy
Part 6: Offensive Publications
17. Offensive Publications
Part 7: Freedom of Information
18. Freedom of Information
Authors
Professor David Rolph teaches Media Law at the University of Sydney.
Matt Vitins is Chief Operating Officer at Matchbox Pictures.
Professor Judith Bannister is Teaching Program Director in Law and teaches Administrative Law at Flinders University.
Associate Professor Daniel Joyce teaches Media Law and International Law in the School of Global and Public Law at University of New South Wales.
Associate Professor Jason Bosland is Director of the Centre of Media and Communications Law at Melbourne Law School, where he teaches Media and Communications Law.
Michael Douglas is Senior Lecturer in Law at the University of Western Australia and Consultant at Bennett + Co.
Jonathan Gill is Senior Fellow in Melbourne Law Masters at the University of Melbourne and Consultant at Carrick Gill Smyth Commercial Lawyers and at Lextechia.
Request an inspection copy