Australian Intellectual Property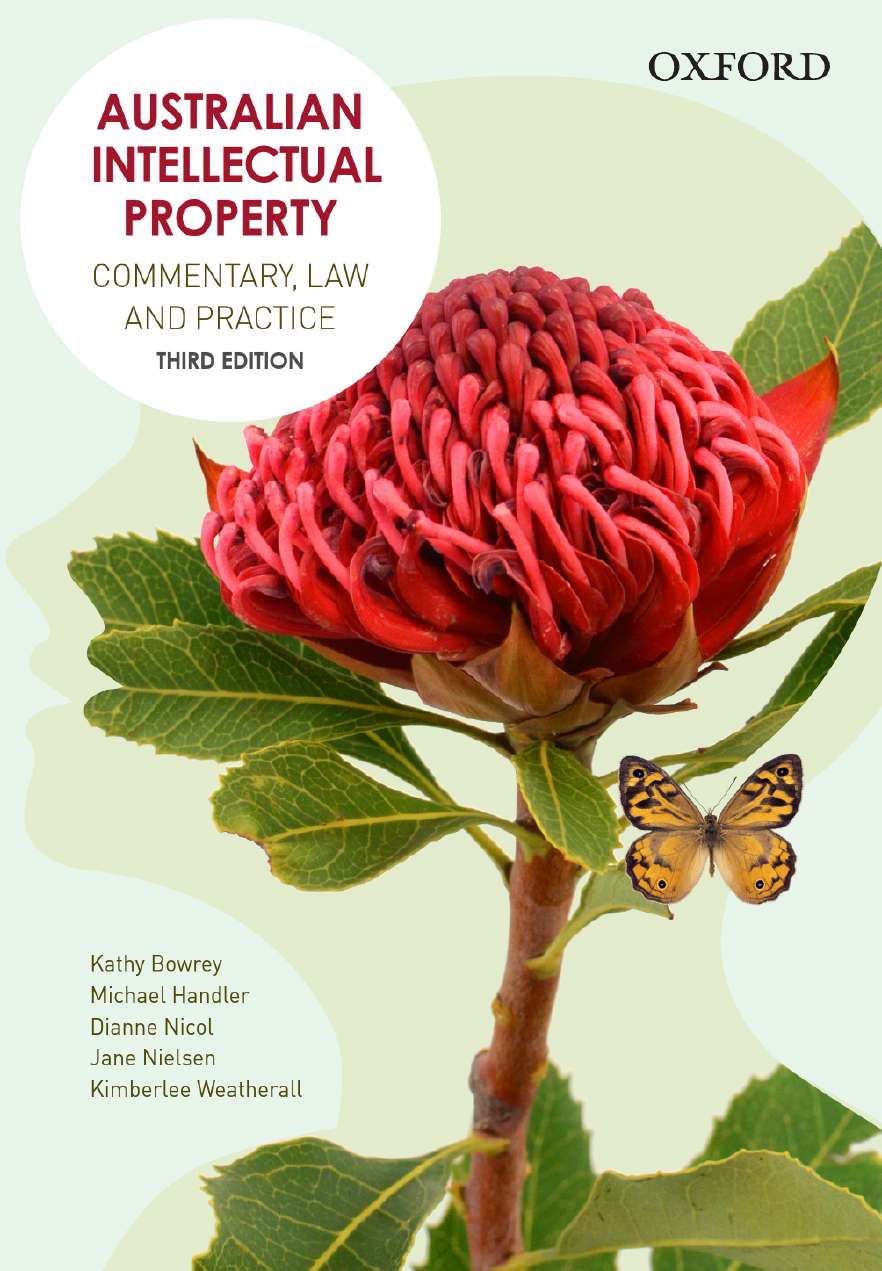 Australian Intellectual Property
| | |
| --- | --- |
| ISBN: | 9780190326456 |
| Binding: | Paperback |
| Published: | 25 May 2021 |
| Availability: | 830 |
| Series: | |
$149.95 AUD
$166.99 NZD
Add To Cart
Other options: Ebook $138.95 AUD $208.99 NZD Ebook Rental $77.95 AUD $116.99 NZD
Request an inspection copy
Description
A critical introduction to Australian intellectual property law.
An understanding of intellectual property (IP) laws is central to the sciences, manufacturing, the arts and the digital economy, and is increasingly important to mainstream legal practice. IP laws impact our daily lives and affect the way we access or engage with technology, medicine, nature, education and entertainment. IP has also become a more controversial and politicised area of study over recent years, especially in light of the fast-paced development of the information economy.
This book introduces students to key cases and concepts in Australian IP law, drawing attention to approaches taken in other jurisdictions, especially the UK, the EU and the US. It aims to equip students with the necessary legal knowledge for either entry-level legal practice or progress into more specialised postgraduate studies.
IP law is made up of several distinctive categories, with each area having its own history, rationales and technicalities. This text covers each of these categories separately, allowing students to grasp the nature and scope of the legislation, case law and administrative practice applicable in each area.
New to this Edition
A wholly revised introductory chapter on the philosophy and history of copyright (Chapter 2).
New cases to reflect the significant changes in IP law since the last edition, including:

D'Arcy v Myriad Genetics Inc (2015)
AstraZeneca AB v Apotex Pty Ltd (2015)
Commissioner of Patents v RPL Central Pty Ltd (2015)
JR Consulting & Drafting Pty Ltd v Cummings (2016)
Veda Advantage Ltd v Malouf Group Enterprises Pty Ltd (2016)
Pham Global Pty Ltd v Insight Clinical Imaging Pty Ltd (2017)
Pokémon Co International Inc v Redbubble Ltd (2017)
Rodney Jane Racing Pty Ltd v Monster Energy Co (2018)
Kogan v Martin (2019)
Boomerang Investments Pty Ltd v Padgett (Liability) (2020)
Urban Alley Brewery Pty Ltd v La Sirène Pty Ltd (2020)
Merck Sharp and Dohme Corporation v Wyeth LLC (No 3) (2020).

Incorporates significant legislative changes to the Copyright Act introduced by the Copyright Amendment (Online Infringement) Act 2015, Copyright Amendment (Disability Access and Other Measures) Act 2017 and Copyright Amendment (Service Providers) Act 2018.
Discusses key policy proposals in the Advisory Council for Intellectual Property's Review of the Designs System (2015), the Productivity Commission's Intellectual Property Arrangements inquiry (2016), and the Australian government's Copyright Modernisation Consultation (2018), which have resulted or will result in key reforms to copyright, designs, patents and trade marks legislation.
Contents
1. Introduction: Australian Intellectual Property Law in the Global Marketplace
2. Copyright Law: History, Justifications and Basic Principles
3. Criteria for Subsistence of Copyright
4. Copyright Subject Matter
5. Ownership and Exploitations of Copyright
6. Infringement of Copyright
7. Other Rights of Creators and Owners
8. Registered Designs
9. Patent Law: Justification, History and Context
10. The Subject Matter of Patentable Inventions: Manner of Manufacture
11. The Patent Criteria
12. Disclosure and Claiming Requirements
13. Patent Ownership, Rights and Limitations
14. Trade Secrets: Protection of Confidential Information
15. Trade Marks, Passing Off and Protecting Trade Reputation: History, Justifications and Context
16. Passing Off and Consumer Protection Legislation
17. Registered Trade Marks: Procedural and Substantive Requirements for Registration
18. Registered Trade Marks: Infringement, Defences, Loss of Rights and Exploitation
19. Intellectual Property Litigation and Remedies
Authors
Professor Kathy Bowrey teaches in the Faculty of Law & Justice at the University of New South Wales.
Professor Michael Handler teaches in the Faculty of Law & Justice at the University of New South Wales.
Professor Dianne Nicol teaches in the Faculty of Law at the University of Tasmania.
Associate Professor Jane Nielsen teaches in the Faculty of Law at the University of Tasmania.
Professor Kimberlee Weatherall teaches in the Law School at the University of Sydney.
Request an inspection copy