Brownlie's Principles of Public International Law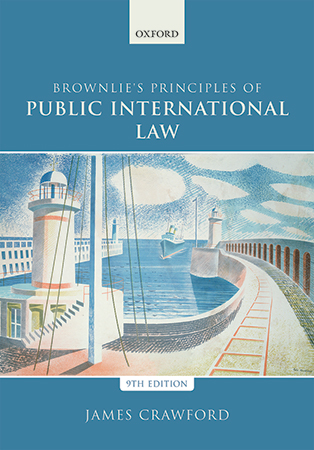 Brownlie's Principles of Public International Law
| | |
| --- | --- |
| ISBN: | 9780198737445 |
| Binding: | Paperback |
| Published: | 17 Jul 2019 |
| Availability: | 0 |
| Series: | |
$109.95 AUD
$126.99 NZD
Add To Cart
Request an inspection copy
Description
Brownlie's Principles of Public International Law has been shaping the study and application of international law for over 50 years. Serving as a single-volume introduction to the field as a whole, the book is one of the classic treatises on international law, now fully updated to order to take account of recent developments. It includes extensive references in order to provide a solid foundation for further research.

Authored by James Crawford, the ninth edition further secures the work as the essential international law text for students and practitioners.

NEW TO THIS EDITION
Decisions of the International Court (e.g. Whaling in the Antarctic; the Marshall Islands cases; Peru v Chile; Somalia v Kenya; Costa Rica v Nicaragua; Bolivia v Chile)
Recent decisions on the law of the sea and the status of islands (Arctic Sunrise; Croatia/Slovenia; South China Sea; Bangladesh/India; Ghana/Ivory Coast; Timor Leste/Australia (Conciliation))
Decisions of senior national courts in the US (e.g. Bank Markazi v Peterson; Daimler AG v Bauman; Jesner v Arab Bank; Kiobel v Royal Dutch Petroleum), the UK (e.g. Al-Saadoon v SSD; Belhaj v Straw; Freedom and Justice Party; Rahmatullah; Miller v Secretary of State for Exiting the European Union; Benkharbouche v Sudan), the Netherlands (Mothers of Srebrenica; Urgenda Foundation), the Russian Federation (Anchukov & Gladkov v Russia) and elsewhere
Recent ILC work (including Conclusions on Identification of Customary International Law, and Subsequent Practice in relation to the Interpretation of Treaties)
Plus discussion of developments in the fields of climate change, diplomatic asylum (the Assange stand-off), international criminal law and the ICC, immunities of senior state officials, investment arbitration, corporate social responsibility, and the use of force by and against non-state actors.

This title is available as an eBook. Visit VitalSource for more information or to purchase.
Contents
Part I: Preliminary Topics
1. Introduction
2. The Sources of International Law
3. The Relations of International and National Law
Part II: Personality and Recognition
4. Subjects of International Law
5. Creation and Incidence of Statehood
6. Recognition of States and Governments
7. International Organizations
Part III: Territorial Sovereignty
8. Forms of Governmental Authority Over Territory
9. Acquisition and Transfer of Territorial Sovereignty
10. Status of Territory: Further Problems
Part IV: Law of the Sea
11. The Territorial Sea and Other Maritime Zones
12. Maritime Delimitation and Associated Questions
13. Maritime Transit and the Regime of the High Seas
Part V: The Environment and Natural Resources
14. Common Spaces and Co-Operation in the Use of Natural Resources
15. Legal Aspects of the Protection of the Environment
Part VI: International Transactions
16. The Law of Treaties
17. Diplomatic and Consular Relations
18. Unilateral Acts, Acquiescence, and Estoppel
19. Succession to Rights and Duties
Part VII: State Jurisdiction
20. Sovereignty and Equality of States
21. Jurisdictional Competence
22. Privileges and Immunities of Foreign States
Part VIII: Nationality and Related Concepts
23. The Relations of Nationality
24. Nationality of Corporations and Assets
Part IX: The Law of Responsibility
25. The Conditions for International Responsibility
26. Consequences of an Internationally Wrongful Act
27. Multilateral Public Order and Issues of Responsibility
Part X: The Protection of Individuals and Groups
28. The International Minimum Standard: Diplomatic Protection and Protection of Investments
29. International Human Rights
30. International Criminal Justice
Part XI: Disputes
31. The Claims Process
32. Third-Party Settlement of International Disputes
33. Use of Threat of Force by States
Authors
James Crawford – Judge of the International Court of Justice and former Whewell Professor of International Law, University of Cambridge
Request an inspection copy