Pleadings Without Tears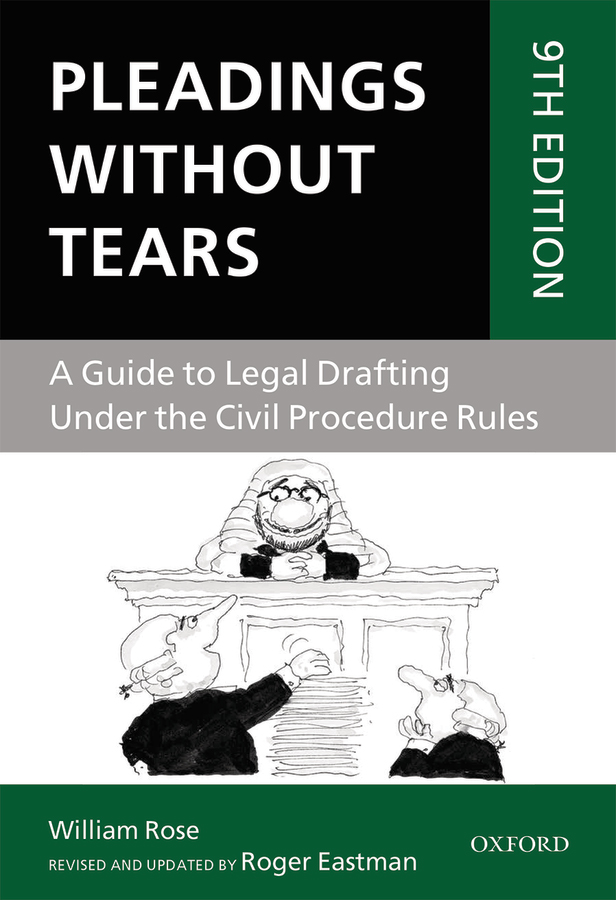 Pleadings Without Tears
| | |
| --- | --- |
| ISBN: | 9780198804055 |
| Binding: | Paperback |
| Published: | 4 May 2017 |
| Availability: | 27 |
| Series: | |
$65.95 AUD
$75.99 NZD
Add To Cart
Request an inspection copy
Description
Pleadings Without Tears has become established as one of the most successful books on practical legal drafting in the context of litigation. This new ninth edition is fully updated to take account of all Civil Procedure Rule (CPR) changes since the last edition.

The book takes a practical and insightful look at the subject of legal drafting, enabling the reader to become confident in approaching this often unnecessarily daunting subject. It focuses on core skills and fundamental rules while clearly addressing each stage of the process, and goes beyond a straightforward setting out of the precedents and authorities relevant to statements of case. Giving clear examples of how to set out relevant matters with clarity and precision, this book encourages the reader to give full consideration to concise and clear identification of the subject matter of the action, the issues of the case, and the parties' respective positions in respect to those issues.

With a wealth of practical examples and anecdotes - and illustrated throughout with cartoons - the light and entertaining style, combined with detailed analysis and explanation, enables the reader to easily acquire a thorough understanding of drafting.
Contents
Pillars of Understanding (General Principles)
Getting the Show on the Road (The Claim)
Making a Fight of It (The Defence and Counterclaim)
The Right to Reply (The Reply)
Don't Answer Back (Rejoinder, etc)
Pray - Tell Me (The Request for Further Information)
'Just to Let You Know...' (The Answer to a Request for Further Information)
Come and Join In (Additional Claims Against Third Parties)
Pieces of Eight (The Part 8 Procedure)
'To Tell You The Truth...' (Witness Statements, and the Odd Affidavit)
Just a Minute (Minutes and Agreed Orders)
Bones of Contention (The Skeleton Argument)
A Matter of Opinions (Opinion Writing)
Authors
Roger Eastman was called to the Bar in 1978. He was appointed as a Deputy Queen's Bench Master in February 2003 and then as a Deputy District Judge on the South Eastern Circuit in July 2003. He was appointed a Queen's Bench Master in April 2009.

William Rose, (late) Circuit Judge, and Roger Eastman, Master of the Senior Courts, Queen's Bench Division His Honour the late Judge William Rose was appointed a Circuit Judge in 1998. He was a member of the Board of Examiners of the Inns of Court School of Law between 1990 and 2001, and was Director of Studies at the Judicial Studies Board from 2002 to 2004. In 2004 he was appointed a Judicial Member of the Parole Board.
Request an inspection copy