Environmental Law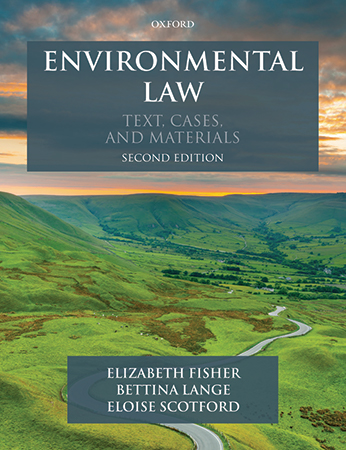 Environmental Law
| | |
| --- | --- |
| ISBN: | 9780198811077 |
| Binding: | Paperback |
| Published: | 6 Jun 2019 |
| Availability: | 23 |
| Series: | |
$83.95 AUD
$98.99 NZD
Add To Cart
Request an inspection copy
Description
Environmental Law: Text, Cases, and Materials has been designed to provide students with everything they need to approach the subject with confidence. Experts in the area, the authors combine clear and insightful commentary with carefully chosen extracts from UK and international sources to offer students a well-rounded view of the subject area.

Covering a broad range of topics, the authors introduce discussion on controversies and debates and encourage readers to engage in critical reflection by posing regular discussion questions throughout the text. Further reading suggestions point students towards useful resources, guiding their independent research.

NEW TO THIS EDITION
Comprehensive updating of material and restructuring of chapters to reflect legal developments and to keep a focus on critical analysis, for example, new chapters have been dedicated to climate change law and air quality law
Changes in this new edition capture the cutting edge of scholarship in this very dynamic area of law, including discussion on the Paris Agreement and the ClientEarth litigation
Contents of pollution control chapters have been revised, discussing developments in flood and drought law
An engagement with the themes raised by Brexit in relation to environmental law
KEY FEATURES
Provides detailed discussion of key cases, drawing together extracts from leading judgments, responses to controversial decisions, and the authors' own opinion to create a well-rounded account of the subject
Includes chapter conclusions and further reading suggestions to help student distil the essential issues and to support their independent study in preparation for assessments
Discussion questions throughout the text, encouraging students to think analytically about key issues
This title is available as an eBook. Please contact your Sales and Learning Resource Consultant for more information.
Contents
Part I: The Basics
1. What is environmental law?
2. Understanding environmental problems
Part II: Legal Themes and Concepts
3. Private law
4. Public law
5. Criminal liability
6. Statutory liabilities and remedies
7. Courts
8. Principle and policy
9. Regulatory strategy
Part III: Legal Cultures
10. Environmental law in the legal culture of the United Kingdom
11. European Union environmental law
12. International environmental law
Part IV: Pollution Control
13. Pollution control permitting
14. Integrated pollution control
15. Water pollution
16. Waste regulation
17. Air quality law
18. Climate change law
Part V: Environmental Law and Environmental Protection
19. Planning law
20. Environmental impact assessment
21. Nature conservation
Authors
Elizabeth Fisher – Professor of Environmental Law, Corpus Christi College, University of Oxford
Bettina Lange – Associate Professor of Law and Regulation, University of Oxford
Eloise Scotford – Professor of Environmental Law, University College London
Student Resources
This book is accompanied by online updates collated by the authors, helping students to stay well-informed.
Reviews
"This book is a great resource drawing on an excellent breadth of source material." - Prof Karen Morrow, Professor of Environmental Law, Swansea University
"Rich in case studies illustrating applications of the law." - Dr Kirsten Davies, Senior Lecturer, Macquarie Law School, Macquarie University
"It offers students an excellent basis for further research." - Dr Aleksandra Cavoski, Senior Lecturer, University of Birmingham
Request an inspection copy