Consumer Behaviour in Action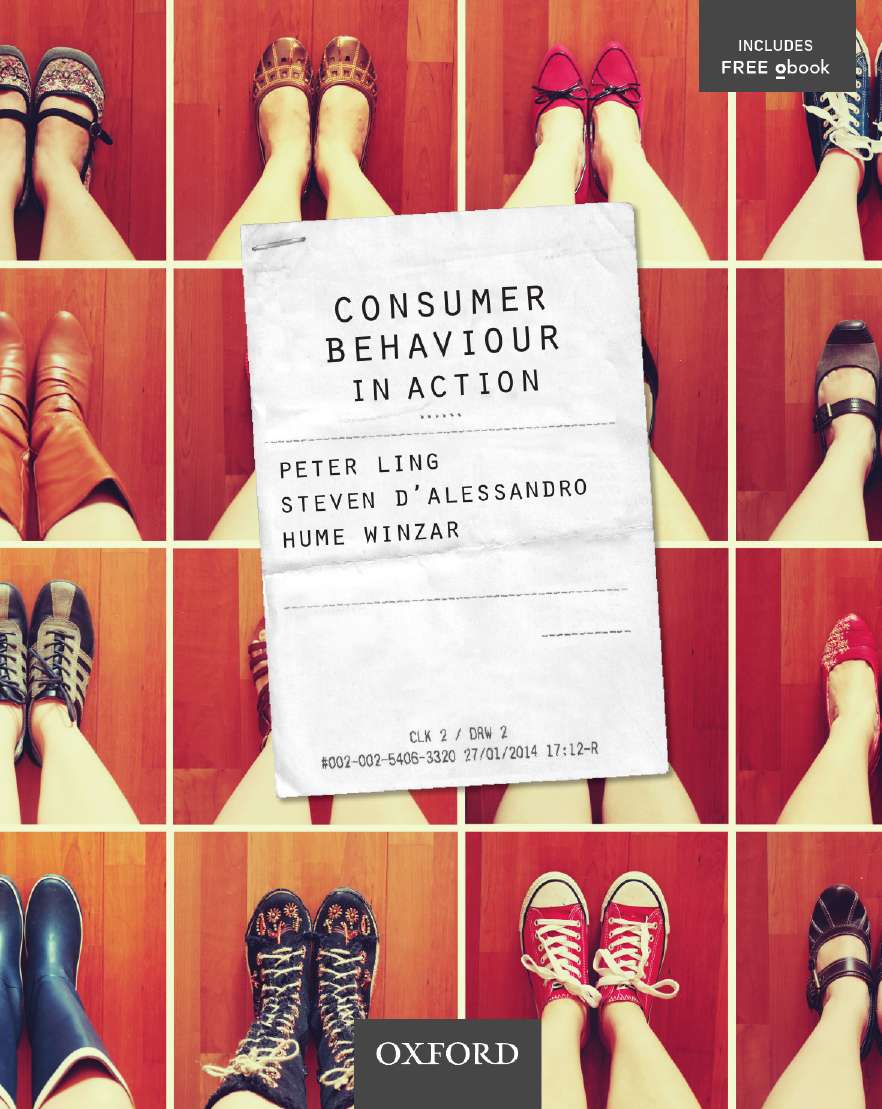 Consumer Behaviour in Action
| | |
| --- | --- |
| ISBN: | 9780195525601 |
| Binding: | Paperback + obook |
| Published: | 30 Jan 2015 |
| Availability: | 54 |
| Series: | |
$113.95 AUD
$130.99 NZD
Add To Cart
Other options: Ebook $99.95 AUD $113.99 NZD Ebook Rental $56.95 AUD $64.99 NZD
Request an inspection copy
Description
Consumer Behaviour in Action introduces students to the fundamental concepts of consumer behaviour in a contemporary context. The text provides a balanced approach as it illustrates theory with practical applications and research methods for understanding consumers. Practical examples and case studies provide global, regional and local industry examples. Extended case studies covering topics such as Nike, Cricket Australia, Target, and McDonald's in overseas markets, draw together each part of the book to connect the themes discussed and encourage students to develop a deeper understanding of the material. Research and insights from fields such as psychology, sociology and complex systems are included.
The accompanying enriched obook (available free with the paperback) and supplementary digital resources provides superior, ready-to-use support for both students and lecturers.
Key Features
Provides a thorough analysis of consumer behaviour for the future professional.
Provides numerous real world examples of marketing in the Australasian region and practical examples from developed and less developed countries.
Features perspectives from a range of industry practitioners at various points in their careers.
Features a diverse range of organisations, goods and services and covers the social (positive and negative) impact of consumer behaviour.
Includes additional examples and videos in the obook.
Contents
Part 1: Introduction
1. Introduction to Consumer Behaviour
Peter Ling
Your consumer world
What is consumer behaviour?
Sectors targeting consumers
Researching consumers
How consumers decide
Role theory
Consumer dimensions
Impact on consumers
Consumer behaviour framework
Part 2: Consumers as Social Beings
2. Culture and Consumer Behaviour
Peter Ling
Techno-culture and picture taking
What is culture?
Why culture changes
Marketing and subculture
Cultural differences
Ethnographic research and culture
3. Social Class and Consumer Behaviour
Peter Ling
Social class in Singapore
Social class
Social class categories
Social class variables
Social class measurement
Status symbols
Marketing social class
4. Reference Groups and Consumer Behaviour
Peter Ling
Dissociating with online bullies
Reference groups
Influences of reference groups
Types of reference groups
Associative reference groups
Aspirational reference groups
Dissociative reference groups
Part 3: Consumers as Individuals
5. Needs, Motivations and Consumer Behaviour
Peter Ling
Preoccupation with physical needs
Basic human needs
Needs and wants
Theories on needs and motivations
Synthesis of theories
Needs and advertising appeals
Motivational research
6. Consumer Personality and Self-Concept
Steven D'Alessandro
Gambling: a harmless pastime or a consumer behaviour disease?
What is personality?
Theories of personality
Personality and consumer behaviour
7. Consumer Perception
Steven D'Alessandro
Where does our food come from and how do we know it's good for us?
What is perception?
Acquisition
Perceptual encoding
Perceptual integration and understanding
Marketing applications of perception
8. Learning and Consumer Involvement
Steven D'Alessandro
Are consumer loyalty schemes effective?
What is learning?
The elements of consumer learning
Behavioural learning theories
Marketing applications of behavioural learning theories
Involvement theory
Marketing applications of involvement
Central and peripheral routes to persuasion
9. Consumer Attitudes and Attitude Change
Hume Winzar
NSW RTA 'Pinkie' campaign on dangerous driving
Defining attitude
Structure of attitudes
Values and self-perception
Emotion
Measuring attitudes
10. Decision Making and Consumption
Experiences 437
Hume Winzar
Choosing and enrolling at university
Classical models of human decision making
Alternatives to the classical model of consumer decision making
Measuring factors in consumer decision making
Industry insights
Part 4: Consumer Decisions and Experiences
11. Social Change and the Diffusion of Innovations
Hume Winzar
The rise and fall of mobile phone operating systems
Defining the diffusion of innovations
Issues affecting the adoption process
Other issues affecting diffusion
Networks
Strong ties and weak ties
Multistage diffusion
Modelling and forecasting
12. Conclusion
Peter Ling
Tram travelling in Melbourne
Themes on cultural effects
Themes on interpersonal effects
Themes on personal effects
Themes from examples and cases
Ideas from practitioners
Concluding thoughts
Authors
Peter Ling is Deputy Dean (Communication) in the School of Media and Communication and Associate Professor in Advertising at RMIT University.
Steven D'Alessandro is Professor in the School of Marketing and Management at Charles Sturt University.
Hume Winzar is Associate Professor in the Department of Marketing and Management at Macquarie University
Contributors:
Sujana Adapa, Lecturer in Management (Strategy & Marketing), UNE Business School, University of New England
Adam Ferrier is the Chief Strategy Officer and Partner at independent creative: media agency Cummins and Partners.
Nancy Georges is a retail strategist, with over 25 years' experience; she is a social media expert who is sharing her skill and know-how with clients and at conferences, seminars, workshops and masterclasses.
Matt Gillings is Marketing Manager at PLAY Communications. Sydney, Australia.
Virginia Hyland: In 2013 the Marketing and Media Trade Press - B&T, and the industry, voted her the number one Female in Media – Media Agency category.
Adrian Mills is Group Account Director at McCann Melbourne.
Lorraine Murphy founded The Remarkables Group in 2012: the first dedicated talent agency for bloggers in Australia.
Marthin Nanere, Senior Lecturer in Marketing, Faculty of Economics, Business and Law, La Trobe University
Jodie Sangster is CEO of Australia's Association for Data-driven Marketing and Advertising (ADMA) and Chair of the International Federation of DMAs.
Muhammed Sayem, Lecturer, School of Business, University of Canberra
Lidia Tang is a Global Brand Manager at Unilever in Singapore.
Kathy Hatzis has over 20 years' experience in consumer and brand marketing for some of Australia's largest multi-channel advertisers, most recently as Head of Retail Marketing at ANZ Bank.
May O. Lwin, Associate Professor of Strategic Communication at the Wee Kim Wee School of Communication, Nanyang Technological University, Singapore
Rebecca Pini is the Founder and Managing Director of made4media.
Ken Roberts is the founder and CEO of Forethought Research.
Claudia Steven is Account Director at Red Jelly Advertising, Tasmania, Australia.
Jan Zwar, Lecturer, Department of Marketing and Management, Macquarie University
Student Resources
Each paperback copy of Consumer Behaviour in Action comes with a free obook - an integrated, online ebook with extra content and resources built in. Your obook includes:
Hotlinked learning objectives to help with revision
Instant access to video examples and interviews with marketing professionals
Embedded weblinks
Live chapter revision questions
Integrated dictionary, highlighting and note taking features.
To access your obook and resources:
Lecturer Resources
The following resources are available for lecturers who prescribe Consumer Behaviour in Action for their course:
Instructor's Resource Manual containing:
Guide to the obook and Oxford Digital Student Resources
Lecture guidelines by subject area
Answers to revision questions from the text
Tutorial activities for each chapter
Discussion questions for each chapter
Testbank consisting of multiple choice questions and short answer questions for each chapter.
PowerPoint slides
Tables from the book in digital format
For more information about the resources for Consumer Behaviour in Action, please contact your Oxford Territory Manager.
Sample Pages
Read a sample chapter from Consumer Behaviour in Action:
Request an inspection copy