Business Ethics eBook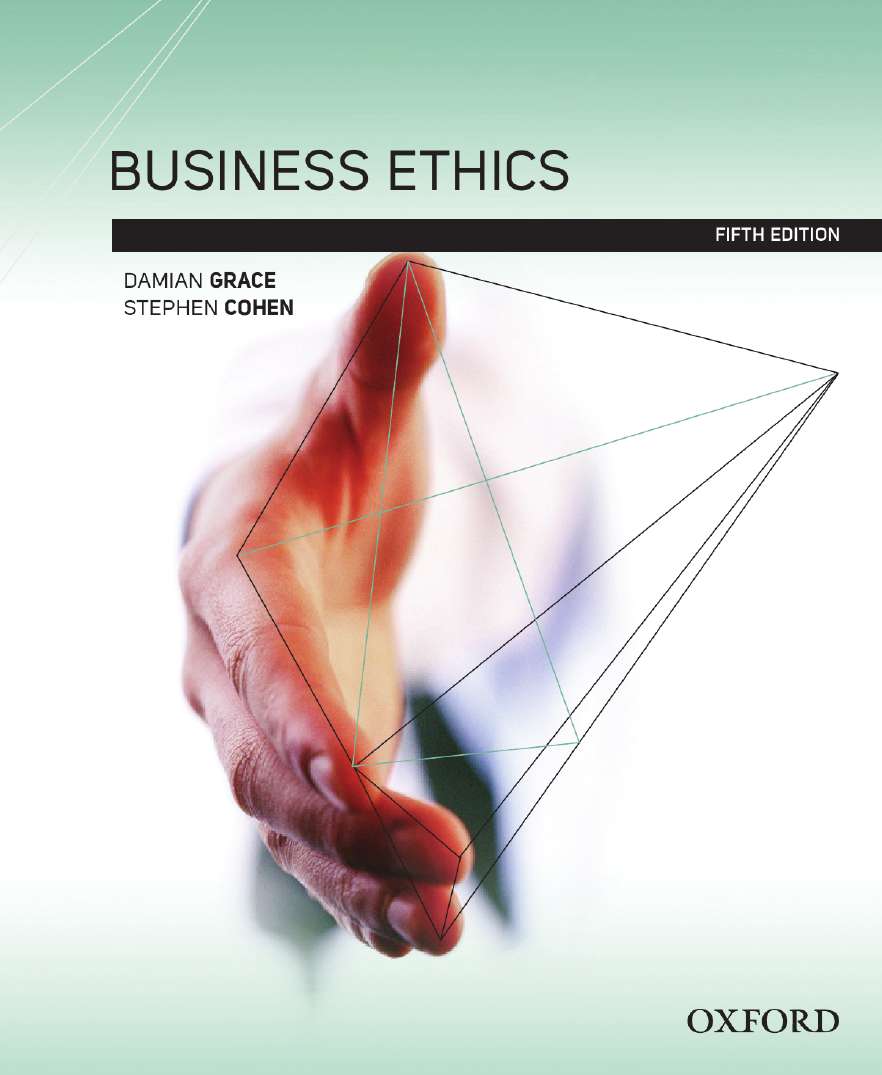 Business Ethics eBook
| | |
| --- | --- |
| ISBN: | 9780195588354 |
| Binding: | Ebook |
| Published: | 8 Oct 2013 |
| Availability: | Available |
| Series: | |
$94.95 AUD
$108.99 NZD
Add To Cart
Description
Business Ethics examines the ethics of business through issues related to common business situations in both local and global contexts. The fifth edition discusses theories of ethics connected with business and explores the complexities of business sustainability: the difficulties of operating profitably while upholding society's increasing demands for ethical and social responsibility.
Business Ethics provides students with the conceptual tools required for systematically considering and resolving ethical problems with integrity, through a balanced approach combining theory and principles, with practical examples and contemporary case studies.
New to this edition
All chapters have been revised and updated
Chapter 7: Professional Ethics has been revised to offer a more general examination of professional ethics and ethics in the public sector
Chapter 8: The Environment has a new focus , exploring the vital area of environmental ethics, the challenge of climate change and the question of responsibility
New and updated case study material throughout
New pedagogical features in each chapter to aid student engagement and understanding, including clear learning objectives, definitions of key terms and reflection points.
Contents
1. Ethical Reasoning in Business
The nature of ethics
Ethical defeat, or 'Who cares about ethics anyway?'
Top-down and bottom-up approaches
Reflective equilibrium
Consequentialism
Nonconsequentialism (deontological ethics)
Moral pluralism
Virtue ethics
Ethical relativism
Thinking about 'What should I do?'
What is business ethics?
Business
More about business
2. Dirty Hands
Corporate roles, parallel ethics?
Different perspectives: public and private morality
Necessity or altruism?
Public and private morality, and dirty hands
Good ethics is good business—again
3. Stakeholders
Taking account of stakeholders
The problem with the notion of stakeholder
The usefulness of the concept of stakeholder
Random testing of employees
Consumer protection and product safety
4. Ethics in the Marketplace: Generosity Competition and Fairness
Business and corporate personality
Corporate gifts and benevolence
Fair dealing and care
Two tales of Western Mining
5. Advertising Ethics
General moral concerns in advertising
Formal regulation in Australia
The moral problem in advertising
Advertising placements and endorsements
Bait advertising, and the bait-and-switch
6. Equal Opportunity, Discrimination and Affirmative Action
Differences and equality
Employment discrimination
Workplace discrimination
Pregnancy discrimination
Glass ceilings, glass walls
Sexual harassment
Disability
7. Professional Ethics
Professions, not businesses
Professional codes of practice
Conflicts of interest
Harms that arise from conflicts of interest
Constitutive and regulative rules
8. The Environment
The new challenge
Engaging with concerns about climate
The human-centred argument
The naturalistic argument
Growth and intergenerational justice
The precautionary principle
The GRI and CERES Principles
Australian practice
9. Whistleblowing
The basics of whistleblowing
Internal and external whistleblowing
Whistleblowing in Australia
10. Code of Ethics and Institutional Ethics
The two faces of codes
Codes of ethics and codes of conduct
A code of ethics in operation
Accountability and responsibility
Professional and business codes
Content of codes of ethics
Institutionalising ethics
Do codes work?
11. International Business Ethics
Competition or trust?
Ethics and cultural difference
The global social responsibilities of business
Business and human rights
Affordability
International and domestic business obligations: a double standard?
Supportive institutions
Appendix 1: Ethical Decision-making Models
Appendix 2: Australian Association of National Advertisers (AANA) Advertiser Code of Ethics
Appendix 3: The Caux Round Table Principles for Responsible Business
Authors
Damian Grace: Honorary Associate in the Department of Government and International Relations at the University of Sydney
Stephen Cohen: Associate Professor of Philosophy, School of Humanities, University of New South Wales, and Director of The Ethics Centre at Compliance Australia
Student Resources
The following resources are available for students using Business Ethics for their course:
Lecturer Resources
The following resources are available for lecturers who prescribe Business Ethics for their course:
Instructor's Resource Manual
PowerPoint slides
Access to Oxford Case Base: an online library of business cases drawn from OUP worldwide
For more information about the resources for Business Ethics, please contact your Oxford Territory Manager.
Sample Pages
Read a sample chapter from Business Ethics
Request an inspection copy