Only in Australia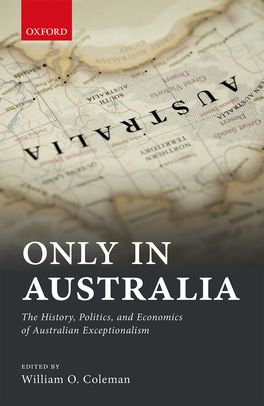 Only in Australia
| | |
| --- | --- |
| ISBN: | 9780198753254 |
| Binding: | Hardback |
| Published: | 7 Jul 2016 |
| Availability: | 0 |
| Series: | |
$75.95 AUD
$87.99 NZD
Add To Cart
Description
This edited volume is about the Australian difference and how Australia's economic and social policy has diverged from the approach of other countries. Australia seems to be following a 'special path' of its own that it laid down more than a century ago. Australia's distinctive bent is manifested in a tightly regulated labour market; a heavy reliance on means testing and income taxation; a geographical centralization of political power combined with its dispersal amongst autonomous authorities, and electoral singularities such as compulsory and preferential voting.
Contents
1: William O. Coleman: The Australian Exception
2: Geoffrey Blainey: Australian Exceptionalism: A Personal View
3: William O. Coleman: Theories of Australian Exceptionalism
4: Greg Melleuish and Stephen A. Chavura: Utilitarianism contra Sectarianism: The Official and the Unauthorised Civic Religion of Australia
5: Henry Ergas: Tocqueville, Hancock, and the Sense of History
6: J.R. Nethercote: Australia's 'Talent for Bureaucracy' and the Atrophy of Federalism
7: Phil Lewis: Australia's Industrial Relations Singularity
8: William O. Coleman: Australia's Electoral Idiosyncrasies
9: Jonthan Pincus: Socialism in Six Colonies: The Aftermath
10: Adam Creighton: We must all be capitalists now: The Strange Story of Compulsory Superannnuation in Australia
11: Richard Pomfret: Australia's Economic Mores through the Lens of the Professional Sports Industry: Individual Rights or State Paternalism?
12: Peter Yule: The Industrialist, the Solicitor, and Mr Justice Higgins: Some Biographical Insights into the Harvester Case of 1907
13: Nick Cater: Barons versus Bureaucrats: the History of the Grain Trade in North America and Australia
14: J.R. Nethercote: Australia's Distinctive Governance: Westminster, Ottawa, and Canberra Differentiated
15: Keith Rankin: Australia and New Zealand: Parallel and Divergent Paths

Authors
Edited by William Coleman , Reader in Economics, Australian National University
William O. Coleman is a Reader in the School of Economics at The Australian National University. He has written extensively on monetary policy, political economy, and the contested position of economics in society.