The Pursuit of Development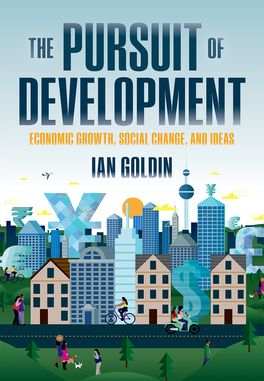 The Pursuit of Development
| | |
| --- | --- |
| ISBN: | 9780198778035 |
| Binding: | Hardback |
| Published: | 26 May 2016 |
| Availability: | 8 |
| Series: | |
$29.95 AUD
Add To Cart
Description
What do we mean by development? How can citizens, governments and the international community foster development?

The process by which nations escape poverty and achieve economic and social progress has been the subject of extensive examination for hundreds of years. The notion of development itself has evolved from an original preoccupation with incomes and economic growth to a much broader understanding of development.

In his new book, Ian Goldin considers the contributions that education, health, gender, equity and other dimensions of human well-being make to development, and discusses why it is also necessary to take into account the role of institutions and the rule of law as well as sustainability and environmental concerns.
Contents
Preface
1: What is development?
2: How does development happen?
3: Why do some countries develop and others not?
4: What can be done to accelerate development?
5: The evolution of development aid
6: Sustainable Development
7: Globalization and development
8: The future of development
References
Further reading
Index
Authors
Ian Goldin , Director, Oxford Martin School and Professor of Globalisation and Development, University of Oxford
Professor Ian Goldin is Director of the Oxford Martin School at the University of Oxford, and the University Professor of Globalisation and Development, as well as being a Professorial Fellow at the University's Balliol College. From 2001 to 2006, he was Vice President of the World Bank and the Bank's Director of Development Policy. From 1996 to 2001, Ian was Chief Executive and Managing Director of the Development Bank of Southern Africa and served as an adviser to the late President Nelson Mandela. Ian has received wide recognition including having been knighted by the French Government and nominated Global Leader of Tomorrow by the World Economic Forum. He has published 18 books, of which the most recent are The Butterfly Defect: How globalization creates systemic risk and what we can do about it (Princeton University Press, 2014) and Is the Planet Full? (Oxford University Press, 2014)
Reviews
Chosen by the Financial Times' James Crabtree as a 'book to help the west rebuild faith in globalisation.'
`Ian Goldin has been in the engine room of policy and action in South Africa, a leading figure in the World Bank and at the head of one of the world's most important research institutions in Oxford. This important book reflects the richness of his experience and scholarship. It shows how development can be fostered as well as the vulnerabilities, complexities and risks. It is succinct, wise, well-informed, broad ranging and deep. It is also very accessible and admirable in its brevity. A splendid achievement.' Lord Nicholas Stern, President of the British Academy, and IG Patel Professor of Economics and Government, London School of Economics
`I strongly recommend Ian Goldin's excellent book - a must read for anyone interested in development. He shows why some people and some countries stay poor while others get rich. This highly accessible book identifies what development means, why it matters and what we can all do to improve our world.' Sir Suma Chakrabarti, President of the European Bank for Reconstruction and Development
`Every citizen should be a champion of, and contributor to, sustainable development. Ian Goldin's book is a great starting point for understanding our current sustainable development challenges and future possibilities, including the end of poverty in our time. The book offers a succinct, highly readable, and reasoned introduction to the debates and the data, from the vantage point of a world-leading development thinker and practitioner.' Jeffrey D. Sachs, Special Advisor to the UN Secretary-General on the Sustainable Development Goals and author of The Age of Sustainable Development.
`The Pursuit of Development by Ian Goldin could not have come at a better time. The adoption of Sustainable Development Goals puts a high premium on our understanding of how development happens at a time when the global economic landscape is undergoing seismic changes. The rigour of analysis and the broad approach to the evolution of thinking beyond the narrow economic approach over time is one which will greatly benefit the younger generation students of development. I highly recommend this primer.' Donald Kaberuka, President of the African Development Bank (2005 to 2015) and formerly Minister of Finance in Rwanda.
`Anyone interested in development should read The Pursuit of Development. Development remains the greatest challenge for humanity. Drawing on his remarkable experience, Ian Goldin looks both back and forward to address the remaining old and the many emerging challenges, including rising inequality and climate change. I strongly recommend this immensely readable, timely and vitally important book.' Kumi Naidoo, International Executive Director, Greenpeace and former Secretary General, Civicus
`Ian Goldin looks at the complexities of development in our interconnected world, and does what so few do. Joining up the dots, he looks beyond the narrowly economic, and beyond Governments to people. He considers the important role played by social movements and by those in a broad range of organisations. He tells us that we all have a part to play if only we continue learning. A must read.' Baroness Valerie Amos, Former UN Under-Secretary-General for Humanitarian and Emergency Relief, Director of SOAS, University of London.