Public Relations and Strategic Communication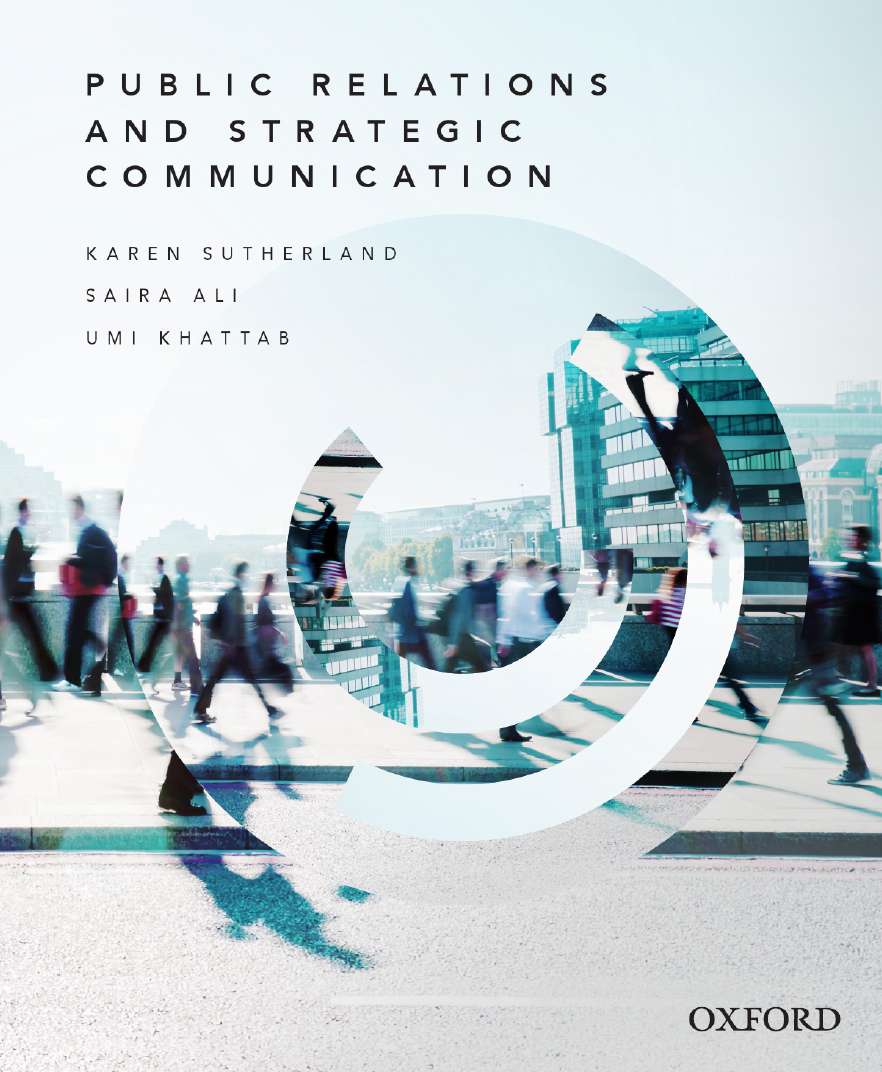 Public Relations and Strategic Communication
| | |
| --- | --- |
| ISBN: | 9780190304607 |
| Binding: | Paperback |
| Published: | 21 Oct 2019 |
| Availability: | |
| Series: | |
$103.95 AUD
$119.99 NZD
Add To Cart
Other options: Ebook $93.95 AUD $107.99 NZD Ebook Rental $53.95 AUD $61.99 NZD
Request an inspection copy
Description
Public Relations and Strategic Communication provides a comprehensive introduction into public relations and the building blocks of strategic communication that support its practice. It questions conventional methods and approaches public relations as a media-centered, people-focused, transcultural, and transnational effort, integrating traditional and social media throughout.

This text explores the theories of public relations and asks you to apply them to real and contemporary scenarios so you can experience how the theories will function in real life. These practical elements will prompt you to take a proactive approach to your studies, and provide you with a real understanding of what it is like to work in the industry.

KEY FEATURES
Includes case studies, critical reflection questions, and multiple choice questions that highlight the application of theory to practice, encouraging students to test and assess their understanding
Emphasises campaign management and PR planning and strategy throughout to prepare students for further study, and to provide them with the foundations to be a successful PR practitioner
Provides industry insights through practitioner interviews that offer helpful advice about preparing for a career in PR
Includes tables and flowcharts to help students visualise concepts such as PR hierarchy and organisational structure
Takes a global approach, drawing on a variety of local and international examples, including:

Nike's 'She Runs the Night' campaign and its transmedia storytelling strategy
Telstra's use of the social media network Yammer as an internal communications tool
2Day FM's royal prank and Southern Cross Austereo's response to the media-made crisis
Child labour practices in the cocoa industry, and the use of Change.org to petition Lindt to consider its corporate social responsibility.
Contents
1. Introduction: Public Relations and Strategic Communication in Global, Local and Transcultural Contexts
2. Theorising Public Relations: An Historical Journey
3. News Media and New Media: Storytelling, Content Curation and Creation
4. Building Relationships with Audiences, Publics & Stakeholders: Public Relations as a People-Centred Practice
5. Internal Communication and Reputation: (Net)Working Employees
6. Change Campaigns: Public Opinion and Inspiration
7. Community Events and Promotions: When Locals Rise
8. What is Corporate Social Responsibility (CSR)?
9. Political Communication: Public Affairs and Public Diplomacy
10. Critical Practice: Issue, Crisis and Risk Communication
11. The Profession Today: Law, Ethics, Reputation and Standards
Authors
Karen Sutherland – Lecturer in Public Relations, Discipline Lead in Public Relations, and Program Coordinator of the Bachelor of Communication (Social Media), University of the Sunshine Coast. Karen recently won the Social Media Educator of the Year award at the 2020 Social Media Marketing Awards.
Saira Ali – Lecturer in Media Studies, University of Adelaide
Umi Khattab – Senior Lecturer in Public Relations, University of the Sunshine Coast
Lecturer Resources
An Instructors Resource Manual will be available for lecturers who prescribe Public Relations and Strategic Communication, which will include the following:
Tutorial questions aligned with each chapter
A case study exercise that requires students to identify a client, issue or case, participate in a class
discussion, and submit a written report.
Request an inspection copy