Essential Communication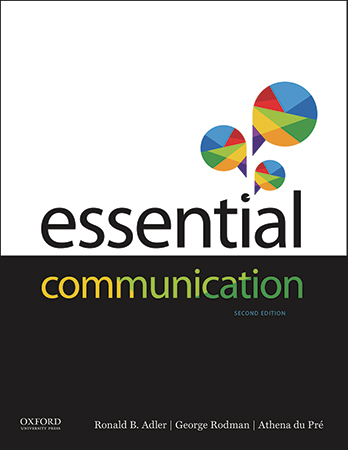 Essential Communication
| | |
| --- | --- |
| ISBN: | 9780190650087 |
| Binding: | Paperback |
| Published: | 28 Dec 2018 |
| Availability: | 10 |
| Series: | |
$79.95 AUD
$91.99 NZD
Add To Cart
Request an inspection copy
Description
This is no ordinary textbook. With its revamped design, highly visual features, and concise coverage, the second edition of Essential Communication is a practical, interactive guide, with exercises and self-quizzes to help students reflect on their own communication patterns and improve their skills. Focused on the fundamentals, every element of this text helps students become better communicators online, in person, at home, and at work.

NEW TO THIS EDITION
Expanded content on diversity covers a range of topics, including intersectionality, gender, generational differences, and cultural norms
Chapters 10 and 11 have been refocused on professional communication, from the interview process to communicating within the workplace
Updated and expanded coverage of social media encourages students to consider how to present themselves online, protect their privacy, and evaluate the information and news they encounter
Brief and engaging 'Ask Yourself' self-quizzes offer students opportunities to evaluate their own communication styles and practices
Lists of useful 'Tips & Reminders' provide students with practical guidance in relation to the key concepts in each chapter
Open-ended prompts in 'Pause to Reflect' features help students relate chapter material to their own lives
Each chapter concludes with 'Communication Take-Aways' that highlight the key points from the chapter and 'Putting It All Together' sections that ask students to use the information they have learned to think critically about the topics and apply the strategies to their own communication
New, contemporary examples and sample speeches include Emma González's 'We Call BS' speech from the landmark 'March for Our Lives' rally.
Contents
Communication What and Why
The Self, Perception, and Communication
Communication and Culture
Language
Listening
Nonverbal Communication
Communicating in Interpersonal Relationships
Communicating with Friends and Family
Communicating with Romantic Partners
Communicating to Land a Job
Communicating in the Workplace
Preparing Speeches
Presenting Speeches
Speaking to Inform and Persuade
Authors
Ronald B. Adler – Professor Emeritus of Communication, Santa Barbara City College
George Rodman – Professor of Television and Radio, Brooklyn College
Athena du Pré – Professor of Communication and Director of the Strategic Communication & Leadership master's degree program, University of West Florida
Reviews
''Essential Communication offers a thorough, organized, and clear presentation of the foundations of communication in a way that is practically useful for introductory courses.''--Jenna Abetz, College of Charleston

''Intelligent, an easy read, and focused on the current way we communicate. It will resonate with the 21st century student.''--Archie Wortham, Northeast Lakeview College

''Like the title states, this is the essential communication of our time, and the text is chock-full of contemporary, relevant examples and illustrations of the theories we ask our students to come to and understand.''--Susan Carol Stinson, Virginia Polytechnic Institute and State University

''This text discusses the prominent theories across various contexts, highlighting the relational aspect of communication. Learning objectives are both clear and reiterated, helping students focus and ground their learning in key aspects of their lives.''--Cheryl Casey, Champlain College
Request an inspection copy