Communication Research Methods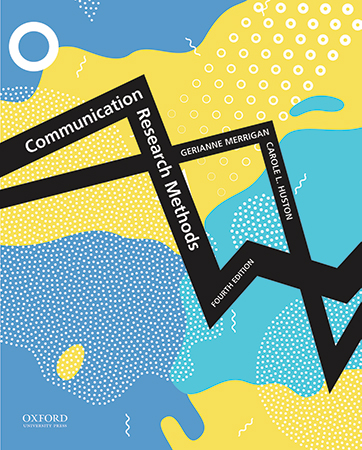 Communication Research Methods
| | |
| --- | --- |
| ISBN: | 9780190652746 |
| Binding: | Paperback |
| Published: | 11 Feb 2019 |
| Availability: | 0 |
| Series: | |
$129.95 AUD
$148.99 NZD
Add To Cart
Request an inspection copy
Description
Ideal for research methods courses covering multiple methodologies, Communication Research Methods is the only text that uses a research-as-argument approach to help students not only become more effective researchers, but more insightful consumers of research.

Merrigan and Huston treat communication research comprehensively, discussing a broad range of traditional and contemporary methods and considering ethics in designing, conducting, and reporting research.

NEW TO THIS EDITION
The claims, data, and warrants chapters found in prior editions have been replaced with two new chapters that contextualise research arguments for quantitative social science (Ch. 4) and interpretive/critical research (Ch.11)
A new chapter on interviews and focus groups (Ch. 12) will improve students' abilities to conduct interviews and code evidence based on repetition, recurrence, and forcefulness
The ethics chapter (Ch. 3) now includes links to the ethical codes of conduct for 10 professional associations relevant to communication researchers in academia and industry
Conversation Analysis (Ch. 10) and Discourse Analysis (Ch. 14), have been separated to more clearly represent the paradigmatic differences in those ways of studying language-in-use
The chapter titles for all chapters in Parts II and III have been extended to help students more quickly compare those methods, and the text has been reorganised to match the first edition's order of paradigms
All chapters include updated examples and more links to industry research.
KEY FEATURES
Each chapter begins with a short, reader-friendly introduction and student learning outcomes entitled 'What Will You Get from this Chapter?'
Shows students how research skills will matter in their roles at work, as consumers, parents, and voters, in healthcare and community contexts during school and after graduation
Highlights the role of different methodologies for making different types of research arguments.
Contents
Part 1. The What and Why of Communication Research
1. Introduction to Communication Research
2. Three Paradigms of Knowing
3. Ethics and Research
Part 2. How to Explain and Predict Communication
4. Making Arguments for Association and Causality
5. Measuring and Designing Quantitative Social Science Research
6. Experimental Research: Predicting Causes and Effects
7. Survey Research: Explaining and Predicting Attitudes and Behaviors
8. Content Analysis: Explaining and Interpreting Message Categories
9. Analyzing and Interpreting Quantitative Data
10. Conversation Analysis: Explaining Talk's Structure and Function
Part 3. How to Interpret, Evaluate and Reform Communication
11. Making Arguments for Multiple Plausible Realities
12. Interviews and Focus Groups: Interpreting Guided Responses
13. Ethnography: Interpreting and Evaluating Cultural Communication
14. Discourse Analysis: Interpreting & Evaluating Language-in-Use
15. Rhetorical Criticism: How to Interpret Persuasive Texts and Artifacts
16. Critical Studies: Evaluating and Reforming Ideologies
Authors
Gerianne Merrigan – Professor and former Chair of Communication Studies, San Francisco University.
Carole L. Huston – Professor of Communication Studies and Gender Studies, and Special Assistant in the Office of Institutional Effectiveness and Planning, University of San Diego.
Reviews
"Communication Research Methods effectively balances how to understand research with how to conduct research. Its most compelling feature is its explanatory power: it makes research understandable to an audience that may not go on to graduate school or higher-level research."--Sandra L. French, Radford University

"This is the only textbook in the field that provides a general survey of research methods through a commonsense foregrounding of qualitative research."--Jay Brower, Western Connecticut State University

"Communication Research Methods provides a very detailed historical explanation of the development and current use of various communication research methodologies."--Richard C. Emanuel, Alabama State University
Request an inspection copy