Freelancing in the Creative Industries eBook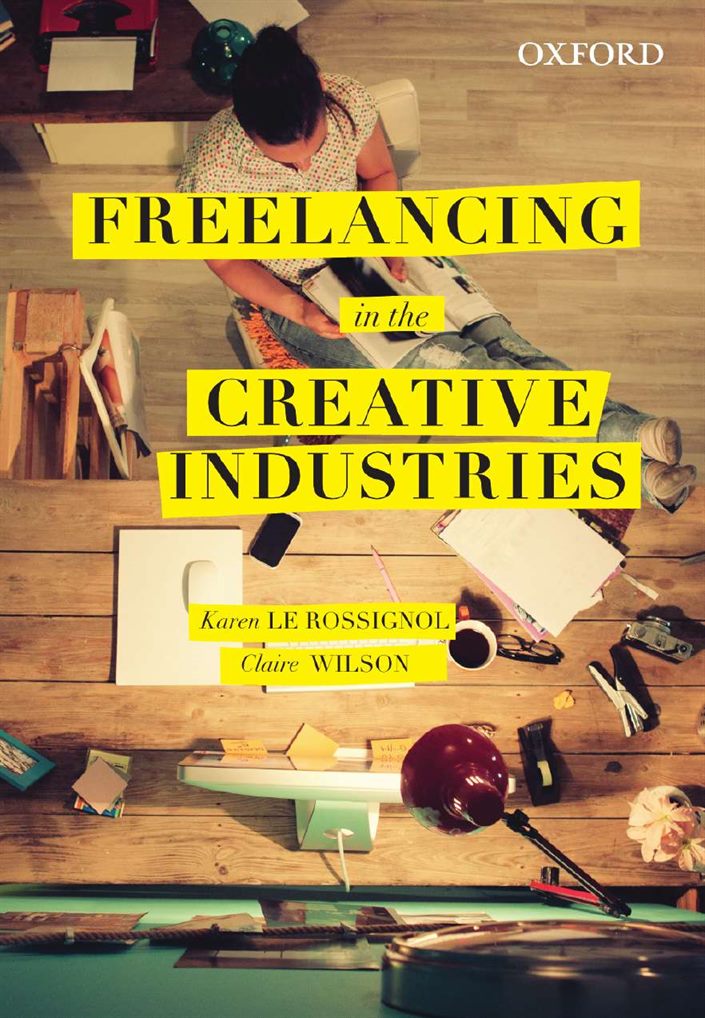 Freelancing in the Creative Industries eBook
| | |
| --- | --- |
| ISBN: | 9780195598278 |
| Binding: | Ebook |
| Published: | 8 Oct 2015 |
| Availability: | Available |
| Series: | |
$64.95 AUD
$74.99 NZD
Add To Cart
Add To Cart
Other options: Paperback $66.95 AUD $73.99 NZD
Request an inspection copy
Description
What are the most challenging aspects of freelancing in the creative Industries? Freelancing requires a breadth of skills across managing projects and timelines, having the space and energy to maintain a creative practice and knowing how to get work into the marketplace.
Freelancing in the Creative Industries is a reference that will guide you through your journey as an emerging freelancer in the arts. With an emphasis on creative thinking and problem solving through diverse case studies, this book will help you to become an adaptable freelancer who is able to think strategically in an ever-changing arts sector. It encourages emerging freelance practitioners to open their minds to diverse ways of practicing, such as exploring cross-disciplinary practices or developing creative online marketing strategies. And although it has a strong focus on freelancing skills across creative arts areas, it also takes examples and references from various sectors including: visual arts, writing, performing arts, music, new media arts and cross-disciplinary arts.
Build up a freelance portfolio with reflective learning activities in each chapter. These activities help apply the content of the chapters to individual practice. They accumulate throughout the book so that by the end emerging or student creative artists will have a portfolio that is directly related to their field of practice.

Case studies of creative freelancers focus on the core practice/business skills. This helps guide the learning through concrete examples of how others have shaped their career and solved problems, illustrating how readers can adapt ideas to their own practices.

Includes examples from a range of industries. By focusing on core skills (effective communication tools, networking, project management), it is possible to draw from a range of industries with application to any creative freelancer.

Each chapter lists further tools that can assist freelancers.
Contents
Preface: How to use this book
PART A: Contextualising Your Artistic Passion
Chapter 1: Starting out with vision
Thinking Creatively
Why is Creativity Important?
Generating new ideas
Working Creatively
Knowing the way you work best
Finding the right direction
CASE STUDY: Isobel Knowles
Chapter 2: Researching the Creative Industries
Researching the creative industries
Defining creative industries
Contributions of the Creative Industries
The value of knowing the numbers
Industry peak bodies and service organisations
Key government organisations
Research and industry institutions
Venues and distribution
Researching Peers, Mentors and Communities
Communities of Practice
Networks
Mentor Role and Purpose
Finding the right information
CASE STUDY: Aimee Smith
Chapter 3: Ways of Working
Structures
Working individually
Don't give up your day job?
Ways of Working Well with Others
Choosing the right communication channel
Running effective meetings
Negotiation skills
Resolving conflicts
Ground rules for teams
Dealing with stress
Time management
Keeping on track with your goals
Learning how you spend your time
Working with your personal rhythms
Interruptions
Strategies for managing your time
The reality of administration
PART B: Convincing Others of Your Vision
Chapter 4: Communicating your creative practice
Communicating your practice
Defining communication
Communication channels
Knowing Your Audience
What is market research?
Identifying your targeted market
Knowing your environment
Knowing your audience
Standing out from the competition
Communicating Your Vision
Capability statement
Artist statement
Communicating your practice online
Websites
Social media and the creative artist
Other online networks
CASE STUDY: Benjamin Law
Chapter 5: Convincing Others
Getting your foot in the door
Pitching
Preparing your pitch
The presentation
What is an elevator pitch?
Written pitches
Proposals – grants and sponsorships
The grant proposal
Seeking out sponsorships
How is Your Practice Different?
Unique approach
Price
Poorly served audience
Expertise
Are you ready for a niche?
Part C Leaping Into Creative Action
Chapter 6: Setting up arts projects
Arts Project Management for Freelancers
Developing the project concept
Scoping the project
Scoping funding options
Managing Arts Projects
Stage 1: Defining the arts project
Stage 2: Planning the arts project
Stage 3: Implementing the arts project
Stage 4: Evaluating the arts project
Common Project Issues
Timelines and deadlines
Changes to resources in the project plan
Changes to project objectives
Success factors in arts project management
CASE STUDY: Clare Poppi
Chapter 7: Arts Marketing
Context
Defining Arts Marketing
Supply and Demand
Structure of a Marketing Plan
Strategic Marketing
SWOT analysis
Strategic marketing objectives
Arts Marketing 4Ps: Product, Place, Price, Promotion
Product
Place
Price
Promotion
Budgeting for Marketing
Setting the marketing budget
Elements of a marketing budget
Marketing Budget - Promotion
Top tips for promotion budgets
CASE STUDY: David Finnigan
Chapter 8: Planning the Money
Financial Skills
Financial Planning for your Freelance Practice
Financial Planning
Financial Reporting
Budgeting
Financial terms
Budgeting your Projects
Starting a Project – Budget
Costing and Pricing
Raising an Income
Fundraising
Sponsorship
Arts grant-giving organisations
Philanthropy
CASE STUDY: Tim Syrota
Chapter 9: Planning for Expansion
Identifying Skills for Growth
Complex Project Skills
Managing an event
Reviewing venues and spaces
Contingency planning
Getting it Right Legally
Obtaining a tax file number
Australian Business Number (ABN) & GST registration
Intellectual property
Ethics
Occupational Health and Safety (OHS)
Insurance
Conditions and contracts
Business Skills
Setting up a business structure
Setting up administrative systems
Training and professional development
Change and a small arts enterprise
CASE STUDY: Zoe Pepper
Chapter 10: Career options
Creative Industries Careers
Arts employment research
Practical models for an arts career
Measuring value – creative, artistic, financial
Economic and cultural value, and creative industries
Value of communities of creativity
Reviewing/renewing the vision
Niche and difference
Funding options
Networks and mentors
The case for creativity as a career
Changing career directions
Artist as change agent
CASE STUDY: Jonathan Wilson
Authors
Karen Le Rossignol – Senior Lecturer, School of Communication & Creative Arts, Deakin University
Claire Rosslyn Wilson – Freelance non-fiction writer and poet who has worked with various international and non-profit arts organisations both in Australia and overseas
Case study profiles
:
Isobel Knowles - artist and animator
Aimee Smith - choreographer and dance artist
Benjamin Law - journalist, columnist and screenwriter
Clare Poppi - artist with a practice in jewellery and metalsmithing
David Finnigan - all areas of theatre as writer, performer, director, producer and designer
Timothy Syrota - writer, photographer and filmmaker
Zoe Pepper - interdisciplinary artist (theatre, live art, film and participatory gaming)
Jonathan Wilson - musician, artist and cultural producer
Lecturer Resources
Implementation Guide – a guide detailing the purpose for each section of the book and possible aims for assessment of learning.
Request an inspection copy