Buried in Treasures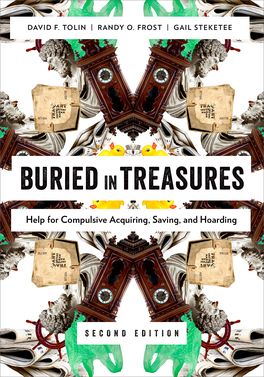 Buried in Treasures
| | |
| --- | --- |
| ISBN: | 9780199329250 |
| Binding: | Paperback |
| Published: | 30 Oct 2013 |
| Availability: | 231 |
| Series: | |
$42.95 AUD
$46.99 NZD
Add To Cart
Description
While most people find it relatively easy to manage their possessions, some find it extremely difficult. If you have a problem resisting the urge to acquire and you find your home cluttered and filled to capacity with items many people would find useless and unnecessary, you may suffer from a condition known as hoarding disorder.

Hoarding is a behavioral problem consisting of clutter, difficulty discarding items, and excessive buying or acquiring. Hoarding is often associated with significant reduction in quality of life, and in extreme cases, it can pose serious health risks. If you or a loved one has hoarding disorder, this book can help.

This fully updated Second Edition of Buried in Treasures outlines a scientifically based, effective program for helping those with hoarding disorder dig their way out of the clutter and chaos of their homes. Written by scientists and practitioners who are leaders in studying and treating hoarding disorder, this book outlines a program of skill-building, learning to think about possessions in a different way, and gradual challenges to help people manage their clutter and their lives. It also provides useful information for family and friends of people who hoard, as they struggle to understand and help.

Discover the reasons for your problems with acquiring, saving, and hoarding, and learn new ways of thinking about your possessions so you can decide what you really need and what you can do without. Learn to identify the "bad guys" that cause and maintain your hoarding behavior and meet the "good guys" who can help motivate you and put you on the path to change. Useful self-assessments will help you determine the severity of your problem. Training exercises, case examples, organizing tips, and motivation boosters help change the way you think and behave toward your possessions. This book provides easy-to-understand strategies and techniques that anyone can use.
Contents
1 Introduction 2 What Is Hoarding? 3. Do I have a Problem with Hoarding? 4 Meet the Bad Guys 5 Meet the Good Guys: Strategies for Beating Hoarding 6 How Did This Happen? 7 Enhancing Motivation 8 Reducing Acquiring 9 Sorting/Discarding: Getting Ready 10 Sorting/Discarding: Let's Go! 11 Here Come the Bad Guys: Part 1. Motivation and Working Time 12 Here Come the Bad Guys: Part 2. Taking on Your Brain 13 Maintaining Your Success Index
Authors
David Tolin , Adjunct Associate Professor of Psychiatry, Yale University School of Medicine
Randy O. Frost , Harold & Elsa Siipola Israel Professor of Psychology, Smith College
Gail Steketee , Dean and Professor, Boston University School of Social Work
Dr. David Tolin is Director of the Anxiety Disorders Center at the Institute of Living and Adjunct Associate Professor of Psychiatry at Yale University School of Medicine. Dr. Randy O. Frost is Harold & Elsa Siipola Israel Professor of Psychology at Smith College. Dr. Gail Steketee is Dean and Professor at Boston University School of Social Work. Drs. Tolin, Frost, and Steketee are among the world's leading experts in the study and treatment of hoarding disorder. Together, they have held three grants to study hoarding from the National Institute of Mental Health and have led the field in our understanding of why hoarding behavior occurs, how hoarding is reflected in brain activity, and how best to treat people with hoarding. They have developed and tested a treatment for hoarding, currently considered the "gold standard" in the field, which forms the basis of this book.
Reviews
"...[the authors] have been leading the way in documenting characteristics of sufferers and how to treat the condition...an excellent guide for therapists who have only limited experience in treating hoarding, as well as for those who treat other subtypes of OCD but not necessarily hoarding."--Cognitive and Behavioral Practice
"There are a fair number of self-help books out there on aspects of OCD. Buried in Treasures is among the best of them. People with a hoarding problem should definitely find value in this book. It also belongs on the shelf of many mental health providers because whatever population one is working with will have its share of individuals with this problem. I hope that, in future, the authors may bring their knowledge, experience, and excellent writing skills to additional self-help books on aspects of OCD." --PsycCRITIQUES
"I would recommend this book to treatment providers, professional organizers and the compulsive hoarder. This book, if used properly, will guide the reader to clutter-free living!" -Patricia B. Perkins, JD, Executive Director, OC Foundation, Inc.
"The world's leading experts on compulsive acquiring, hoarding and saving have presented their proven, step-by-step treatment in a practical, easy-to-understand format that will be useful to anyone who hoards, as well as any professional who treats this problem. If you are looking for ways to clear your clutter, you need to read this book now!" -Martin M. Antony, Ph.D., ABPP, Professor, Department of Psychology, Ryerson University, Author, When Perfect Isn't Good Enough
"...[the authors] have been leading the way in documenting characteristics of sufferers and how to treat the condition...an excellent guide for therapists who have only limited experience in treating hoarding, as well as for those who treat other subtypes of OCD but not necessarily hoarding."--Cognitive and Behavioral Practice
"There are a fair number of self-help books out there on aspects of OCD. Buried in Treasures is among the best of them. People with a hoarding problem should definitely find value in this book. It also belongs on the shelf of many mental health providers because whatever population one is working with will have its share of individuals with this problem. I hope that, in future, the authors may bring their knowledge, experience, and excellent writing skills to additional self-help books on aspects of OCD."--PsycCRITIQUES
"Buried in Treasures is one of the few books I regularly recommend to clients and other professionals searching for clear, accurate and practical information on hoarders and hoarding behavior. David Tolin and his colleagues distill the latest research and apply a very human touch in this excellent reference." -Peter Walsh, Professional Organizer and Author of NY Times best-seller It's All Too Much