Study and Communication Skills for Psychology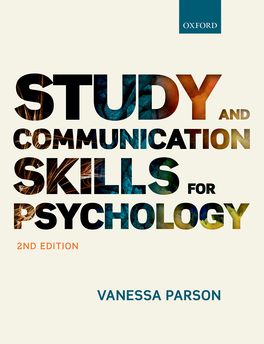 Study and Communication Skills for Psychology
| | |
| --- | --- |
| ISBN: | 9780198786122 |
| Binding: | Paperback |
| Published: | 7 Mar 2018 |
| Availability: | 55 |
| Series: | |
$42.95 AUD
$49.99 NZD
Add To Cart
Request an inspection copy
Description
Study and Communication Skills for Psychology is written with first year students in mind and reviews the essential skills a psychology student needs to develop over the course of their undergraduate studies.
Written in a practical, motivational style, the book includes plenty of examples and advice to help the reader master the skills being explored. The book covers: how to get the most out of lectures, tutorials, and group work; how to approach and use the vast array of information that is available in books, in journals, and on the web; how to think, read, and write critically; how to communicate research and ideas effectively to others; and how to revise for and complete exams to maximise the chances of success.
Written specifically for psychology students by an experienced psychology educator, Study and Communication Skills for Psychology is the essential guide to getting the most out of your studies.
This title is available as an eBook. Please contact your Oxford Learning Resource Consultant for more information.
Contents
1: Introduction
2: Time management: a skill best learned early
3: Teaching time: making the most of it
4: Communication and learning with others
5: Before and after assessments: guidelines, criteria and feedback
6: Sources of information and their uses
7: How to find and read a journal article
8: Plagiarism
9: What is referencing?
10: Reading and evaluating text
11: So you think you can write good?
12: Critical analysis: the big new skill you need to learn
13: Writing essays
14: Writing practical reports: how to write up an experiment
15: Presentations and posters
16: Revision and exam tips
Authors
Vanessa Parson, Senior Lecturer, University of Sunderland
Student Resources
Online Resources
Study and Communication Skills for Psychology is accompanied by a range of online resources, including:
Sample essays
Sample research papers
Sample lab reports
Referencing exercises
Academic misconduct awareness exercises
Poster templates
Lecturer Resources
Online Resources
Study and Communication Skills for Psychology is accompanied by a range of online resources, including:
Figures from the book in electronic format, ready to download
Writing skills handout
PowerPoint slides and seminar exercises on essay writing and lab reports
Additional referencing exercises
PowerPoint slides on academic misconduct awareness
PowerPoint slides on presentation skills
Reviews
"Fills a gap for many students who struggle with the expectations of study at university." - Mandy Robbins, Wrexham Glyndwr University
"I think that this book is definitely a must have for all undergraduate psychology students." - Nayeli Gonzalez-Gomez, Oxford Brookes University
"Clear and well-presented coverage of everything a psychology student needs to know about academic skills when entering university" - Patrick Rosenkranz, Newcastle University
"Very engaging and written in a comprehensible style that students can understand...A very useful book for undergraduate students." - Saima Noreen, Goldsmiths, University of London
"Well laid out and easy to follow and understand. The ultimate psychology student guide!" - Kathy Anderson, student, University of Sunderland
Request an inspection copy