Communicating in Geography and the Environmental Sciences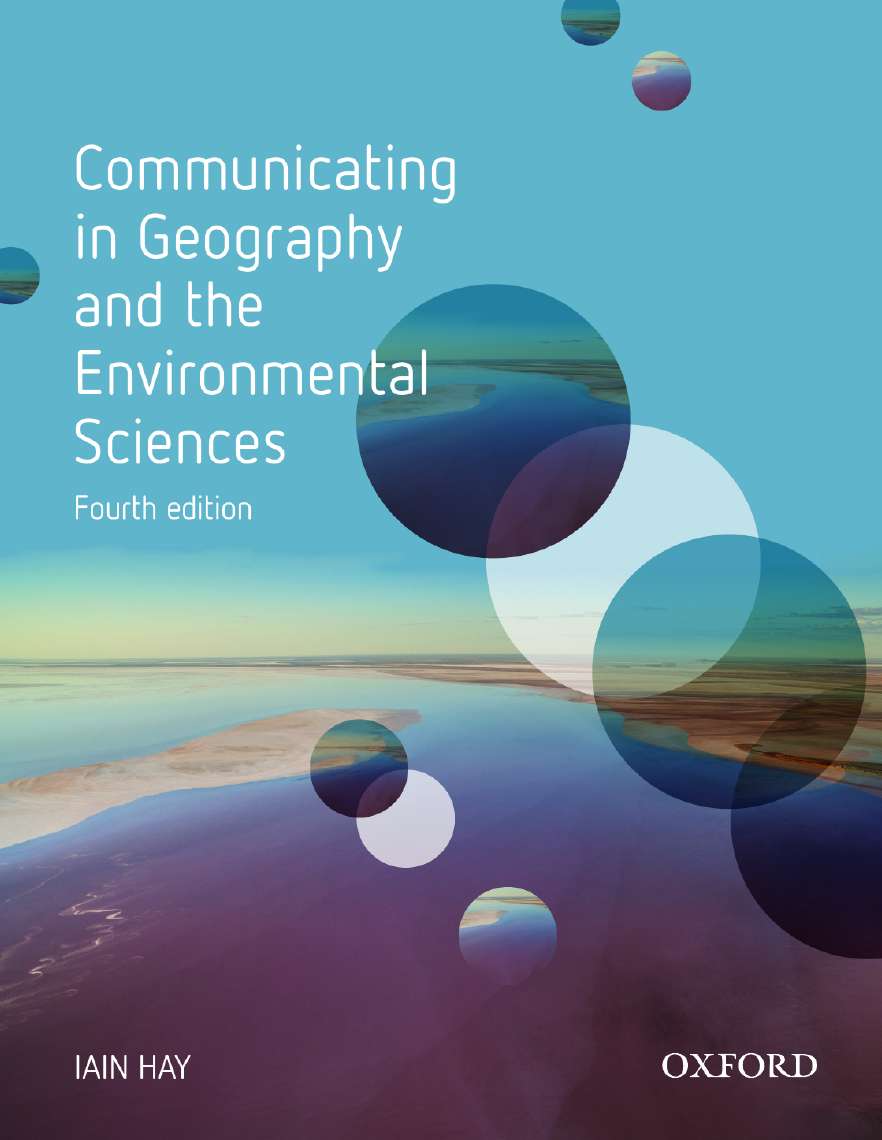 Communicating in Geography and the Environmental Sciences
| | |
| --- | --- |
| ISBN: | 9780195576757 |
| Binding: | Paperback |
| Published: | 15 Jun 2012 |
| Availability: | |
| Series: | |
$69.95 AUD
$79.99 NZD
Add To Cart
Request an inspection copy
Description
Communicating in Geography and the Environmental Sciences
helps students to communicating effectively in academic and professional settings. It discusses the character and practice of some of the most common forms of academic presentation skills used by students of geography and the environment. Chapters outline the 'whys' and 'hows' of essays, research and laboratory reports, reviews, media releases, summaries, annotated bibliographies, maps, figures, tables, posters, examinations, and talks. Information on the ways in which forms of presentation are commonly assessed enables students to approach their study with confidence as they will have the skills to clearly express their ideas and knowledge.
THIS BOOK WILL:
Help improve teaching, learning, and assessment. Improves students' communication skills will help them write better essays and pass exams with confidence.
Help increasingly diverse student populations fulfil educational objectives.
Revealing the key skills of academic communication and assessment, this text is a perfect study aid to those studying through distance education.
Provide students with useful vocational skills.
This book develops the key abilities university graduates need to communicate ideas and information as they enter today's workforce.
Contents
1. Writing an essay
Why write?
What is an essay?
How do I write a good essay?
What are your essay markers looking for?
2. Writing a report
Why write a report?
What are report readers looking for?
Components of a good report
Writing a laboratory report
3. Writing an annotated bibliography, summary or review
Preparing an annotated bibliography
Writing a summary or precis
Writing a good review
4. Writing a media release
What is a media release and what are users of media releases looking for?
Targeting a media release
Writing a media release
Sending a media release
Following up a media release
5. Preparing a poster
Why make a poster?
How to produce a poster
What are your poster markers looking for?
Designing your poster
6. Communicating with figures and tables
Why communicate graphically?
General guidelines for clear graphic communication
Different types of graphic
Preparing a good table
7. Making a map
Different types of maps
Standard elements of good maps
8. Preparing and delivering a talk
Why are public-speaking skills important?
Preparing to give a talk
9. Passing exams
Why have exams?
Types of exams
Preparing for an exam
Sitting exams: techniques for passing exams
10. Referencing and language matters
What are references and why do we need them?
The author–date (Harvard) system
The note system
Plagiarism and academic dishonesty
Sexism and racism in language
Some notes on punctuation
Authors
Iain Hay - Professor of Human Geography, Flinders University
Request an inspection copy