Necessary Evil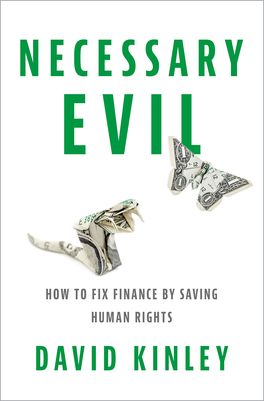 Necessary Evil
| | |
| --- | --- |
| ISBN: | 9780190691127 |
| Binding: | Hardback |
| Published: | 15 Mar 2018 |
| Availability: | 10 |
| Series: | |
$49.95 AUD
$56.99 NZD
Add To Cart
Description
Finance is the evil we cannot live without. It governs almost every aspect of our lives and has the power to liberate as well as enslave. With the world's total financial assets--valued at a staggering $300 trillion--being four times larger than the combined output of all the world's economies, there is, apparently, plenty to go around. Yet, while proponents of finance-driven capitalism point to the trickle-down effect as its contribution to wealth redistribution, there are still nearly a billion people across the globe existing on less than $2 a day; 14 percent of Americans are living below the official poverty line; and disparities in wealth equality everywhere have reached unprecedented levels. Evidently a trickle is not enough.

How can this be when so much wealth abounds, and when finance is supposedly chastened and reformed after its latest global crisis? How, especially, can it be in an age when human rights are more loudly proclaimed than ever before? Can the financial sector be made to shoulder more of the burden of spreading wealth, reducing poverty, and protecting rights? And if so, what role can human rights play in making it happen?

In answering these questions, David Kinley draws on a vast array of material from bankers, economists, lawyers, and politicians, as well as human rights activists, philosophers, historians and anthropologists, alongside his own experiences working in the field. Necessary Evil shows how finance can shed its conceit, return to its role as the economy's servant not its master, and regain the public trust and credibility it has so spectacularly lost over the past decade--all by helping human rights, not harming them.
Contents
Introduction
Chapter 1: Strange Bedfellows
Chapter 2: Living Together
Chapter 3: Flirting with Risk
Chapter 4: Private Matters
Chapter 5: Public Affairs
Chapter 6: Cheating
Chapter 7: Counseling and Reconciliation
Conclusion
Authors
David Kinley, Professor of Law, Australian National University
David Kinley is Professor and Chair in Human Rights Law at the University of Sydney, and an Academic Expert member of Doughty Street Chambers in London. He is a former Fulbright Senior Scholar at American University Washington College of Law, and has taught at Oxford and George Washington Universities as well as the Sorbonne. He is a co-author of The International Covenant on Economic, Social, and Cultural Rights (winner of an American Society of International Law Best Book Award) and author of Civilizing Globalization: Human Rights and the Global Economy. Born in Ireland and somewhat educated in England, he now lives in Australia.
Reviews
"When we get to the point where well-known financial figures refer to the sector as a 'weapon of mass destruction,' a book that explores how we got to this depressing point-and more importantly-where we go from here to repair the 'necessary evil' is most welcome." -- Margaret Wachenfeld, Senior Research Fellow, Institute for Human Rights and Business
"This important new book is a powerful and eloquent demonstration of how costly this apparent separation between finance and human rights is to society and of how much we can gain from incorporating human rights considerations into finance." -- Danny Bradlow, Professor of Law, Washington College of Law, American University
"A profound human rights analysis of the financial system that offers a disturbing insight of how finance has often failed to advance the human condition. But Kinley's book goes further by offering much needed suggestions for policies that can actually help make finance work for human rights." -- Nicola Jägers, Chair International Human Rights Law, Tilburg Law School, Commissioner at the National Human Rights Institute
"A challenging and engagingly written book. Kinley's analysis is impressively wide-ranging, encompassing private and public finance issues including investment, tax and aid; risk and financial regulation; and human rights-impacting shortcomings in global financial architecture. He sets out a convincing blueprint for rendering the global financial system supportive rather than subversive of human rights." -- Aoife Nolan, Professor of International Human Rights Law, School of Law, University of Nottingham
"David Kinley's latest call to arms represents indispensable reading for all those who care about and are working toward more sustainable finance, business, and global good governance." -- Chip Pitts, Lecturer, Stanford and Oxford Universities, Former Chief Legal Officer, Nokia, Inc., and former Chair of Amnesty International USA
"Kinley reminds us that the financial system should work for the benefit of society and not the other way around." -- Natalie Bugalski, Co-Founder, Inclusive Development International