Generation Next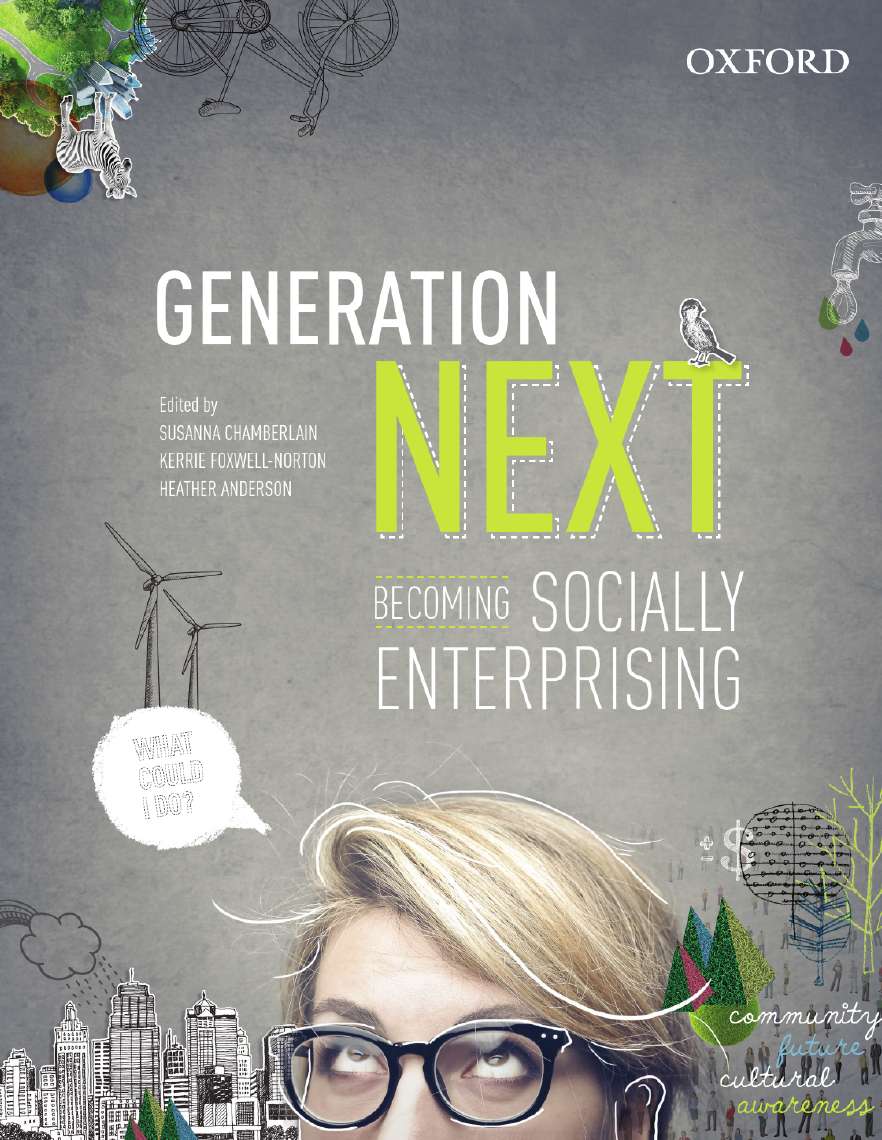 Generation Next
| | |
| --- | --- |
| ISBN: | 9780195527896 |
| Binding: | Paperback |
| Published: | 30 Jun 2014 |
| Availability: | |
| Series: | |
$100.95 AUD
$115.99 NZD
Add To Cart
Request an inspection copy
Description
Generation Next: Becoming Socially Enterprising opens the door to the possibilities of social enterprise, harnessing students' idealism and desire to 'make a difference'. The book is organised around three key questions: Why should I care?, What could I do?, and What should I know? and provides an overview of issues, theories and practical knowledge that enables students to understand the world of the 21st Century and to be equipped to participate as active citizens. It explores the key themes of social justice, human rights and cultural awareness through practical, real life Australian/Pacific case studies.

Key features
Case studies and interviews throughout the book help illustrate the principles discussed, as well as show examples of the possibilities of social enterprise.
'Spotlight on …' feature boxes illuminate a particular idea, practice or person.
Research questions offer an opportunity for an inquiry-based learning process where further information, ideas and theory can be gathered.
Class exercises provide a starting place for problem-based learning.
Contents
SECTION 1: WHY SHOULD I CARE?
1. Human Rights in the Twenty-first Century
Case Study: DP, Refugee, Asylum Seeker, Queue Jumper, Immigrant?
Case Study: An Interview with Tim Silverwood
3. Social Justice and Social Inclusion: A Quest for Equity
Case Study: Creating 'Justice Teams': Unearthing Young People's Skills in Responding to Racism
4. Leadership with a Conscience
Case Study: Serving Music and the Community: The Australian Chamber Orchestra
SECTION 2: WHAT COULD I DO?
5. A Bridge over the Chasm: Social Enterprise and the Third Way
Case Study: Teaching and Learning the Dynamics of Change
6. Exploring the Third Sector of Society
Case Study: The United Muslim Women Association (MWA)
7. Social Entrepreneurship: The Interplay of Altruism, Materialism and Entrepreneurialism
8. Organising Practice: Governance of the Third Sector
Case Study: 4ZZZ Community Radio: A Story of Growing Up and Making Decisions
9. The Rocky Road of Social Policy or 'What Happens behind the Scene?'
Case Study: HEISTeGallery: A Case Study of Inclusive Disability Arts Enterprise
SECTION 3: WHAT SHOULD I KNOW?
10. The Future of a Fourth Sector
11. Critical Cultural Awareness
Case Study: Reflections on Critical Cultural Awareness: The Case of Show Me Your World Tour
12. Social Enterprise and Community Practice: Partners in Social Change
13. Community Development and International Aid
Case Study: Pt Rekan Usaha Mikro Anda (PT RUMA): A Successful Story of an Indonesian Social Enterprise
14. Globalisation and Local Impacts
Authors
Susanna Chamberlain – Lecturer, School of Humanities, Griffith University
Kerrie Foxwell-Norton – Senior lecturer, School of Humanities, Griffith University
Heather Anderson – Lecturer, School of Communication, International Studies and Languages, University of South Australia
Contributors
Nora Amath
Amir Amiruddin
Eva Balan-Vnuk
Malcolm D. Brown
David Denborough
Robin Dick
Evan Douglas
Scott Downman
Kay Ferres
Ann Ingamells
Fiona Kumari Campbell
Gail Pritchard
Tim Silverwood
Steve Williams
Patricia Wise
Sample Pages
Read a sample chapter from Generation Next:
Request an inspection copy