Media and Crime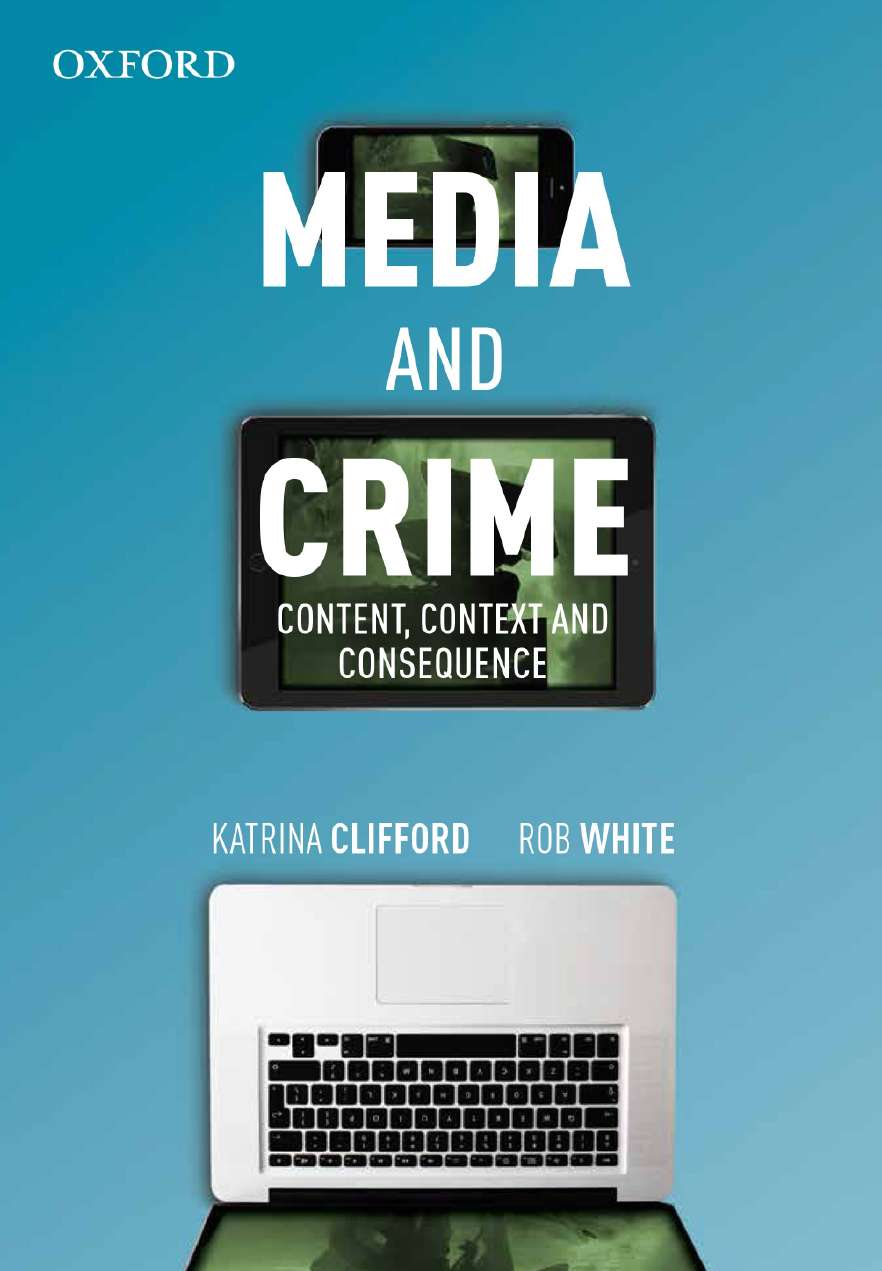 Media and Crime
| | |
| --- | --- |
| ISBN: | 9780195598285 |
| Binding: | Paperback |
| Published: | 16 May 2017 |
| Availability: | 312 |
| Series: | |
$86.95 AUD
$99.99 NZD
Add To Cart
Description
In Media and Crime: Content, Context and Consequence, the authors combine their skills and expertise in journalism, media studies, and criminology to critically interrogate the relationship between media and crime.

The book encourages readers to examine the intricacies and complexities of the media–crime nexus in the contemporary mediascape. It addresses 'media' in its traditional and emerging forms, and explores the ways in which police, courts and different groups engage with mediated representations of crime, risk, fear and vulnerability.

It also investigates the role that media plays in shaping perceptions of crime and criminality, and how media framing occurs in relation to debates about criminal justice and responses to crime.

KEY FEATURES
Historical and contemporary case studies are used to analyse the concepts, theories and methods presented in the text.
Glossary terms are used to outline the essential terminology and challenge conventional definitions.
The book provides an interdisciplinary synthesis of ideas and applications, drawing on both an applied understanding of media practices, as well as criminological perspectives developed by an expert author team.
Contents
PART 1: THEORETICAL FOUNDATIONS
Introduction
Doing Media Criminology
Crime in the News
PART 2: FRAMING EFFECTS AND MEDIA PRACTICES
Police, Courts and Media
Victims and Offenders
Prisons and Innovate Justice
PART 3: THE POLITICS OF MEDIATE REPRESENTATION
Youth and the Moral Economy
Racialised Violence and Hate Crime
Crimes of the Powerful
PART 4: AUDIENCES, INDUSTRIES AND TECHNOLOGIES
Crime as Entertainment: The CSI Effect
Surveillance, Cyberspace and Civil Society
Conclusion
Authors
Katrina Clifford is a Lecturer in Journalism, Media and Communications in the School of Social Sciences, University of Tasmania.
Rob White is a Professor of Criminology in the School of Social Sciences, University of Tasmania.
Reviews
In this book Clifford and White explore, in an accessible manner, the complexities of the relationship between crime, the media and justice. It offers a systematic, though by no means simplistic, analysis of this relationship, insisting that doing this demands both reflexivity and a willingness to expose and challenge the existing blind spots in media criminology. In so doing, this book establishes a coherent agenda for this area of analysis which not only fulfils its aims but also ensures that it will make a major contribution to the fi eld. It is a must-read for all those making claims on this increasingly important intellectual space. You will not be disappointed by the challenges you will face in reading it.
For this reason alone I highly recommend it.
- Sandra Walklate, Eleanor Rathbone Chair of Sociology, University of Liverpool, and conjoint Professor of Criminology, Monash University.

Clifford and White's Media and Crime is a breakthrough book.
It ranges across the ever-morphing mediascape in which contemporary crime and justice are embedded, exploring case studies from across the globe, and mixing theoretical and analytic sophistication with a keen eye for praxis. Just as importantly, the book moves beyond the disciplinary provincialism that oft en entraps analyses of media and crime to achieve an important, innovative synthesis: sociological and criminological perspectives integrated with those offered by journalistic and media studies. In this way Clifford and White's book not only maps the contours of contemporary media and crime; it writes a new map for their future study.
- Jeff Ferrell, Professor of Sociology, Texas Christian University, and Visiting Professor of Criminology, University of Kent

This is a fascinating book about the 'media–crime nexus'. As such, this is a greatly informative text that reminds us how much the media frame, inform and overshadow our everyday lives. But much more than this, the book illuminates the worlds of meaning that contemporary media present us with—whether truths or untruths, nuance or diktat. Making sense of media has never been more important and this book is an invaluable aid.
- Nigel South, Professor of Sociology, University of Essex
Request an inspection copy