Concise Guide to Critical Thinking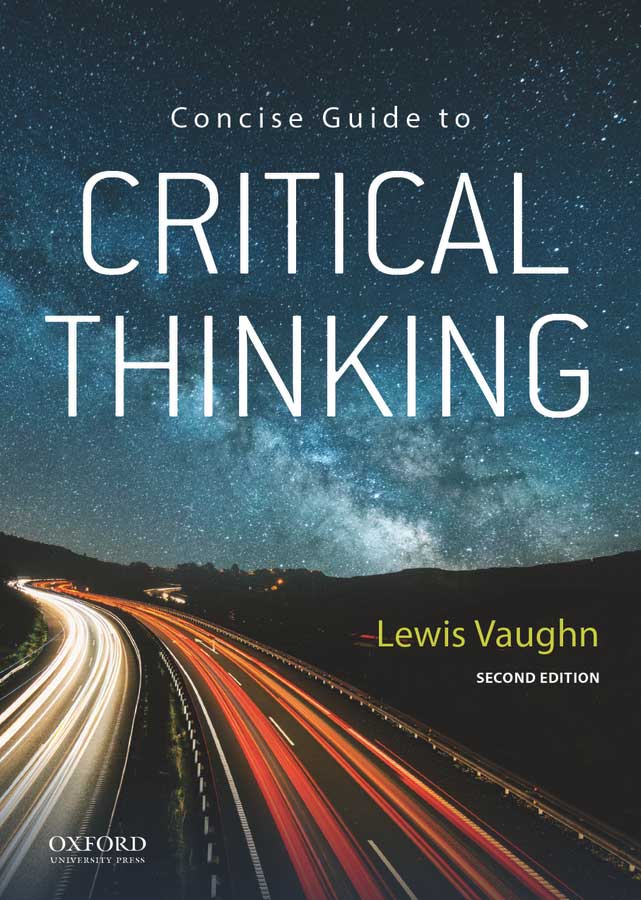 Concise Guide to Critical Thinking
| | |
| --- | --- |
| ISBN: | 9780197535790 |
| Binding: | Paperback |
| Published: | 15 Oct 2020 |
| Availability: | Forthcoming |
| Series: | |
$109.95 AUD
$101.99 NZD
Add To Cart
Request an inspection copy
Description
Concise Guide to Critical Thinking, second edition, offers a compact, clear, and economical introduction to critical thinking and argumentative writing. Based on the authors best-selling text, The Power of Critical Thinking, sixth edition, this affordable volume is more manageable than larger textbooks yet more substantial than many of the smaller critical thinking handbooks.
NEW TO THIS EDITION
New chapter on fake news that shows how to identify fake news, distinguish between legitimate and illegitimate reasons for accepting a claim, assess the reliability of online information by reading laterally, use Google and Wikipedia judiciously, identify and use trustworthy fact-checkers, and understand the ethical implications of sharing fake news
New chapter on commercial and political advertising that explains how online targeted advertising works, how political video ads can present false or misleading messages, and why the most insidious and relentless political ads may be the ones that we see on Facebook
Coverage of even more psychological obstacles to critical thinking, including motivated reasoning, the mere exposure effect, the false consensus effect, the illusion-of-truth effect, and the Dunning-Kruger effect
A revised discussion of how to judge experts, supplemented with a "hierarchy of reliability" chart-a general ranking of trustworthiness for the sources that we rely on for most of our knowledge
New section in Chapter 11: Judging Scientific Theories on how to think critically and scientifically about climate change
New material in Chapter 12: Fallacies and Persuaders discusses of the now-prevalent fallacy of whataboutism and provides a checklist of techniques for dealing with online ad hominem attacks.
This title is available as an eBook. Please contact your Learning Resource Consultant for more information.
Contents
1. Critical Thinking, Facts, and Feelings
2. Obstacles to Critical Thinking
3. Identifying and Evaluation Arguments
4. Deductive Argument Patterns
5. Inductive Arguments and Statistics
6. Evidence and Experts
7. Fake News
8. Advertising: Commercial and Political
9. Casual Arguments
10. Inference to the Best Explanation
11. Judging Scientific Theories
12. Fallacies and Persuaders
13. Critical Thinking in Morality
Authors
Lewis Vaughn is the author or coauthor of several textbooks, including Applying Critical Thinking to Modern Media (2020), Living Philosophy, Third Edition (2020), Bioethics, Fourth Edition (2019), The Power of Critical Thinking, Sixth Edition (2018), and Philosophy Here and Now,Third Edition (2018).
Reviews
"Vaughn's Concise Guide is probably the best textbook on critical thinking out there. Its main strength is the almost perfect balance between the scope and depth. It covers the majority of critical thinking concepts and explains them with just enough detail for undergrads to get a solid introductory knowledge of the craft." - Eldar Sarajilic, CUNY Borough of Manhattan Community College.
"The writing is lucid, concise, and lively. The examples are well chosen and relevant. This text is perfectly pitched for any undergraduate's first foray into informal logic." - Michael Fletcher Maumus, Brooklyn College.
Request an inspection copy