Traces of Vermeer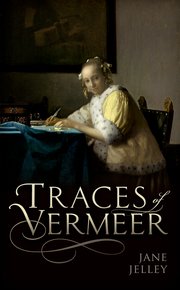 Traces of Vermeer
| | |
| --- | --- |
| ISBN: | 9780198789727 |
| Binding: | Hardback |
| Published: | 10 Aug 2017 |
| Availability: | 25 |
| Series: | |
$50.95 AUD
$59.99 NZD
Add To Cart
Description
Johannes Vermeer's luminous paintings are loved and admired around the world, yet we do not understand how they were made. We see sunlit spaces; the glimmer of satin, silver, and linen; we see the softness of a hand on a lute string or letter. We recognise the distilled impression of a moment of time; and we feel it to be real.
We might hope for some answers from the experts, but they are confounded too. Even with the modern technology available, they do not know why there is an absence of any preliminary drawing; why there are shifts in focus; and why his pictures are unusually blurred. Some wonder if he might possibly have used a camera obscura to capture what he saw before him. The few traces Vermeer has left behind tell us little: there are no letters or diaries; and no reports of him at work.

Jane Jelley has taken a new path in this detective story. A painter herself, she has worked with the materials of his time: the cochineal insect and lapis lazuli; the sheep bones, soot, earth and rust. She shows us how painters made their pictures layer by layer; she investigates old secrets; and hears travellers' tales. She explores how Vermeer could have used a lens in the creation of his masterpieces.
The clues were there all along. After all this time, now we can unlock the studio door, and catch a glimpse of Vermeer inside, painting light.
Contents
Introduction
Illustration of a Camera Obscura
Acknowledgements
List of Illustrations
Map of Central Delft in 1675
Chronology of Vermeer's Paintings
Prelude
1: A Painter at Home
2: Colours of Delft
3: Substance and Supports
4: Working in the Studio
5: Layers and Layers
6: Through the Lens
7: A Glimpse of Vermeer
8: The Brightness of Day
9: Into the Dark
10: Printed Light
Coda
Appendices
Notes
Suppliers of Materials
Bibliography
Picture Credits
Index

Authors
Jane Jelley
Jane Jelley is a painter of still life and landscape who became interested in the unusual technical qualities of Vermeer's painting, and in the arguments about whether or not he might have used a camera obscura in his work. She decided to make some experiments in her own studio to transfer images from projections directly to a canvas. Using historical painting treatises and authentic materials, she found a reliable solution that corresponds to the scientific examination of Vermeer's work which provides answers to some of the puzzles he left behind. Her study was published in the journal Art and Perception Volume 1, issue 1-2, 2013. Jane lives and works in Oxford.