How to do your Social Research Project or Dissertation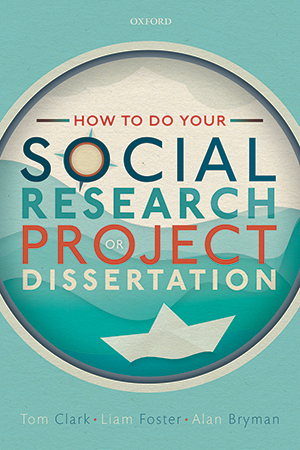 How to do your Social Research Project or Dissertation
| | |
| --- | --- |
| ISBN: | 9780198811060 |
| Binding: | Paperback |
| Published: | 15 Oct 2019 |
| Availability: | 5 |
| Series: | |
$46.95 AUD
$54.99 NZD
Add To Cart
Request an inspection copy
Description
How to do your Social Research Project or Dissertation provides a straight-talking, easy-to-navigate, and reassuring guide to support final-year social science undergraduates. Uniquely shaped by real social science undergraduates from a range of institutions, the book includes their advice to help students through with what can be a daunting, but rewarding stage of their degree. From the look and feel of the book, to the development of the chapter content and the advice it provides, students have been involved at every stage of the book's development to ensure it is focused on what's important to their learning.

Expert advice from real supervisors across the subject disciplines help students to make the most of research supervision, and learn from the experience of real researchers in their chosen field. By providing anecdotes, words of wisdom, scenarios, or simply reminders, hints, and tips on how best to prepare for meetings, and communicate effectively, How to do your Social Research Project or Dissertation is the most complete guide to facilitate the student-supervisor working relationship.

This title is available as an eBook. Please contact your Learning Resource Consultant for more information.
Contents
1: Introduction
2: The research process
3: Getting started
4: Developing a research idea
5: Conducting a literature search
6: Reviewing the literature
7: Building your project
8: Ethics
9: Writing a research proposal
10: Sampling: which and how many people do I need?
11: Collecting quantitative data
12: Collecting qualitative data
13: Analyzing quantitative data
14: Analyzing qualitative data
15: Working with documents
16: Evaluating your project
17: Writing up your research
Authors
Tom Clark - Lecturer in Research Methods at The University of Sheffield.
Liam Foster - Senior Lecturer in Social Policy & Social Work at The University of Sheffield.
Alan Bryman - Professor of Organizational and Social Research, formerly at The University of Leicester.
Lecturer Resources
How to do your Social Research Project or Dissertation is accompanied by the following lecturer resources:
Author-led videos for each chapter of the book focusing on key areas of social research including supervision, thinking up research questions and ethical challenges in social research among others
Student videos focusing on key issues in undertaking a research project or dissertation and how these have been overcome
'Finding your Way' research pitfalls and how to avoid them
General dissertation template
Good and bad examples of various research tools: questionnaires, interview questions, observation plans
Good and bad examples of extracts from literature reviews
Downloadable research checklist
Further reading/research suggestions, broken down by chapter
A list of links to online time-management tools
Research plan templates
Links to freely available data-sets
Tips on increasing your sample size
SPSS/NVIVO links/resources
Interactive activity to help narrow down research topics
Mind-mapping tool
Interactive editing exercise to practise writing-up, and making efficient use of word count.
Request an inspection copy