Communication Skills Guidebook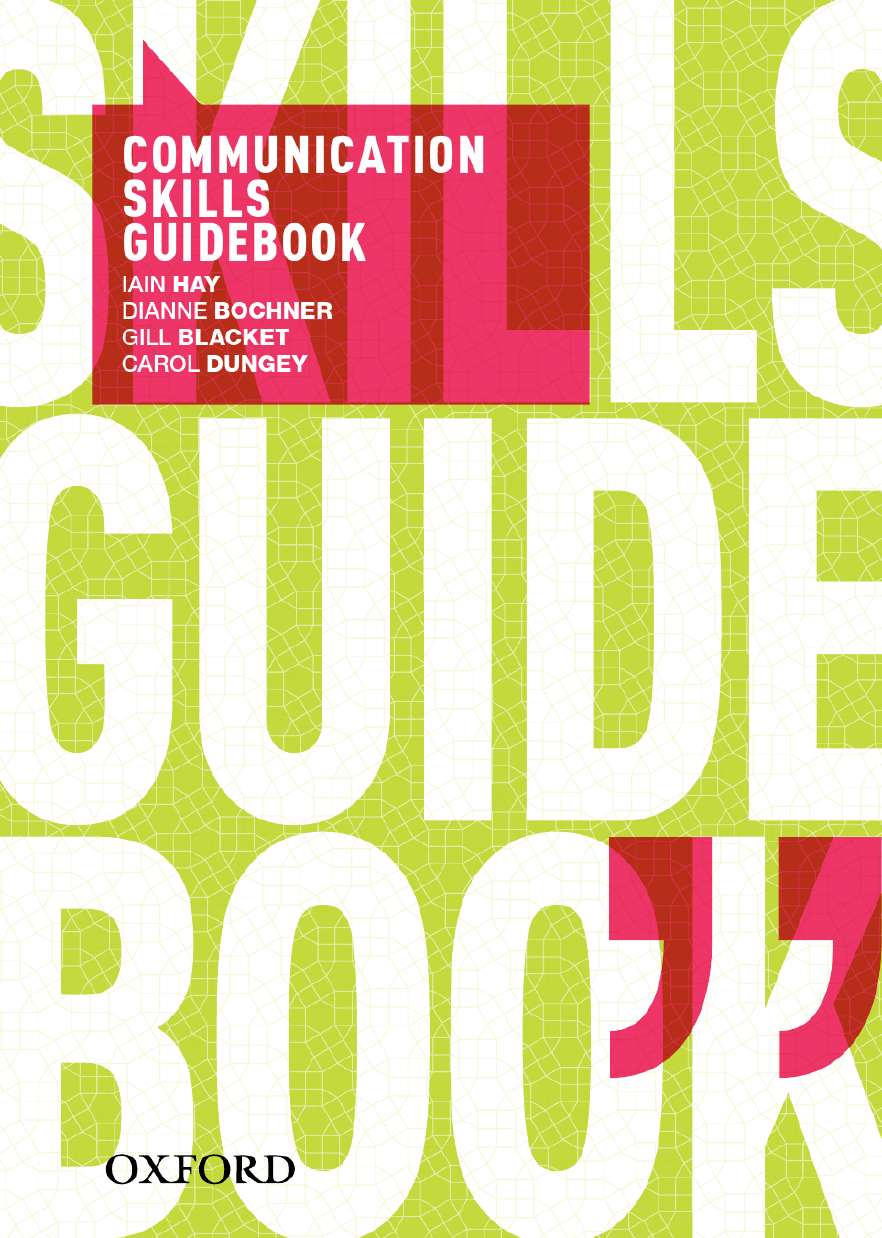 Communication Skills Guidebook
| | |
| --- | --- |
| ISBN: | 9780190302450 |
| Binding: | Paperback |
| Published: | 6 May 2015 |
| Availability: | 375 |
| Series: | |
$44.95 AUD
$50.99 NZD
Add To Cart
Other options: Ebook $39.95 AUD $46.99 NZD
Request an inspection copy
Description
The Communication Skills Guidebook will equip students with the essential communications skills they need to succeed at university, including:
Getting the most from your library

Writing a good essay and constructing a sound argument

Using correct grammar and punctuation

Presenting research findings

Referencing your work

Working in groups

Public speaking

Exam techniques.
Easy to navigate, with lots of tips and examples, the Communication Skills Guidebook will be their trusted resource throughout their entire degree.
Tips and examples like this one are included throughout: Keep a full record of all your sources. It will save you a lot of time and work when you prepare your final reference list.

Margin notes highlight key information. For example: In your introduction, get to the point quickly or See Chapter 1 for tips on how to assess the value of material found on the internet.

Common assignment instructions are found inside the back cover, for easy reference.
Contents
1. Finding Out: Researching
Becoming familiar with the library
Finding resources listed on a reading list
Using the library's searching tools
Locating material in the library building
Using electronic collections
Finding information for your assignment
2. Writing Up: Essay Writing
General advice for writing a good essay
What are essay markers looking for?
3. Arguing Through: Written Argument
Effective academic argument
Deductive and inductive arguments
Acceptable reasoning and evidence
Unacceptable reasoning and evidence
A word of warning
Structuring a strong argumentative essay
4. Stating Facts: Presenting Research Findings
What are report readers looking for?
General layout of a report
Written expression and presentation
Writing a laboratory report
5. Writing Well: Language, Sentences and Paragraphs
Developing your vocabulary
Choosing the right word
Using inclusive language
Structuring clear sentences
Paragraphing effectively
6. Dotting 'I's: Using Punctuation Correctly
Using abbreviations and other shortened forms of words or phrases
Using apostrophes
Using capital letters
Using colons
Using semicolons
Using commas
Using ellipses
Using the full stop
Using numbers
Using quotation marks
More about punctuation
7. Owning Up: Referencing
The author–date (Harvard) system
The note system
The Vancouver system
Notes and note identifiers
Acknowledging electronic sources
Further information
8. Speaking Out: Public Speaking
Preparing for a talk
Delivering your talk
Coping with questions
9. Teaming Up: Working in Groups
What makes a team effective?
How can you make your team effective?
Maintaining an effective team
Supportive behaviour within the team
Problems with working in teams
Collaborative writing of a team project
Making a team presentation
10. Facing Up: Succeeding in Exams
Preparing for an exam
Advice for sitting written exams
Advice for other types of exams
Glossary
References and Useful Resources
Index
Authors
Iain Hay is the Matthew Flinders Distinguished Professor of Geography at Flinders University.
Dianne Bochner is a retired lecturer in Communication Skills, Professional English and Literary Studies at Flinders University
Gill Blacket is the Electronic Collections and Services Librarian at Flinders University.
Carol Dungey was an academic librarian at a number of South Australian universities
Iain Hay is Matthew Flinders Distinguished Professor of Geography at Flinders University Dianne Bochner is a retired lecturer in Communication Skills, Professional English and Literary Studies, Flinders University Gill Blacket is the Electronic Collections and Services Librarian at Flinders University Carol Dungey was an academic librarian who worked in a number of South Australian universities
Sample Pages
Read a sample chapter from Communication Skills Guidebook:
Request an inspection copy