Smart Thinking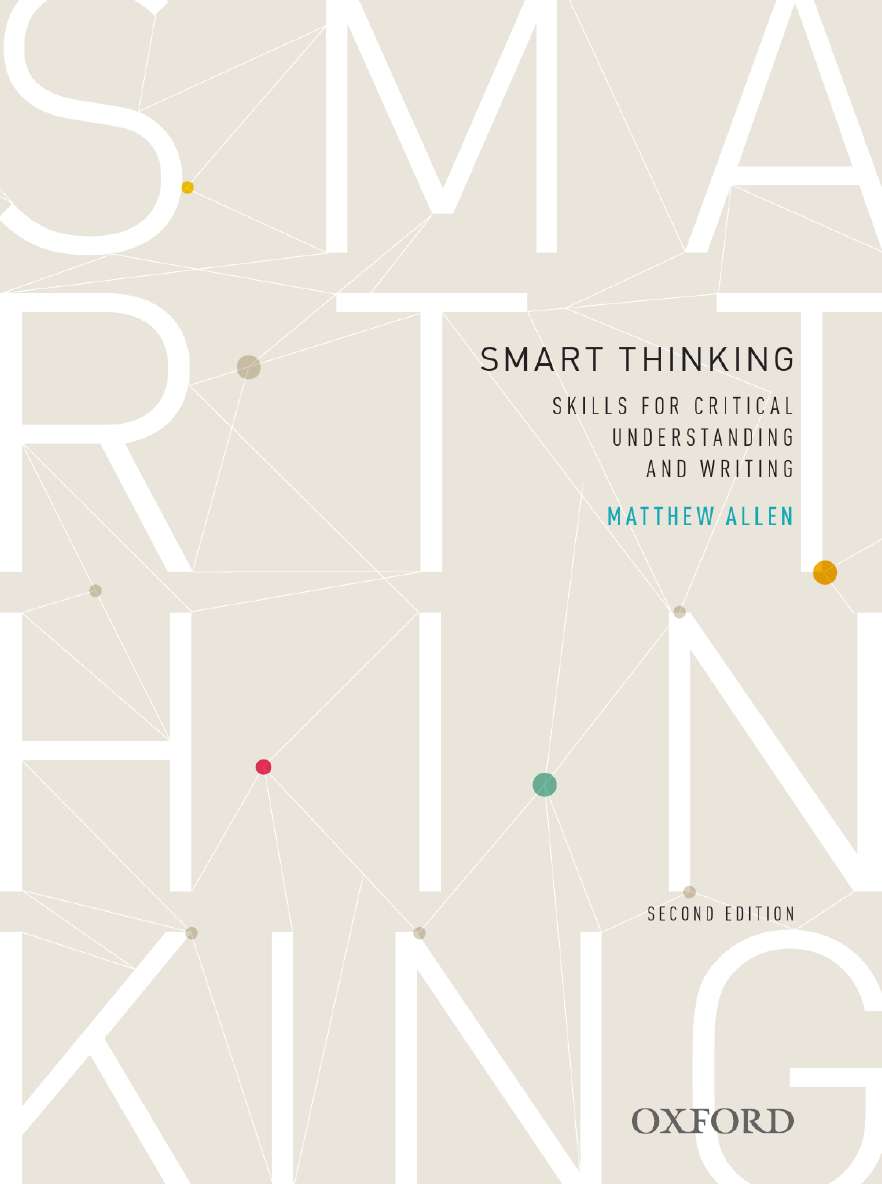 Smart Thinking
| | |
| --- | --- |
| ISBN: | 9780195524055 |
| Binding: | Paperback |
| Published: | 28 Nov 2012 |
| Availability: | 12 |
| Series: | |
$66.95 AUD
$76.99 NZD
Add To Cart
Request an inspection copy
Description
A new look for one of our best-selling communication titles

Smart Thinking, second edition, is a practical, step-by-step guide to improving skills in analysis, critical thinking, and the effective communication of arguments and explanations. It combines an accessible and straightforward style, with a strong foundation of knowledge. This edition treats reasoning as an aspect of communication, not as an abstract exercise in logic. It not only provides detailed advice on how to practice better analytical skills, but also demonstrates how these skills can be used in research and writing. Smart Thinking emphasises how to develop arguments that are coherent and take account of their audience and context.
Contents
How to Use this Book
1. Smart Thinking
What is smart thinking?
How do we study smart thinking?
Why do we need to 'think smart'?
2. Claims: The Key Elements of Reading
Understanding language
More about claims
Claims and reasoning
3. Linking: The Key Process in Reasoning
Links between claims
The analytical structure of reasoning
Learning more about the analytical structure
4. Understanding the Link between Claims
Dependent premises
Special functions of premises
The link from premises to conclusion
5. More Effective Reasoning I: Better Claims
Well-formed claims
Well-founded claims
6. More Effective Reasoning II: Better Links
Effective use of dependent premises
Relevance
Strength of support
7. What Kinds of Reasoning are There?
Deductive and inductive reasoning
Categorical and propositional logic
Five types of reasoning
8. Research, Reasoning, and Analysis
Reasoning and analysis
Information understood by where we find it
Information as it relates to other information
Information classified by the topic under investigation
Information as it relates to how we are using it
Direct and indirect sources
9. Planning and Creating Your Reasoning
The key analytical questions
Using the analytical structure for planning
10. Bringing It All Together: Narrative and Structure
Example text
Casting and notes on each paragraph
Capturing the essence of the text
Overall narrative flow of the text
Answers, Discussion, and Further Advice
Glossary of Key Terms and Concepts
Further Reading
Guide to Important Skills
Authors
Matthew Allen – Professor of Internet Studies, Department of Humanities, Curtin University
Request an inspection copy