Hate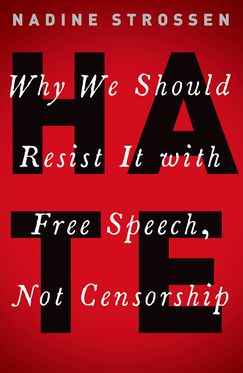 Hate
| | |
| --- | --- |
| ISBN: | 9780190089009 |
| Binding: | Paperback |
| Published: | 16 Mar 2020 |
| Availability: | |
| Series: | |
$31.95 AUD
$36.99 NZD
Add To Cart
Description
The updated paperback edition of HATE dispels misunderstandings plaguing our perennial debates about "hate speech vs. free speech," showing that the First Amendment approach promotes free speech and democracy, equality, and societal harmony. As "hate speech" has no generally accepted definition, we hear many incorrect assumptions that it is either absolutely unprotected or absolutely protected from censorship. Rather, U.S. law allows government to punish hateful or discriminatory speech in specific contexts when it directly causes imminent serious harm. Yet, government may not punish such speech solely because its message is disfavored, disturbing, or vaguely feared to possibly contribute to some future harm. "Hate speech" censorship proponents stress the potential harms such speech might further: discrimination, violence, and psychic injuries. However, there has been little analysis of whether censorship effectively counters the feared injuries. Citing evidence from many countries, this book shows that "hate speech" are at best ineffective and at worst counterproductive. Therefore, prominent social justice advocates worldwide maintain that the best way to resist hate and promote equality is not censorship, but rather, vigorous "counterspeech" and activism.
Contents
Acknowledgments Editor's Note Key Terms and Concepts Preface to the Paperback Introduction Chapter 1: Overview Chapter 2: "Hate Speech" Laws Violate Fundamental Free Speech and Equality Principles Chapter 3: When "Hate Speech" Is Protected and When It Is Punishable Chapter 4: Because of Their Intractable Vagueness and Overbreadth, "Hate Speech" Laws Undermine Free Speech and Equality Chapter 5: Is It Possible to Draft a "Hate Speech" Law That Is Not Unduly Vague or Overbroad? Chapter 6: Does Constitutionally Protected "Hate Speech" Actually Cause the Feared Harms? Chapter 7: "Hate Speech" Laws are at Best Ineffective and at Worst Counterproductive Chapter 8: Non-Censorial Methods Effectively Curb the Potential Harms of Constitutionally Protected "Hate Speech" Chapter 9: Conclusion: Looking Back--and Forward Index
Authors
Nadine Strossen , John Marshall Harlan II Professor of Law, New York Law School
New York Law School professor Nadine Strossen, the immediate past President of the American Civil Liberties Union (1991-2008), is a leading expert and frequent speaker/media commentator on constitutional law and civil liberties, who has testified before Congress on multiple occasions. She serves on the advisory boards of the ACLU, Electronic Privacy Information Center, Foundation for Individual Rights in Education (FIRE), and Heterodox Academy. The National Law Journal has named Strossen one of America's "100 Most Influential Lawyers," and several other national publications have named her one of the country's most influential women. HATE was selected by Washington University as its 2019 "Common Read."
Reviews
"Nadine Strossen makes these arguments better than anyone." -Jonathan Marks, The Wall Street Journal
"HATEmarshals a vast amount of legal, historical, social science, psychological, and transnational research in service of [the] premise that all ideas, no matter how hateful, deserve First Amendment protection." -Stephen Rohde, Los Angeles Review of Books
"Nadine Strossen speaks power to Hate." --Sloane Crosley, Vanity Fair
"I have said it before about books, but this time I couldn't be more emphatic about it: everyone should read this book." --Lucy Kogler, LitHub
"Nadine Strossen speaks power to Hate." -Vanity Fair
"While other countries provide significant protection for free expression, the United States provides a significantly elevated level of protection, particularly for hateful speech. Nadine Strossen's insightful and eminently readable study on why we protect such speech and why we should continue to do so is an all-too-rare example of first-rate legal scholarship that the public at large can learn from and savor reading." -- Floyd Abrams, Senior Counsel, Cahill Gordon & Reindel; Adjunct Professor, NYU Law School; Author, The Soul of the First Amendment
"Strossen has accomplished something remarkable in this slim book - she has ventured into a complex and heavily examined field and produced a book that is original, insightful, and clear-headed. My guess: this book will become the go-to work in the field." -- Ronald Collins, Harold S. Shefelman Scholar at the UW School of Law, Publisher of First Amendment News
"One of life's hardest tasks is to tell natural allies they are wrong. Nadine Strossen is clear in a time of confusion, consistent in an era of hypocrisy, and brave in an environment of intimidation. Her book is a fitting capstone to a career in defense of our civil liberties." -- Mitchell E. Daniels, Jr., President of Purdue University, former Indiana Governor
"In this work, Strossen stakes out a bold and important claim about how best to protect both equality and freedom. Anyone who wants to advocate for 'hate speech' laws and policies in the future now has the `Devil's Advocate' right at hand. No one can address this issue in the foreseeable future without taking on this formidable and compelling analysis. It lays the foundation for all debates on this issue for years to come." -- Geoffrey Stone, Edward H. Levi Distinguished Service Professor of Law at University of Chicago Law School
"Nadine Strossen is one of the great civil libertarians of our day. This book provides a powerful and subtle defense of free speech. Don't miss it!" -- Dr. Cornel West, Professor of the Practice of Public Philosophy, Harvard Divinity School
"As Nadine Strossen writes eloquently in her new book, HATE: Why We Should Resist It with Free Speech, Not Censorship, a democracy succeeds only when the rights, thoughts, and aspirations of all its citizens are respected and given voice, and the citizenry believes that this is true, regardless of viewpoint." -- Maryanne Wolf, John DiBiaggio Professor of Citizenship and Public Service at Tufts University and author of Reader, Come Home: The Reading Brain in a Digital Culture
"In this impressive work, Strossen offers an overarching perspective on the challenges of reconciling a concept of "hate speech" with a broad commitment to freedom of expression. This is an original, insightful, and compelling analysis, both timely and enduring, that has academic, constitutional, and international importance." -- Robert Zimmer, University of Chicago President
"Indeed, in yet a third new book in this area, Hate, former American Civil Liberties Union President Nadine Strossen points out that federal courts during the civil-rights era "refused to halt speeches and demonstrations by civil-rights advocates because of threatened and even actual violence by opponents of their cause." - Carlin Romano, The Chronicle
"As Strossen shows in her important and comprehensive (yet brilliantly concise) new book, HATE, fighting hatred and bigotry by banning hate speech is like fighting global warming by banning thermometers. Even on its own terms, it does not work." - Jonathan Rauch, Senior Fellow at Brookings Institution
"She advocates noncensorial strategies of counterspeech, education and even developing a thicker skin to combat speech that we may not like but that should be protected." - The Harvard Law Bulletin
"HATE tackles the many misunderstandings that fuel and confuse current political life... There is a lot to like about this book." - David Cowan, The Global Legal Post
"A principled and persuasive analysis of how hate speech prohibitions are threatening free speech, written eloquently and comprehensibly. A powerful contribution, not only to First Amendment thinking but to other legal systems where expression rights are less well protected." - Geoffrey Robertson QC, Doughty Street Chambers
"A well-informed, strongly argued perspective on a hot topic." - Kirkus Reviews
"Nadine Strossen makes these arguments better than anyone." - Jonathan Marks, The Wall Street Journal
"In HATE [Strossen]... marshals a vast amount of legal, historical, social science, psychological, and transnational research in service of her premise that all ideas, no matter how hateful, deserve First Amendment protection." - Stephen Rohde, Los Angeles Review of Books
"Nadine is one of America's most important defenders of liberal values and free speech." - David Boaz, Executive Vice President, Cato Institute
"...[I]t is welcome to hear voices like Strossen's making themselves heard and reminding us why the urge to limit speech in the name of protection ultimately offers no protection at all." - Jodie Ginsberg, CEO of Index on Censorship, Spiked
"[Nadine Strossen's new book] lays out a compelling argument against policies that try to restrict what individuals are allowed to say." - Nick Gillespie, Reason Magazine
"What our students need... is a solid grounding in fundamental First Amendment principles. Strossen's book is an excellent place to start." - Carolyn Schurr Levin, College Media Review
"Nadine Strossen remains the powerful voice of a dangerously jeopardised tradition. She understands the social problems associated with hate speech but explains why censorship, which may be a facile solution, is neither politically defensible nor socially effective in the age of the electronic revolution. This book is for those who think they already know all the free speech arguments." - Eric Heinze, Queen Mary University of London
"Engagement, not censorship is the answer... [the world] needs to hear Strossen's cautionary tale of how the practice and application of hate speech laws widely undermine the good intentions, ultimately leading to frustration over legless political correctness or at worst, paving a path from liberal democracy towards totalitarianism." - Chloë M. Gilgan, University of York
"Strossen has written a book that should be widely read." - John Samples, Economic Blogs
"Professor Strossen gives an impassioned and articulate argument for why the best medicine for offensive speech is more speech... [P]erhaps the best remedy for hate speech is not restriction of offensive speech but rather a more robust debate, requiring that all people of good will exercise their right not to remain silent." - Lawrence Siry, Collaborateur de Recherche, University of Luxembourg
"Strossen has accomplished something remarkable in this slim book - she has ventured into a complex and heavily examined field and produced a book that is original, insightful, and clear-headed. My guess: this book will become the go-to work in the field." - Ronald Collins, Harold S. Shefelman Scholar at the UW School of Law, Publisher of First Amendment News
"As Nadine Strossen writes eloquently in her new book, HATE, a democracy succeeds only when the rights, thoughts, and aspirations of all its citizens are respected and given voice, and the citizenry believes that this is true, regardless of viewpoint." - Maryanne Wolf, John DiBiaggio Professor of Citizenship and Public Service at Tufts University and author of Reader, Come Home: The Reading Brain in a Digital Culture