Deeply Divided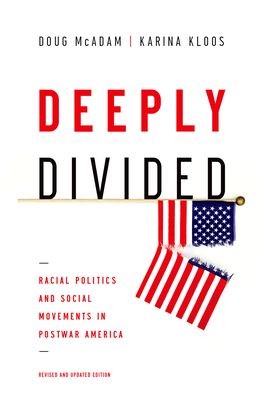 Deeply Divided
| | |
| --- | --- |
| ISBN: | 9780190465179 |
| Binding: | Paperback |
| Published: | 12 May 2016 |
| Availability: | |
| Series: | |
$38.95 AUD
$39.99 NZD
Add To Cart
Description
By many measures--commonsensical or statistical--the United States has not been more divided politically or economically in the last hundred years than it is now. How have we gone from the striking bipartisan cooperation and relative economic equality of the war years and post-war period to the extreme inequality and savage partisan divisions of today?

In this sweeping look at American politics from the Depression to the present, Doug McAdam and Karina Kloos argue that party politics alone is not responsible for the mess we find ourselves in. Instead, it was the ongoing interaction of social movements and parties that, over time, pushed Democrats and Republicans toward their ideological margins, undermining the post-war consensus in the process. The Civil Rights struggle and the white backlash it provoked reintroduced the centrifugal force of social movements into American politics, ushering in an especially active and sustained period of movement/party dynamism, culminating in today's tug of war between the Tea Party and Republican establishment for control of the GOP.

In Deeply Divided, McAdam and Kloos depart from established explanations of the conservative turn in the United States and trace the roots of political polarization and economic inequality back to the shifting racial geography of American politics in the 1960s. Angered by Lyndon Johnson's more aggressive embrace of civil rights reform in 1964, Southern Dixiecrats abandoned the Democrats for the first time in history, setting in motion a sustained regional realignment that would, in time, serve as the electoral foundation for a resurgent and increasingly more conservative Republican Party. This revised and updated edition features new insights into the upcoming 2016 presidential election, including data from the latest polls, as well as reflections upon the results of the 2014 midterm elections.
Contents
Chapter 1 How Did We Get Into This Mess? Chapter 2 Postwar America: Bipartisan Consensus, the Median Voter, and the Absence of Social Movements Chapter 3 The Center Will Not Hold: The 1960s and the Shifting Racial Geography of American Politics Chapter 4 The Strange, Consequential Seventies Chapter 5 The Reagan Revolution? Chapter 6 The Slow-Release Revolution: 1988-2008 Chapter 7 The Obama Years: Uncivil War Chapter 8 Restoring American Democracy References Notes Index
Authors
Doug McAdam , Ray Lyman Wilbur Professor of Sociology, Stanford University
Karina Kloos , Senior Research and Evaluation Specialist, Landsea Rural Development Institute
Doug McAdam is the Ray Lyman Wilbur Professor of Sociology at Stanford University and a former Director of the Center for Advanced Study in the Behavioral Sciences. Karina Kloos is Senior Research and Evaluation Specialist, Landsea Rural Development Institute.
Reviews
"This is a fascinating book on the politics of racial and social inequality in the United States, from the time of Mad Men until the Obama years. Power has turned upside down at the Oval office, but what happened at the bottom? A must-read." --Thomas Piketty, author of Capital in the Twenty-First Century
"Deeply Divided reveals in sharp relief how extreme inequality and unprecedented partisan polarization are threatening our democratic ideals and practices. Doug McAdam and Karina Kloos's insightful discussion of the roots of these developments and how they can be overcome deserves a wide audience." --William Julius Wilson, Lewis P. and Linda L. Geyser University Professor, Harvard University
"In this timely book, Doug McAdam and Karina Kloos masterfully illuminate the often neglected role that social movements of the left and right have played in replacing bipartisan politics of the 1950s with the rancorous divisions of the twenty-first century." --Nolan McCarty, Susan Dod Brown Professor of Politics and Public Affairs, Princeton University
"This thoughtfully provocative reading of transformations to American politics and society since the close of World War Two artfully weaves together issues, themes, and types of analysis too often kept apart. Placing race, social movements, and economic inequality front and center, Deeply Divided develops a fresh and compelling analytical account of the origins, content, and dynamics of current democratic distempers." --Ira Katznelson, author of Fear Itself: The New Deal and the Origins of Our Time
"McAdam and Kloos bring out the critical, but mostly ignored, role of the counterpoint between social movements and electoral politics responsible for major shifts in public policy since the beginning of the Republic--to the left and, more recently, to the right. This book is essential reading for any who seek to understand the sources of political dysfunction gripping American government, especially the forces responsible for the battle within the Republican Party and the currents of anti-government policy in both parties." --Marshall Ganz, Senior Lecturer in Public Policy, Harvard Kennedy School
"This title is a fascinating and enlightening look at the contemporary political quagmire." --Library Journal
"Timely... McAdam and Kloos provide useful historical context for today's Capitol Hill." --Publishers Weekly
"Why have American politics become so partisan and fractious? What is the role of social movements in American politics? These questions drive this important book by the political sociologists Doug McAdam and Karina Kloos. Exploring party politics since World War II, the authors link the issues of partisanship and social movements via a provocative thesis that challenges the way we write American political history" --James N. Gregory, University of Washington, lThe Journal of American History
"Deeply Divided provides a powerful and timely analysis of the causes and consequences of growing political polarization and economic inequality...The study is a sweeping synthesis that weaves together scholarship by historians, economists, political scientists, and sociologists to provide a sobering, insightful, and much-needed interpretation of our current political predicamentELMcAdam and Kloos make several important contributions to our understanding of U.S. politics. While many scholars have worked on pieces of the story, this book's synthetic narrative shows the historical processes that have given rise to our highly unequal and polarized society." --Kenneth Andrews, Contemporary Sociology