Curated Stories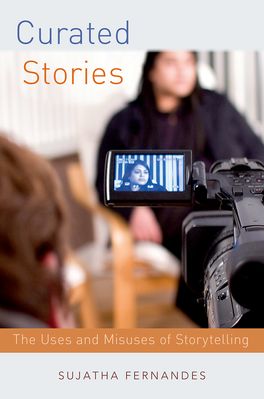 Curated Stories
| | |
| --- | --- |
| ISBN: | 9780190618049 |
| Binding: | Hardback |
| Published: | 7 Sep 2017 |
| Availability: | |
| Series: | |
$155.95 AUD
$162.99 NZD
Description
Storytelling has proliferated today, from TED Talks and Humans of New York to a plethora of story-coaching agencies and consultants. Heartbreaking accounts of poverty, mistreatment, and struggle may move us deeply. But what do they move us to do? And what are the stakes in the crafting and use of storytelling?

In Curated Stories, Sujatha Fernandes considers the rise of storytelling alongside the broader shift to neoliberal, free-market economies. She argues that stories have been reconfigured to promote entrepreneurial self-making and restructured as easily digestible soundbites mobilized toward utilitarian ends. Fernandes roams the globe and returns with stories from the Afghan Women's Writing Project, the domestic workers movement and the undocumented student Dreamer movement in the United States, and the Misión Cultura project in Venezuela. She shows how the conditions under which certain stories are told, the tropes through which they are narrated, and the ways in which they are responded to may actually disguise the deeper contexts of global inequality. Curated stories shift the focus away from structural problems and defuse the confrontational politics of social movements.

Not just a critical examination of the contemporary use of narrative and its wider impact on our collective understanding of pressing social issues, Curated Stories also explores how storytelling might be reclaimed to allow for the complexity of experience to be expressed in pursuit of transformative social change.
Contents
Acknowledgments Chapter 1: Curated Storytelling Chapter 2: Charting the Storytelling Turn Chapter 3: Stories and Statecraft: Why Counting on Apathy Might Not Be Enough Chapter 4: Out of the Home, Into the House: How Storytelling at the Legislature Can Narrow Movement Goals Chapter 5: Sticking to the Script: The Battle Over Representations Chapter 6: Rumbas in the Barrio: Personal Lives in a Collectivist Project Epilogue: New Movements, New Stories? Bibliography Index
Authors
Sujatha Fernandes , Professor, University of Sydney
Sujatha Fernandes is Professor of Political Economy and Sociology at the University of Sydney. She was previously a Professor of Sociology at the City University of New York. A former member of the Princeton Society of Fellows, she is the author of Cuba Represent!, Who Can Stop the Drums?, and Close to the Edge. She has written for The New York Times, The Nation, and Dissent, among other publications.
Reviews
"Readers will find an engaging and insightful exploration that is highly suggestive of the impact that neoliberalism has on social movement claims making and the subversive impact that making claims in these ways can have for social movements, their members, and their constituents." -- Timothy B. Gongaware, University of Wisconsin La Crosse, American Journal of Sociology
"In a world in which telling stories has become a mark of activist practice, Sujatha Fernandes demands we consider the unanticipated consequences of narrative. In her remarkable, frame-breaking work, Curated Stories: The Uses and Misuses of Storytelling, Fernandes reminds us that even those tales designed to be challenging can support a neoliberal status quo, placing personal experience before collective action. Based on rich and diverse case studies from New York to Venezuela to Afghanistan, Fernandes demonstrates that the narrative turn can produce discomforting outcomes unless the position of the oppressed community is carefully considered. This is a rare work that through its powerful logic and dramatic examples has changed forever how I will listen to stories."-- Gary Alan Fine, James E. Johnson Professor of Sociology, Northwestern University, and author of The Global Grapevine: Why Rumors of Terrorism, Immigration, and Trade Matter
"Sujatha Fernandes develops a compelling political economy of storytelling in this book. Richly constituted by careful attention to the instrumental importance and uses of stories of marginalized peoples, Curated Stories is at once immersed in the critical literature on stories and storytelling, globalization, and social history; it is in this sense a model of the best of interdisciplinary scholarship." --Kandice Chuh, Professor of English and American Studies, Graduate Center, CUNY
"In a well thought out, brilliantly written book, Sujatha Fernandes engages readers in conversation about domestic labor, undocumented migrants, and other important issues. The hard work of devising strategy and forming coalitions forces us to ask: Whose movement is it? Who gets to frame and shape the narrative? Fernandes reminds us that the answers matter greatly to achieving real social change." --Christine Lewis, Secretary/Cultural Outreach Coordinator of Domestic Workers United