Asymmetric Politics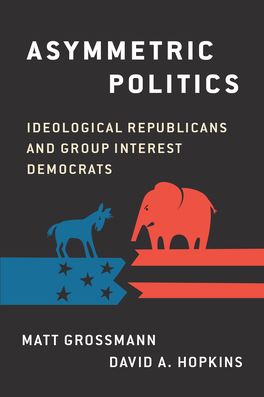 Asymmetric Politics
| | |
| --- | --- |
| ISBN: | 9780190626600 |
| Binding: | Paperback |
| Published: | 10 Nov 2016 |
| Availability: | |
| Series: | |
$75.95 AUD
$86.99 NZD
Add To Cart
Description
Why do Republican politicians promise to rein in government, only to face repeated rebellions from Republican voters and media critics for betraying their principles? Why do Democratic politicians propose an array of different policies to match the diversity of their supporters, only to become mired in stark demographic divisions over issue priorities? In short, why do the two parties act so differently-whether in the electorate, on the campaign trail, or in public office?

Asymmetric Politics offers a comprehensive explanation: The Republican Party is the vehicle of an ideological movement while the Democratic Party is a coalition of social groups. Republican leaders prize conservatism and attract support by pledging loyalty to broad values. Democratic leaders instead seek concrete government action, appealing to voters' group identities and interests by endorsing specific policies.

This fresh and comprehensive investigation reveals how Democrats and Republicans think differently about politics, rely on distinct sources of information, argue past one another, and pursue divergent goals in government. It provides a rigorous new understanding of contemporary polarization and governing dysfunction while demonstrating how longstanding features of American politics and public policy reflect our asymmetric party system.
Contents
Table of Contents Introduction: Two Different Kinds of Parties Chapter 1: How Democrats and Republicans Think About Politics Chapter 2: An Ideological Movement vs. A Social Group Coalition Chapter 3: The Not-So-Great Debate Chapter 4: Campaigning in Poetry and Prose Chapter 5: Policymaking in Red and Blue Conclusion: American Politics Out of Balance References
Authors
Matt Grossmann , Associate Professor of Political Science, Michigan State University
David A. Hopkins , Assistant Professor of Political Science, Boston College
Matt Grossmann is Director of the Institute for Public Policy and Social Research and Associate Professor of Political Science at Michigan State University. David A. Hopkins is Assistant Professor of Political Science, Boston College.
Reviews
"Grossmann and Hopkins cite dozens of political scientists, from Robert Lane, Nelson Polsby, and Theodore Lowi to Larry Bartels, Morris Fiorina, and Daniel Galvin; borrow from other disciplines, such as history, sociology, and communications; and vigorously project to readers the facts of their case. The result is an outstanding piece of political science research, synthesis, and analysis, whose authors lay out findings about the differing virtues and shortcomings of both parties so that this information will be available to ordinary citizens, activists, and the nation as a whole." -- Perspectives on Politics
"Grossmann and Hopkins provide a fresh and incisive analysis of the state of America's party politics. Highly recommended." --CHOICE
"Not many books change how you think about American politics. This one will. Grossmann and Hopkins' research decisively shows that the two parties are not the same-and once you understand the ways in which they're different, American politics begins to make a lot more sense." --Ezra Klein, Editor-in-Chief, Vox
"In this detailed and well-argued book, Grossmann and Hopkins present formidable evidence against a still-too-common depiction of American parties, which views their 'polarization' as a consequence of their equivalent march away from some imagined middle. Asymmetric Politics encourages a badly-needed re-examination of the very distinctive internal workings and strategic choices of Democrats and Republicans." --Paul Pierson, John Gross Professor of Political Science, University of California at Berkeley, and co-author of Winner-Take-All Politics
"This deeply clarifying book not only helps us gain a better grasp of our polarized politics, it also helps to show how the methods of political science can help bridge the gap between the theory and practice of American political life-bringing the former down to earth and lifting the latter toward a more coherent understanding of itself. It is required reading in this confusing time." --Yuval Levin, editor, National Affairs
"Asymmetric Politics: Ideological Republicans and Group Interest Democrats by political scientists Matt Grossmann and David Hopkins, makes it clear that the two parties are essentially different: The Democratic Party is focused on producing concrete solutions for citizens whereas the Republican Party is obsessed with conservative ideological purity. This is useful for understanding how the nation got to a point of contemplating a possible Donald Trump presidency. "-Paul Rosenberg, Salon
"In total, Asymmetric Politics successfully paints a comprehensive and accessible portrait of contemporary party politics." - ELIZABETH N. SIMAS, University of Houston, Political Science Quarterly