The Global Studies Reader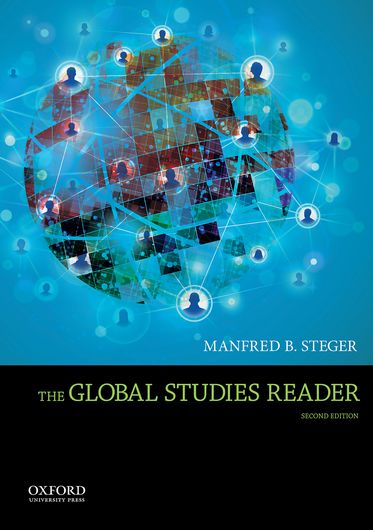 The Global Studies Reader
| | |
| --- | --- |
| ISBN: | 9780199338467 |
| Binding: | Paperback |
| Published: | 27 Jul 2014 |
| Availability: | |
| Series: | |
$138.95 AUD
$153.99 NZD
Add To Cart
Request an inspection copy
Description
Ideal for undergraduate courses, The Global Studies Reader, Second Edition, is an engaging, accessible introduction that helps students better understand what constitutes the interdisciplinary field of Global Studies. The premier scholar of globalization studies, Manfred B. Steger, brings together twenty of the "greatest hits" of the field since it emerged in the 1980s, carefully selecting and editing these influential pieces out of a vast repertoire of writing. Manageable in length and price, this "Top 20" collection shows how globalization has evolved and how it serves as a backdrop to the current global economic crisis.
Contents
*=New to this Edition
Each section ends with a Guide to Further Readings and Recommended Websites.
Preface:
Acknowledgments:
Introduction: What Is Global Studies?
PART I: POLITICS AND SOCIETIES
1. Five Meanings of Global Civil Society, Mary Kaldor
* 2. Framing Global Governance, Five Gaps, Ramesh Thakur and Thomas G. Weiss
* 3. Political Ideologies in the Age of Globalization, Manfred B. Steger
4. Globalization and the Emergence of the World Social Forums, Jackie Smith, Marina Karides, Marc Becker, Dorval Brunelle, Christopher Chase-Dunn, Donatella della Porta, Rosalba Icaza Garza, Jeffery S. Juris, Lorenzo Mosca, Ellen Reese, Peter (Jay) Smith, and Rolando Vasquez
* 5. Global Media, Mobilization, and Revolution: The Arab Spring, Hans Schattle
PART II: ECONOMIES AND TECHNOLOGIES
* 6. How Small Entrepreneurs Clothe East Africa with Old American T-Shirts, Pietra Rivoli
7. The Specter That Haunts the Global Economy?: The Challenge of Global Feminism, Valentine Moghadam
* 8. Designing Capitalism 3.0, Dani Rodrik
* 9. The Global Network Society, Manuel Castells
* 10. The Googlization of Us: Universal Surveillance and Infrastructural Imperialism, Siva Vaidhyanathan
PART III: CULTURES AND HISTORIES
11. Globalization: Long-Term Process or New Era in Human Affairs?, William H. McNeill
* 12. Slaves, Germs, and Trojan Horses, Nayan Chanda
* 13. Culture: The Glocal Game, Cosmopolitanism, and Americanization, Richard Giulanotti and Roland Robertson
* 14. The American Global Cultural Brand, Lane Crothers
* 15. The Religion Market, Olivier Roy
PART IV: SPACES AND ENVIRONMENTS
16. The Urban Climacteric, Mike Davis
* 17. The Improbable Life of an Urban Patch: Deciphering the Hidden Logic of Global Urban Growth, Jeb Brugmann
* 18. Mobile Global Citizens, Luis Cabrera
* 19. An Overheated Planet, Peter Christoff and Robyn Eckersley
* 20. The One-Degree War, Paul Gilding
References:
Notes:
Credits:
Index:

Authors
Edited by Manfred B. Steger , Professor of Political Science, University of Hawai'i at Manoa
Manfred B. Steger is Professor of Political Science and Senior Advisor on International Education and Globalization to the Dean of Social Sciences at the University of Hawai'i at Manoa. He is also the Research Leader of the Globalization and Culture Program in RMIT University's Global Cities Research Institute in Melbourne, Australia. Dr. Steger is the author or editor of twenty-one books including Globalization: A Very Short Introduction, Third Edition (OUP, 2013).
Reviews
"The Global Studies Reader, Second Edition, is a highly convenient one-stop shop for many of the seminal articles in the field. The book's competitive advantages include its reasonable price, convenient size, and the fact that it's been compiled by such a world-renowned expert on the processes and ideologies of globalization."--Roberto E. Campo, The University of North Carolina at Greensboro
"I would certainly use The Global Studies Reader. The level of scholarship is second to none. This book provides the in-depth analysis that is essential to exposing undergraduates to contending issues and events in international studies."--Chris Dolan, Lebanon Valley College
Request an inspection copy