Oxford Dictionary of Quotations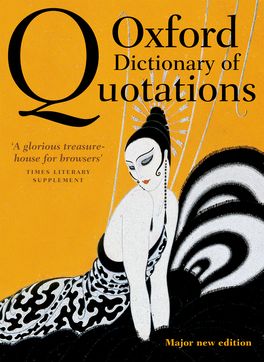 Oxford Dictionary of Quotations
| | |
| --- | --- |
| ISBN: | 9780199668700 |
| Binding: | Hardback |
| Published: | 9 Oct 2014 |
| Availability: | 0 |
| Series: | |
$80.95 AUD
$93.99 NZD
Add To Cart
Description
The first edition of the Oxford Dictionary of Quotations was published in 1941 and for over 70 years this bestselling book has remained unrivalled in its coverage of quotations past and present. The eighth edition is a vast treasury of wit and wisdom spanning the centuries and providing the ultimate answer to the question, 'Who said that?' Find that half-remembered line in a browser's paradise of over 20,000 quotations, comprehensively indexed for ready reference. Lord Byron may have taken the view: 'I think it great affectation not to quote oneself', but for the less self-centred the Oxford Dictionary of Quotations provides a quote for every occasion from the greatest minds of history and from undistinguished characters known only for one happy line.

Drawing on Oxford's unrivalled dictionary research programme and unique language monitoring, over 700 new quotations have been added to this eighth edition from authors ranging from St Joan of Arc and Coco Chanel to Albrecht Dürer and Thomas Jefferson. New sayings from across the ages include 'It would not be better if things happened to men just as they wish' (the classical writer Heraclitus), 'Fight on, and God will give the Victory' (the suffragette Emily Wilding Davison), and 'The future is already here--it's just not evenly distributed' (the writer William Gibson).
Contents
Introduction to the eighth edition
History of the Dictionary
Introduction to the first edition
How to use this work
Quotations
Index

Authors
Edited by Elizabeth Knowles
Elizabeth Knowles is a historical lexicographer who worked on the 4th edition of the Shorter Oxford English Dictionary (1993) and was Editor of the 5th, 6th, and 7th editions of the Oxford Dictionary of Quotations (1999, 2004, 2009). Her other editorial credits include the Oxford Dictionary of Modern Quotations (3rd edition, 2007), What They Didn't Say: A Book of Misquotations (2006), and the Little Oxford Dictionary of Proverbs (2009). She is a contributor to The History of Oxford University Press (2013).
Reviews
`Review from previous edition 'A glorious treasure-house for browsers'' Times Literary Supplement
`'Every home should have a copy'' Sunday Telegraph
`'Invaluable'' The Times
`'Still the best'' The Independent
`'I could re-read it over and over again and never grow bored, for its pages contain all the insight of a library'' Daily Mail
`Magnificent volume.' Ferdinand Mount, Standpoint
`It is a book which can be explored pretty well indefinitely, and one which yields fresh satisfaction and surprises.' John Gross, Spectator