Isadora Moon gets the Magic Pox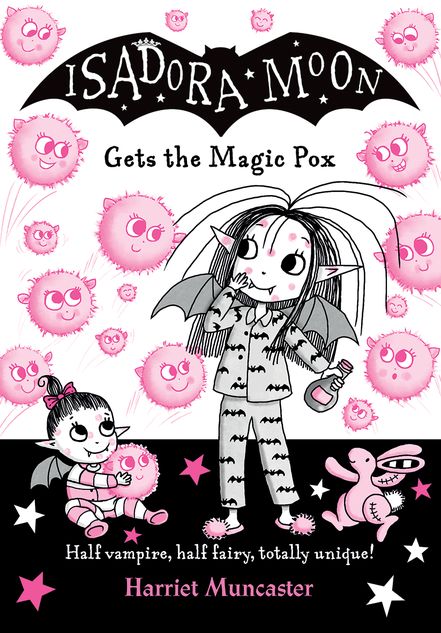 Isadora Moon gets the Magic Pox
| | |
| --- | --- |
| ISBN: | 9780192773562 |
| Binding: | Paperback |
| Published: | |
| Availability: | Forthcoming |
| Series: | |
$12.95 AUD
$14.99 NZD
Add To Cart
Description
Isadora Moon is special because she's different. Her mum is a fairy, her dad is a vampire, and she's a bit of both.

When Isadora's teacher announces the class are having a maths test on Monday, Isadora gets a nervous feeling in her tummy. She really doesn't like tests . . . or maths!
Maybe, Isadora could pretend to be ill so she can stay at home instead? Isadora calls her naughty cousin Mirabelle for help and she gives her a spell that will help Isadora get out of the test.
To Isadora's delight, it works! But between a potion mishap and magic pox fluffballs bouncing around all over the place, Isadora starts feeling a bit guilty. Luckily, her mum is on hand to help set things right and together they come up with a new, magical way to say goodbye to the magic pox and even make revising for the maths test fun!

With irresistible pink and black artwork throughout by author/illustrator Harriet Muncaster, Isadora Moon is a unique heroine with an out-of-this-world family!
Authors
Harriet Muncaster is one of the fastest-rising stars in children's books. She started out writing and illustrating picture books, and won the Blue Hen Book Award for her first book, I Am a Witch's Cat, and was highly commended for the Macmillan Prize while studying for her second illustration degree. Her move into young illustrated fiction came with the launch of Isadora Moon in 2016 and the series has become a huge bestseller in the UK and internationally. Harriet is very active at events, festivals, and on social media, constantly creating and sharing new content and activities to delight Isadora's growing host of fans.
Reviews
`Praise for the Isadora Moon series: The books are a great way of teaching children that it's okay to be a little different, even if you are a fairy vampire! The imagery used both on the covers of the book and throughout really help bring the book to life - and the glitter and sparkle used on the front covers is sure to catch the attention of imaginative children everywhere.' The Family Grapevine
`Praise for Isadora Moon Goes to School: This (is a) lively celebration of difference and mixed heritage.' The Guardian
`Praise for Isadora Moon Goes to School: This humorous chapter book, with attractive black-and-pink illustrations, deals sensitively with the difficulties that may be faced by anyone who feels different and struggles to fit in. Combining fairy magic with a feisty vampire twist, this is a great first volume in what promises to be an entertaining new series for independent young readers.' BookTrust