Winnie and Wilbur: Winnie's Best Friend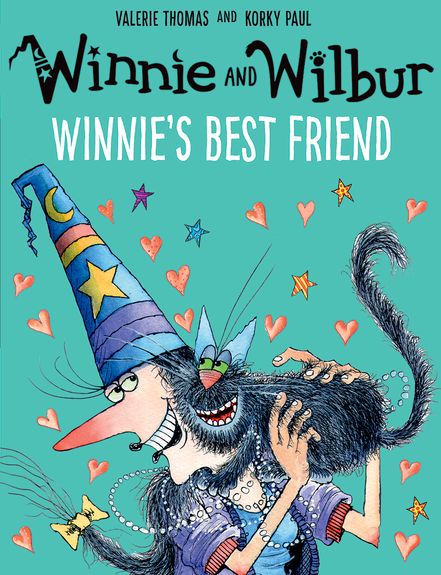 Winnie and Wilbur: Winnie's Best Friend
| | |
| --- | --- |
| ISBN: | 9780192778130 |
| Binding: | Paperback |
| Published: | |
| Availability: | Forthcoming |
| Series: | |
$19.95 AUD
$21.99 NZD
Add To Cart
Description
This is the story of when Winnie met Wilbur.
When Winnie moves in to her big house, it's much too quiet. Winnie invites her sisters to stay, then some unusual companions - and chaos ensues! Winnie wonders if she'll be alone forever - until she spots a scruffy black cat...
A heart-warming and hilarious tale revealing the origins of a truly magical friendship. Korky Paul's intricate and spellbinding artwork is full of fun, mischief and mayhem! Scan the QR code in the book to hear the story with music and sound effects!
The best-selling Winnie and Wilbur series has been bewitching readers both young and old since 1987 and Winnie and Wilbur have become favourite characters in homes and schools all over the world.
Authors
Since creating her characters Winnie and Wilbur in 1987, Valerie Thomas has taken them on all kinds of adventures: on a broomstick and a flying carpet, with a baby dragon and a big bad robot, in a haunted house and aboard a pirate ship, under the sea and even into outer space! Valerie, who lives in Australia, doesn't own a broomstick herself, but she has travelled to most parts of the world. Born in Zimbabwe, Korky Paul is a well-known illustrator. His drawings appear in more than fifty Winnie and Wilbur books, as well as many other titles. Known only to himself as 'the world's greatest portrait artist', Korky regularly visits schools and appears at festivals to promote his passion for drawing. He lives in Oxford with his wife where he regularly cooks on the 'braai'.
Reviews
`Praise for Winnie and Wilbur: Vivid and wondrous' The Sunday Times
`Praise for Winnie and Wilbur: Delightfully entertaining' Books for Keeps