From Me to You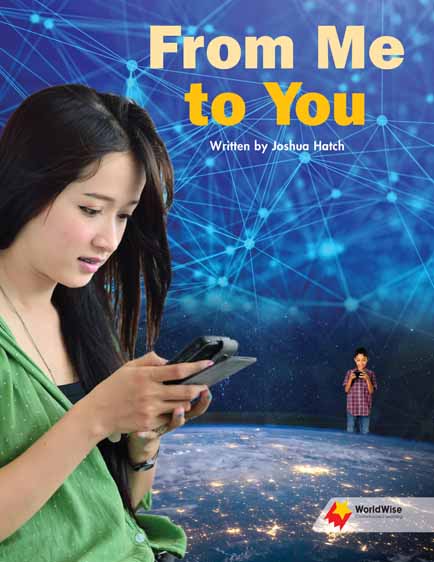 From Me to You
| | |
| --- | --- |
| ISBN: | 9781760861063 |
| Binding: | Paperback |
| Published: | 1 Jan 2019 |
| Availability: | 64 |
| Series: | |
$12.95 AUD
$14.95 NZD
Add To Cart
Description
Title Information:­
From Me to You: From Me to You explores why and how people have gained access to and used personal communication processes and technologies over time.
Content vocabulary:body language, century, continents, cyber bullying, data, decade, dial, emoji, emoticons, facial expressions, hieroglyphics, images, Internet, media, messengers, modems, Morse code, Pony Express, radio waves, scammers, sequence, spam, symbols, technology, telegram, telegraph, telephone, transmit, virus
Key concepts:
Technology continues to influence and expand the ways people access information and communicate Technology influences the quality of people's lives and the ways they act and interact Social needs, attitudes and values influence the direction of technological development
Reading Strategies: Connecting personal experiences to the text and building on prior knowledge
Related resource:Lesson Plan - From Me to You
Series Information:

WorldWise is a high-interest literacy program that encourages inquiry and questioning while extending knowledge in science and a range of STEM topics linked to the curriculum. This engaging program teaches reading strategies simultaneously with natural, earth and physical science concepts – reflecting the diversity of the world students live in.
Students will develop strategies and skills to read informative texts across a range of text types while they learn to become informative text writers. With an assortment of text types on offer, themes and concepts are introduced and revisited across the reading stages, building on initial concepts with increasing complexity.
WorldWise Lesson Plans support each Student Book, offering practical, systematic and easy-to-implement instructions. These visually appealing resources integrate oral language, vocabulary development, fluency and comprehension, writing and phonics.
WorldWise Investigations is a web-based tool that provides extension activities for titles in the program. It encourages exploration of content linked to curriculum outcomes in a deeper more hands-on way. Students are supported with a framework that encourages investigation and inquiry.
This series is supported by an array of teacher resources which can be obtained by visiting www.worldwise.com.au
Teacher Resources
Each WorldWise student book is supported by a corresponding Lesson Plan for teachers.
The following additional teacher resources are available:
Curriculum outcomes
Writing templates
Correlation charts which provide title-level information about alignment to curriculum
These additional teacher resources can be downloaded from www.worldwisereading.com.au/teacher-resources