English Skills Builder 1 AC Edition Student book + obook assess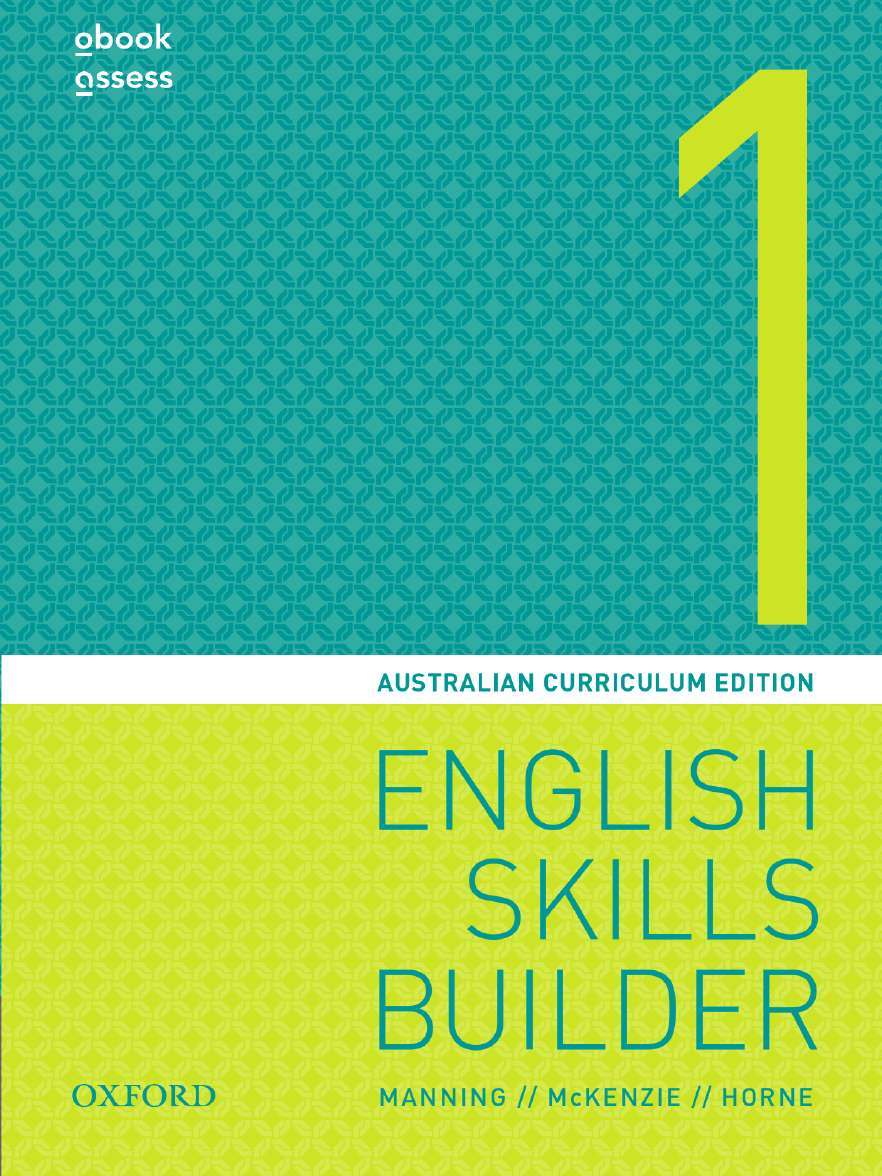 English Skills Builder 1 AC Edition Student book + obook assess
| | |
| --- | --- |
| ISBN: | 9780195528046 |
| Binding: | Paperback + obook |
| Published: | 17 Sep 2013 |
| Availability: | 999 |
| Series: | |
$31.95 AUD
$36.99 NZD
Add To Cart
Description
The Australian Curriculum edition of the English Skills Builder series sees these best-selling skills resources fully revised to address the three English strands of Language, Literacy and Literature. Designed to complement any English program, this series will teach and reinforce the skills that students need at junior secondary level. Each workbook is divided into 50 units, and content explores different aspects of language use as well as different text types and genres.

The English Skills Builder series are now accompanied by digital obooks for the first time. The obook is a cloud-based web-book available anywhere, anytime, on any device, navigated by topic or by 'page view'. As well as containing the student text, the obook offers additional Enriching Literature units focusing on texts relevant to the cross-curriculum priorities, as well as popular classic and contemporary texts.


For all related titles in this series, please click here
Contents
Part A Language and Literacy

Parts of speech
Unit 1 Overview of parts of speech
Unit 2 Recognising nouns
Unit 3 Types of nouns
Unit 4 Pronouns
Unit 5 Verbs
Unit 6 Regular and irregular verbs
Unit 7 Simple verb tenses
Unit 8 Adjectives
Unit 9 Using adjectives
Unit 10 Adverbs
Unit 11 Using adverbs
Unit 12 Prepositions
Unit 13 Conjunctions
Unit 14 Practice with parts of speech
Sentence structure
Unit 15 Sentences
Unit 16 Subject and predicate
Unit 17 Phrases
Unit 18 Clauses
Unit 19 Building sentences
Unit 20 Fragments and run-on sentences
Unit 21 Ambiguous sentences
Unit 22 Sentence writing practice
Punctuation
Unit 23 Overview of punctuation
Unit 24 Punctuation to end sentences
Unit 25 Commas
Unit 26 Apostrophes: contractions
Unit 27 Apostrophes: possessives
Unit 28 Punctuating speech
Unit 29 Capital letters
Unit 30 Abbreviations
Unit 31 Punctuation practice
Using words
Unit 32 Letters and syllables
Unit 33 Prefixes and suffixes
Unit 34 Word origins
Unit 35 Synonyms and antonyms
Unit 36 Homonyms
Unit 37 Confusing pairs of words
Unit 38 Becoming a good speller
Unit 39 Difficult words to spell
Unit 40 Using a dictionary
Unit 41 Vocabulary practice
Unit 42 Writing paragraphs
Unit 43 Using fewer words
Unit 44 Editing checklist

Part B Literature
Unit 45 Reading short stories and novels
Unit 46 Reading picture books and illustrated novels
Unit 47 Reading poetry
Unit 48 Reading film texts
Unit 49 Reading non-fiction texts
Unit 50 Reading persuasive texts
Glossary
Answers

obook only content

Enrich Literature Units
Maralinga, the Anangu Story
The Invention of Hugo Cabret
Inanimate Alice
Wall.e
The Binna Binna Man
Blueback
The Dream of the Thylacine
Sold
The Knife of Never Letting Go
The Highwayman
Antipodes: poetic responses
Authors
Mary Manning is the author and co-author of several textbooks on English, literature and poetry published by Oxford University Press. She has coordinated the TAFE Diploma of Professional Writing and Editing at the CAE, taught English and English Literature at Firbank Grammar School and acted as a VCE examiner for both subjects. Mary is also a published writer of poetry and short fiction.

The late Margaret McKenzie taught English, Drama and History. After obtaining the Diploma of Professional Writing and Editing at Holmesglen College of TAFE, she also taught editing, the construction of English and playwriting there and at the CAE for many years. She is the author of several books on grammar and style, in addition to poetry and a number of plays.

Michael Horne is an experienced teacher of English and Literature. He is currently Head of School: 10-12 at Ave Maria College, and has previously taught at Scotch College. Michael has written a number of textbooks for Oxford University Press, and has assessed the VCE English exam. He is an experienced VATE presenter, and has spoken at English association conferences in a number of states on approaches to the Australian Curriculum.
Deb McPherson is an experienced English teacher. For over fifteen years she helped select English texts for the NSW Higher School Certificate. When she was a Senior Curriculum Officer at the NSW Board of Studies she worked on the development of the 2002 English Years 7-10 Syllabus and helped implement that syllabus when she was Manager of English for the NSW Department of Education and Training. She is the author of four anthologies of Australian non-fiction for Oxford University Press, co-author of Oxford HSC English and the Oxford online Enriching Literature series. She has lectured in English and literacy at the universities of Newcastle and Wollongong.

Jane Sherlock has been an experienced, enthusiastic and passionate teacher of English for over 35 years. She has been involved in the new English syllabus for the Australian Curriculum, first in the draft writing stages in 2010 with the NSW Board of Studies and now as a presenter throughout NSW. Jane is also an author of a number of English textbooks including the national award- winning Oxford HSC English. Jane is a part time tutor and marker for the universities of Wollongong and Charles Sturt. In 2009 Jane received the Australian College of Educators award for her contribution to education.
Sample Pages