Oxford Insight Geography AC for NSW Stage 5 Student book + obook assess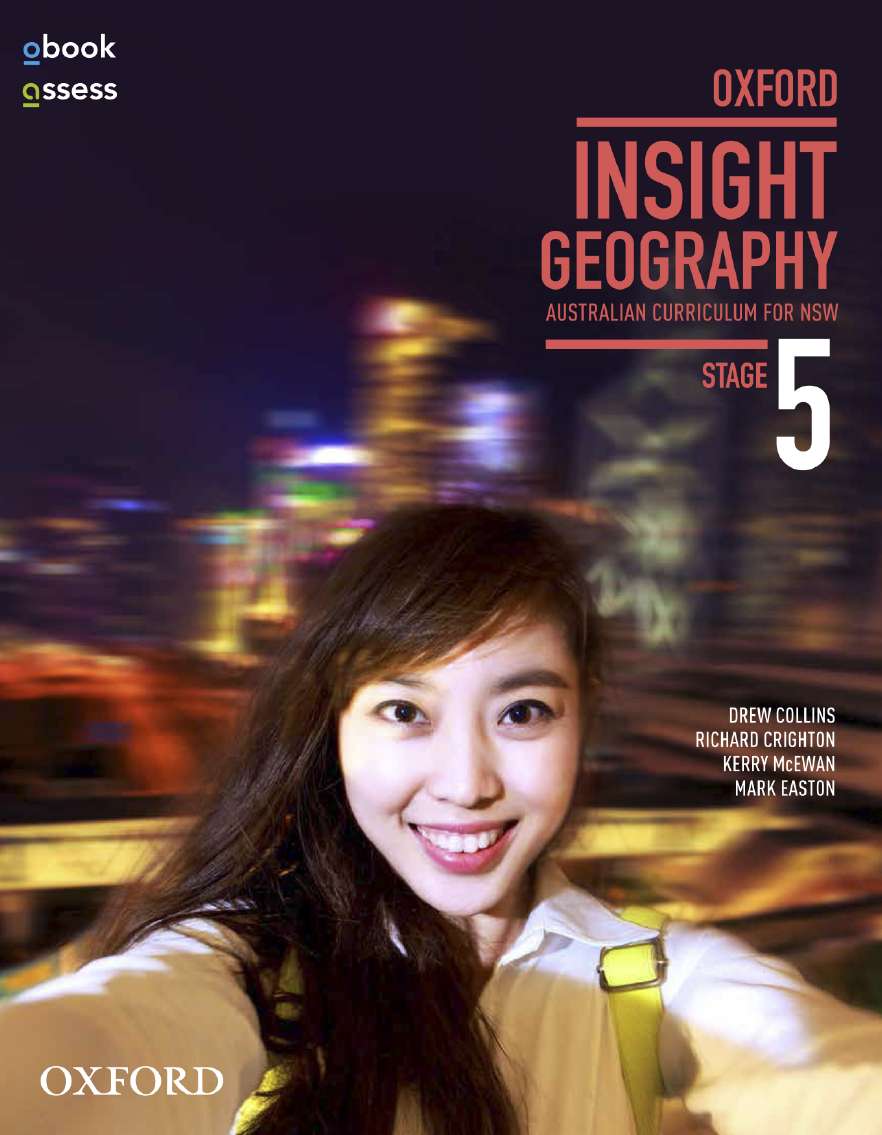 Oxford Insight Geography AC for NSW Stage 5 Student book + obook assess
| | |
| --- | --- |
| ISBN: | 9780190305048 |
| Binding: | Paperback + obook |
| Published: | 21 Oct 2016 |
| Availability: | 907 |
| Series: | |
$61.95 AUD
$71.99 NZD
Add To Cart
Request an inspection copy
Description
Oxford Insight Geography has been developed by NSW teachers to support the implementation of the NSW syllabus for the Australian Curriculum. Written specifically for the NSW Geography course, with content sequenced to the syllabus and organised around Key Inquiry Questions, this new series provides a complete teaching and learning program for Stage 5 across a range of print, digital and blended resources and is further enhanced by the Oxford Atlas.
Includes 120 skills worksheets at no extra cost
In addition:
Skills, concepts, tools and assessment are seamlessly integrated
The unique 'Checkpoint approach' ensures that students are continually given the opportunity to test their understanding of each syllabus dot point
Investigation questions are provided on every spread
The 'Geographer's Toolkit' provides a comprehensive reference tool to support concept and skills development
Highly accessible and easy to navigate with stunning visual representations and maps
The Student obook provides access to worksheets, interactives, videos and weblinks
24/7 assessment through assess included FREE with every obook - any device, anytime, anywhere.
Contents
THE GEOGRAPHER'S TOOLKIT
GT.1 Geographical concepts
GT.2 Geographical inquiry skills
GT.3 Geographical tools

UNIT 1: SUSTAINABLE BIOMES
1: Investigating Biomes
1.1 What are the main characteristics that differentiate the world's biomes?
1.2 How do people use and alter biomes for food production?
2: Food security: Feeding a hungry world
2.1 Can the world's biomes sustainably feed the world's population?
2.2 What are the environmental challenges to food production?
2.3 What strategies can be used to increase global food security?

UNIT 2: CHANGING PLACES
3: Urbanisation: Life in different cities
3.1 Why has the world become more urbanised?
3.2 How does urbanisation change environments and places?
3.3 What strategies are used to manage environmental change in urban places to enhance sustainability?
4: Migration: People on the move
4.1 How does migration impact on the concentration of people into urban places?
4.2 How does international migration impact on the concentration of people into urban places?

UNIT 3: ENVIRONMENTAL CHANGE AND MANAGEMENT
5: Environments
5.1 How do environments function?
6: Changing and managing the environment
6.1 How do people's worldviews affect their attitudes to and use of environments?
6.2 What are the causes and consequences of change in environments and how can this change be managed?
7: Investigative study: Coastal change and management
7.1 Why is an understanding of environmental processes and interconnections essential for sustainable management of coastal environments?
7.2 What are the causes and consequences of environmental change?
7.3 How can coastal changes be managed?

UNIT 4: HUMAN WELLBEING
8: Geographies of human wellbeing
8.1 What makes human wellbeing a geographical issue?
8.2 How can the spatial variations in human wellbeing and development be measured and explained?
9: Improving inequalities in wellbeing
9.1 What are the economic, social and environmental impacts of variations in development and wellbeing?
9.2 How do governments, groups and individuals respond to inequalities in development and human wellbeing for a sustainable future?
Authors
Drew Collins is Head of Geography at The King's School and has over 14 years' geography teaching experience in NSW and the United Kingdom.

Richard Crighton is Head of Geography at Knox Grammar School and has over 20 years' geography teaching experience. He is currently completing his Masters Degree in Education Leadership.

Kerry McEwan is Head Teacher HSIE at Barrenjoey High School and has over 25 years' geography teaching experience. Kerry has a Masters Degree in Education and is a GTANSW council member.

Mark Easton has taught Geography, History and English for over 20 years and during the last 15 years has been a contributing author to many geography, humanities and atlas titles. In 2010 he joined Oxford as a geography consultant to work on a range of titles and to support the use of these resources in the classroom. Mark is also the Head of the Humanities Department at St Margaret's School.
Sample Pages
Request an inspection copy