Big Ideas Humanities & Social Sciences 7 WA Curriculum Student book+obook assess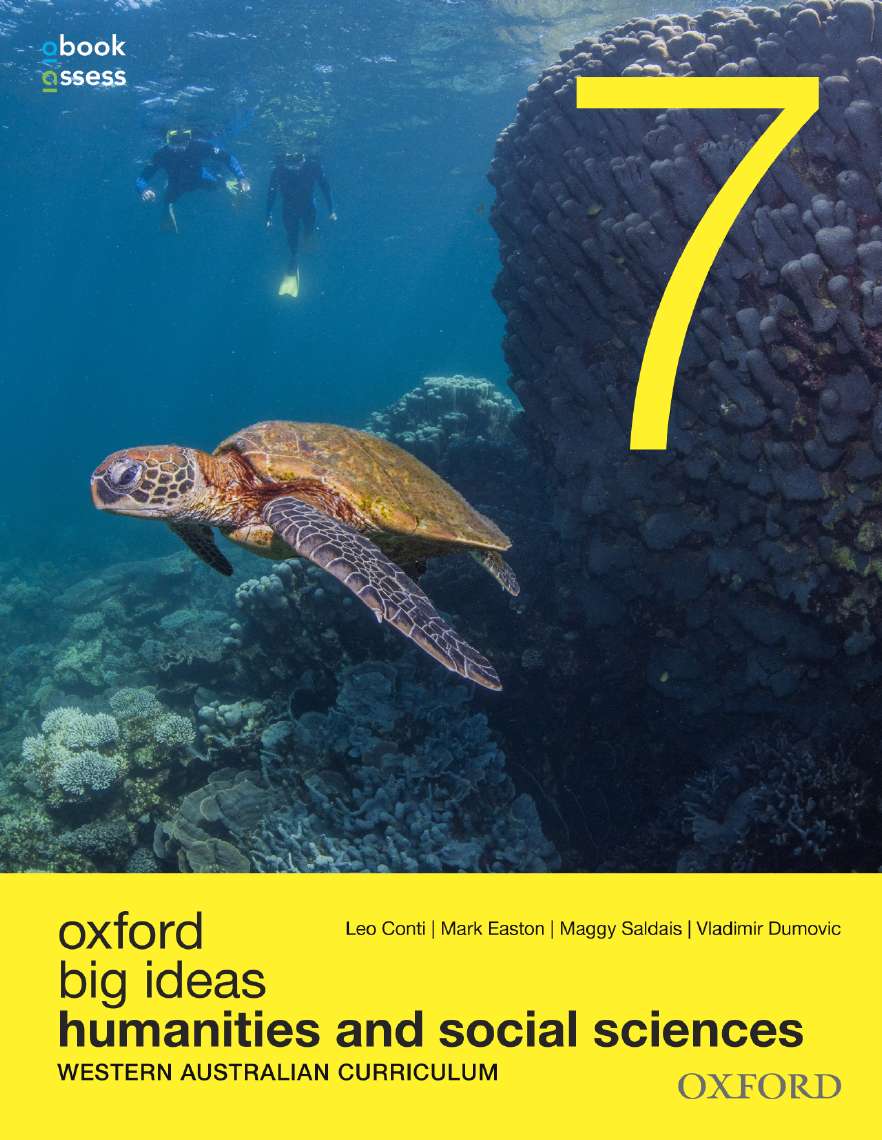 Big Ideas Humanities & Social Sciences 7 WA Curriculum Student book+obook assess
| | |
| --- | --- |
| ISBN: | 9780190307547 |
| Binding: | Paperback + obook |
| Published: | 12 Jan 2017 |
| Availability: | 999 |
| Series: | |
$59.95 AUD
$68.99 NZD
Add To Cart
Request an inspection copy
Description
Oxford Big Ideas Humanities Western Australian Curriculum provides complete coverage for the Humanities – Geography, History, Economics & Business and Civics & Citizenship – in one easy-to-use package. Take a semester-based approach or deliver separate year-long courses.

Key features:
Four books in one – ideal for semester-based courses
Fully revised and updated to meet the requirements of the Western Australian Curriculum: Humanities across Years 7–10
Complete coverage of all Civics & Citizenship, Economics & Business, Geography, and History content in a single learning package (print and digital)
Stand-alone skills toolkits cover key concepts and skills from the Western Australian Curriculum
All topics are supported by additional worksheets, answers, teacher notes, tests, interactives and videos.
Clear instructional language supports student understanding and a wealth of stunning images, illustrations and source materials engage even the most reluctant learners.
A range of self-marking quizzes mapped to SCSA content descriptors – offered FREE through obook assess.
obook assess
Oxford's premium digital learning solution encompasses a suite of resources to support teachers and students, including interactives, tests, answers, videos, differentiated worksheets, teaching notes and more.
Contents
PART 1: GEOGRAPHY

Concepts and skills: Geography

Chapter 1 The geography toolkit

Water in the world

Chapter 2 Water in the world

Place and liveability

Chapter 3 Liveable cities

Chapter 4 Living in Australia


PART 2: HISTORY

Concepts and skills: History

Chapter 5 The history toolkit

The ancient world

Chapter 6 The ancient world

Depth study 1: Investigating the ancient past

Chapter 7 Investigating the ancient past

Depth study 2: Investigating one ancient society

Chapter 8 Ancient Egypt

Chapter 9 Ancient Greece

Chapter 10 Ancient Rome

Chapter 11 Ancient India [obook only chapter]

Chapter 12 Ancient China


PART 3: ECONOMICS AND BUSINESS

Concepts and skills: Economics and business

Chapter 13 The economics and business toolkit

Producing and consuming

Chapter 14 Economic choices

Chapter 15 Innovation and entrepreneurship


PART 4: CIVICS AND CITIZENSHIP

Concepts and skills: Civics and citizenship

Chapter 16 The civics and citizenship toolkit

Designing our political and legal system

Chapter 17 Designing our political and legal system


Glossary

Index

Acknowledgements
Authors
Leo Conti is Head of Humanities at South Fremantle Senior High School and a Big Ideas author.

Mark Easton has taught Geography, History and English for over 20 years and during the last 15 years has been a contributing author to many geography, humanities and atlas titles. In 2010 he joined Oxford as a geography consultant to work on a range of titles and to support the use of these resources in the classroom. Mark is also the Head of the Humanities Department at St Margaret's School.

Maggy Saldais brings fifteen years' experience in educational publishing to her role as a History author. Maggy has a strong academic background in the discipline of History and a long-held commitment to engaging middle-years students in learning and discovery in her field of expertise.

Vladimir Dumovic is the Head of Humanities and Economics at Dandenong High School. He completed a combined Bachelor of Secondary Education and Bachelor of Commerce at Monash University and gained experience in the finance sector before beginning a career in education. Vladimir is an experienced author and a regular presenter at Victorian Commercial Teachers Association (VCTA) and subject-association conferences.

Richard Kostecki has been a teacher for 29 years and is currently Head of Humanities and Social Sciences at Mazenod College in Western Australia. He has also lectured and tutored undergraduate teachers at Notre Dame University Fremantle campus and has worked closely with the School Curriculum and Standards Authority (SCSA) in WA in areas relating to curriculum development, standards and examinations.
Sample Pages
Request an inspection copy