Oxford Insight History for NSW Year 7 Student Book + obook assess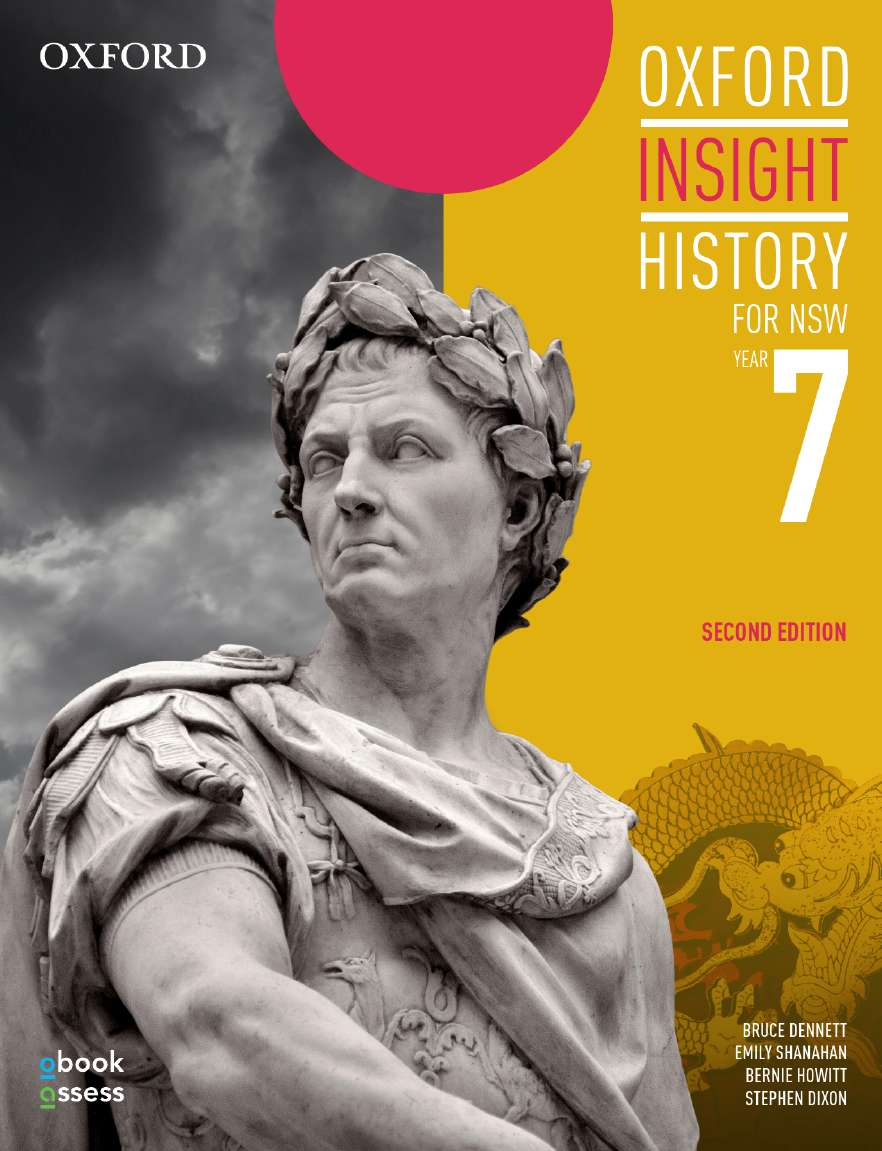 Oxford Insight History for NSW Year 7 Student Book + obook assess
| | |
| --- | --- |
| ISBN: | 9780190327385 |
| Binding: | Paperback + obook |
| Published: | 11 Dec 2020 |
| Availability: | 999 |
| Series: | |
$64.95 AUD
$74.99 NZD
Add To Cart
Description
Oxford Insight History for NSW 2E is an engaging, academically rigorous series that covers all depth studies in the NSW History syllabus for Stages 4 and 5/Years 7 to 10, presented in both single–year and stage–level formats.

To prepare students for the demands of the recently updated Stage 6 Ancient and Modern History syllabi, the new editions have been fully revised to feature an explicit focus on scaffolded historical skills development and inquiry-based learning.

Featuring the most up-to-date information, Oxford Insight History for NSW 2E also provides coverage of fresh case studies, recent events and historical findings and ideas.

Developed by NSW's most respected History authors and Oxford's award-winning publishing team, the series offers accessible print content designed to spark curiosity and initiative in students of all abilities, supported by improved online student resources and teacher support materials.

Key features:
Topic-based spreads provide structured teaching and learning
Stunning images and illustrations engage students and support deep inquiry
The Historian's toolkit provides a stand-alone reference for all historical skills and concepts that can be taught as a separate unit of work or revisited as required
Key content panels at the beginning of each section reinforce learning intentions
Source study activities invite students to analyse a range of primary and secondary sources designed to bring the past to life
Case study spreads provide opportunities to interrogate historical explanations and theories
Checkpoint questions linked to content dot points in the NSW History Syllabus appear at the end of every section and are accompanied by differentiated worksheets
Check your learning panels review student progress and provide opportunities for analysis and extension
Spotlight activities highlight key skills and concepts
Think, pair, share activities encourage student collaboration
Visible thinking prompts help develop students' critical thinking and analysis skills (perspective, analysis and use of sources)
Margin glossary definitions provide instant clarification of key terms
Contents
The Historian's toolkit: concepts and skills
PART A - INVESTIGATING THE ANCIENT PAST: AN OVERVIEW (DEPTH STUDY 1)
Chapter 1 Investigating the ancient past
PART B - THE MEDITERRANEAN WORLD: AN OVERVIEW (DEPTH STUDY 2)
Chapter 2 Ancient Egypt
Chapter 3 Ancient Greece
Chapter 4 Ancient Rome
PART C - THE ASIAN WORLD: AN OVERVIEW (DEPTH STUDY 3)
Chapter 5 Ancient India
Chapter 6 Ancient China
Authors
Dr Bruce Dennett has a PhD in History and a Master's Degree in Education. He is currently working as a Tertiary Supervisor for Macquarie University's School of Education. Bruce has more than forty years' experience teaching Ancient and Modern History in New South Wales secondary schools and at university level. Bruce is an active member of the History Teachers' Association of NSW (HTANSW) and has been awarded the Premier's History Teaching Scholarship twice. As well as authoring Insight History, Bruce is one of the lead authors of Oxford University Press's popular senior history series Key Features of Modern History.

Bernie Howitt is a former lecturer in History and Society & Culture Methods in the School of Education at the University of NSW. Bernie has been teaching History since the 1970s and is the winner of two NSW Premier's History scholarships. He has worked on syllabus development for both the Board of Studies NSW and ACARA. As well as authoring Insight History, Bernie is one of the lead authors of Oxford University Press's popular senior history series Key Features of Modern History.

Emily Shanahan has 15 years' teaching experience and is currently Director of Co-Curricular at Northern Beaches Christian School. This year she has presented at HTA's 2019 Teaching History Symposium and the HTANSW state conference, as well as two sessions at the National HTA conference. She has received several academic awards for her Master of Educational Leadership, and was awarded a NSW HTA Premier's History Scholarship for 2020.
Sample Pages