Oxford Humanities 7 Student Book+Student obook pro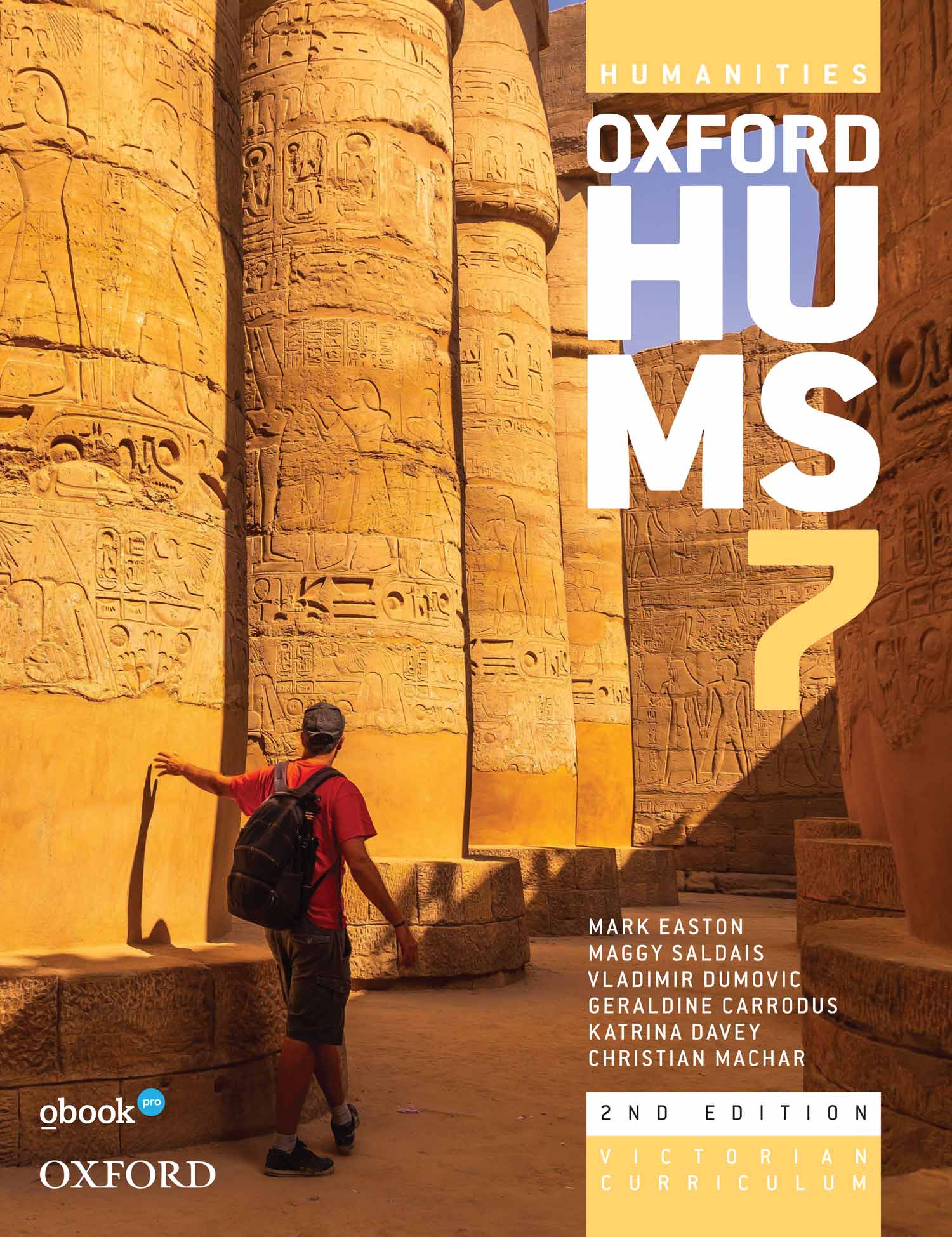 Oxford Humanities 7 Student Book+Student obook pro
| | |
| --- | --- |
| ISBN: | 9780190330873 |
| Binding: | Paperback + obook |
| Published: | 12 Jan 2022 |
| Availability: | 0 |
| Series: | |
$65.95 AUD
$75.99 NZD
Add To Cart
Description
Oxford Humanities 7–10 Student Books present a holistic, skills-first approach to teaching Humanities, delivering engaging content and developing students' key skills proficiency. Key features include:
learning outcomes linked to the curriculum that provide a clear learning pathway
easy-to-navigate layouts with clear, precise language and appealing visuals
engaging source materials, including stunning full-colour maps, photographs, data tables, satellite images, graphs and illustrations
open-ended rich tasks that encourage inquiry-based learning and application
up-to-date, local and relevant case studies
visible thinking prompts to support the development of students' critical thinking skills
a literacy focus on accessible language for every student
key skill and key concept boxes throughout the text to demonstrate the skills and concepts in context
on-page glossaries to support student literacy and aid navigation
self-contained, editable chapter review assessment tasks with marking rubric available to teachers
'Check your learning' questions to support and extend student understanding.
Contents
Chapter 1: The geography toolkit
Chapter 2: Water as a resource
Chapter 3: Valuing and managing water
Chapter 4: Living in Australia
Chapter 5: Liveable cities
Chapter 6: The history toolkit
Chapter 7: Introduction to Aboriginal and Torres Strait Islander peoples and cultures
Chapter 8: Ancient Australia
Chapter 9: Introduction to the European and Mediterranean world
Chapter 10: Ancient Egypt
Chapter 11: Ancient Greece
Chapter 12: Ancient Rome
Chapter 13: Introduction to the Asia-Pacific world
Chapter 14: Ancient India
Chapter 15: Ancient China
Chapter 16: The economics and business toolkit
Chapter 17: Economic choices
Chapter 18: Finance and consumers
Chapter 19: Civics and citizenship toolkit
Chapter 20: The identity of a nation
Authors
Mark Easton has taught Geography, History and English for more than 20 years and during the past 15 years has been a contributing author to many Geography and Humanities titles, as well as atlases. In 2010 he joined Oxford as a Geography consultant to work on a range of titles and to support the use of these resources in the classroom.

Maggy Saldais brings fifteen years' experience in educational publishing to her role as a History author. Maggy has a strong academic background in the discipline of History and a long-held commitment to engaging middle-years students in learning and discovery in her field of expertise.

Vladimir Dumovic is the Head of Humanities and Economics at Dandenong High School. He completed a combined Bachelor of Secondary Education and Bachelor of Commerce at Monash University and gained experience in the finance sector before beginning a career in education. Vladimir is an experienced author and a regular presenter at Victorian Commercial Teachers Association (VCTA) and subject-association conferences.

Geraldine Carrodus has taught History in Victorian schools for more than 40 years. She was an examiner in Australian History from the 1970s and was Chair of the Setting Panel and Chief Assessor from 2000 until 2005. She has written or co-written a number of History texts used in schools and has been a regular speaker at HTAV conferences for students and teachers.

Geraldine had been part of the consultation process on the Australian Curriculum. In 2006, Geraldine was honoured with the presentation of an HTAV award for Excellent and Sustained Contribution to the Teaching and Learning of History and to the HTAV.

Katrina Davey is an accomplished VCE History and Geography teacher. She has a passion for developing curriculum and has lead Humanities faculties at numerous Victorian schools. Katrina has shown a strong commitment to the History Teachers' Association of Victoria (HTAV), writing VCE textbooks and examination materials, presenting regularly at conferences and mentoring History teachers. She enjoys contributing to education periodicals and in 2017 led a successful History curriculum project awarded the Victorian State Winner of the Federal Government's Anzac Day School's Award.

Katrina was part of the consultation process for the Australian Curriculum for Geography and strongly advocates the importance of all Humanities disciplines.

Christian Machar has been teaching for 14 years and is the current Head of Middle School Humanities at Brighton Grammar School. He previously worked at Geelong Grammar School's Timbertop Year 9 Campus from 2011 to 2014 as Coordinator of History.

Christian regularly presents workshops at History Teachers' Association of Victoria (HTAV) and History Teachers' Association of Australia (HTAA) conferences.