Oxford Humanities 10 Student obook pro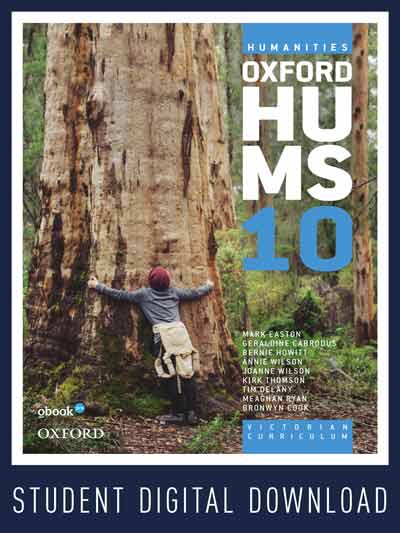 Oxford Humanities 10 Student obook pro
| | |
| --- | --- |
| ISBN: | 9780190331108 |
| Binding: | obook code (digital) |
| Published: | 22 Jan 2022 |
| Availability: | Available |
| Series: | |
$45.95 AUD
$51.99 NZD
Add To Cart
Add To Cart
Description
Oxford Humanities 7–10 Student Books present a holistic, skills-first approach to teaching Humanities, delivering engaging content and developing students' proficiency in key skills.
An innovative upgrade to existing obook capabilities, obook pro features market-leading interactive resources and enhanced assessment, tracking and reporting functionality, all hosted on the revamped Oxford Digital platform.
Student obook pro features include:
a complete digital version of the Student Book with search, note-taking, highlighting, annotating, and bookmarking functionality
hotspots that link to digital resources including interactives, videos, worksheets and websites
innovative Quizlet content including real-time online quizzes with
live leaderboards and fun study activities
videos and weblinks to engage students and supplement the key content
differentiation worksheets for every chapter, designed to support and extend understanding of key content from the curriculum
interactive layered maps
interactive activities to consolidate student understanding of key content
chapter reviews with additional questions to further consolidate understanding and practise key skills
interactive, auto-marking quizzes
a history of all assessment results enabling students to track their progress
integrated Australian Concise Oxford Dictionary look-up feature.
Contents
Chapter 1: The geography toolkit
Chapter 2: Changing and managing the environment
Chapter 3: Coastal change and management
Chapter 4: An unequal world
Chapter 5: Inequalities in wellbeing
Chapter 6: Improving wellbeing
Chapter 7: The history toolkit
Chapter 8: Introduction to Australia at war (1914-1945)
Chapter 9: World War II (1939-1945)
Chapter 10: Introduction to rights and freedoms
Chapter 11: Rights and freedoms
Chapter 12: Introduction to the globalising world
Chapter 13: Popular culture
Chapter 14: The environment movement
Chapter 15: Migration experiences
Chapter 16: Political crisis: the Vietnam War
Chapter 17: The economics and business toolkit
Chapter 18: Measuring Australia's economic performance
Chapter 19: Living standards
Chapter 20: The business environment
Chapter 21: Civics and citizenship toolkit
Chapter 22: Australia's democracy and the global context
Chapter 23: The Australian Constitution and the High Court
Chapter 24: Australia's international legal obligations
Authors
Mark Easton has taught Geography, History and English for more than 20 years and during the past 15 years has been a contributing author to many Geography and Humanities titles, as well as atlases. In 2010 he joined Oxford as a Geography consultant to work on a range of titles and to support the use of these resources in the classroom.
Geraldine Carrodus has taught History in Victorian schools for more than 40 years. She was an examiner in Australian History from the 1970s and was Chair of the Setting Panel and Chief Assessor from 2000 until 2005. She has written or co-written a number of History texts used in schools and has been a regular speaker at HTAV conferences for students and teachers.
Geraldine had been part of the consultation process on the Australian Curriculum. In 2006, Geraldine was honoured with the presentation of an HTAV award for Excellent and Sustained Contribution to the Teaching and Learning of History and to the HTAV.
Bernie Howitt is a former lecturer in History and Society & Culture Methods in the School of Education at the University of NSW. Bernie has been teaching History since the 1970s and is the winner of two NSW Premier's History scholarships. He has worked on syllabus development for both the Board of Studies NSW and ACARA. As well as authoring Insight History, Bernie is one of the lead authors of Oxford University Press's popular senior history series Key Features of Modern History.
Annie Wilson is an experienced Civics, Commerce and VCE Legal Studies teacher who has been passionately teaching and developing curriculum materials for more than 35 years. She is the author of numerous textbooks and has prepared a range of teaching and learning resources for various publishers and subject associations.
Annie currently teaches at Camberwell Girls Grammar School and is the VCE Legal Studies Subject Editor for the Victorian Commercial Teachers Association's Compak publication. She is also actively involved in providing professional development to VCE Legal Studies teachers and student revision lectures.
Joanne Wilson is a writer, publisher and teacher with many years' experience in the education sector. Having taught in both private and government schools, Joanne is an accomplished History teacher and has contributed to numerous textbooks and digital learning resources in the field of Humanities and Social Science.
Kirk Thomson is a passionate history teacher at St Bede's College in Mentone. Having regularly taught history from Years 8 to VCE Twentieth Century and History Revolutions, Kirk's professional goal is to help build historical skills from Years 7–10. This allows students to develop an understanding of the content and organise their ideas through a structured format.
Kirk has spoken at HTAV Conferences since 2019, providing engaging methods and materials for developing these skills, which led to the opportunity to become an author for Oxford University Press in 2020.
Tim Delany has worked as a teacher and principal in a number of Government schools. He has contributed to a number of texts relating to History and International Studies and has managed curriculum projects for the Department of Education in Victoria and for Social Education Victoria (SEV). He currently works for the Australian Education Union, mentoring and supporting principals and aspiring principals in Victorian Government schools.
Meaghan Ryan is a creative 7-VCE History teacher currently teaching at St. Bede's College in Melbourne. She is passionate about actively promoting humanities within her school community by bringing history to life for her students and other teachers. She has developed several core and elective history units which are both engaging for students and promote skill development in the middle years, while preparing students for VCE.
Meaghan has presented at HTAV conferences, with a focus on captivating students through content while teaching transferable skills throughout history units. She has also shared her teaching and learning resources with HTAV and GTAV since 2019. Meaghan is passionate about helping students fall in love with History through engaging and meaningful content and activities.
Bronwyn Cook has taught History in Victorian Government schools for the past 17 years and currently teaches at Dandenong High School. She is especially supportive of strong History programs for those who experience social disadvantage and has spoken on teaching History to diverse cohorts at several History education conferences.
Bronwyn holds a Master of Education (Studies of Asia) and is currently completing her PhD on representations of the Vietnam War in Victorian education artefacts.