Oxford Insight Mathematics Standard 2 Year 12 Student obook assess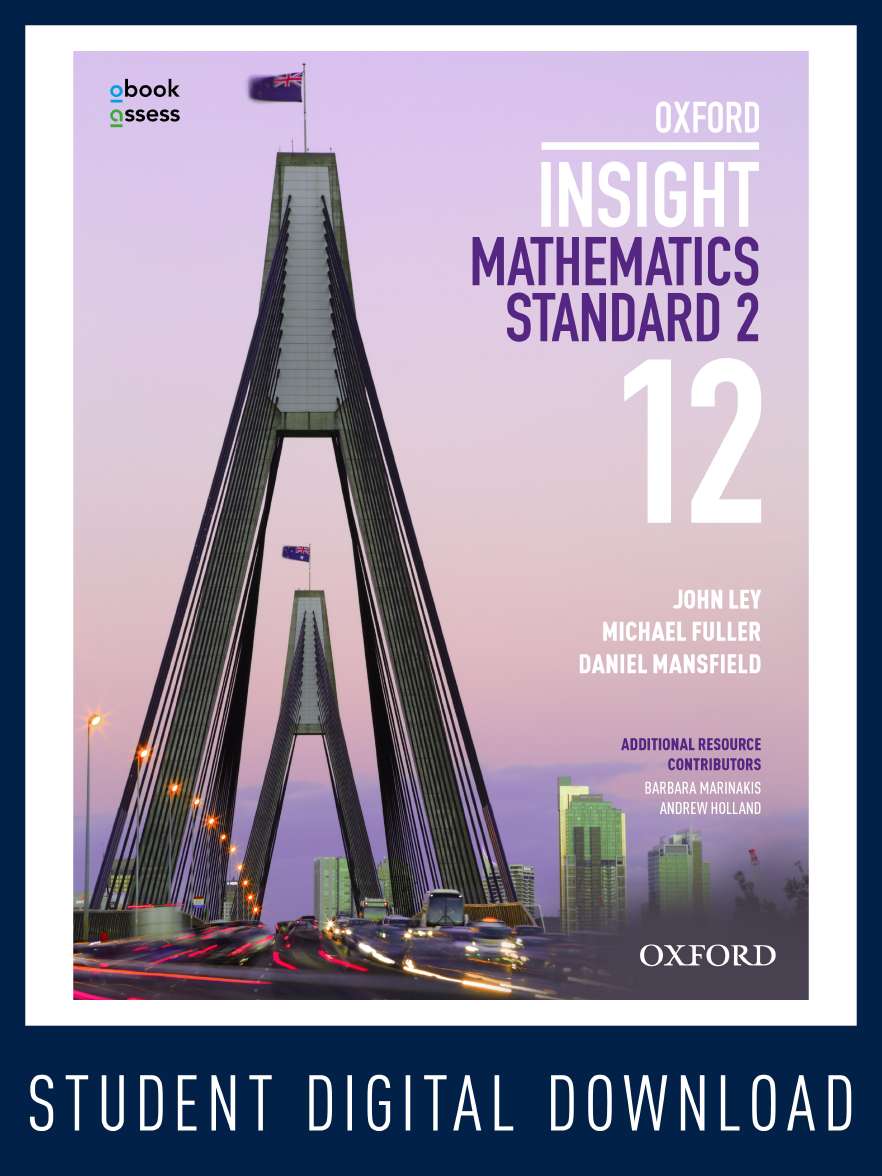 Oxford Insight Mathematics Standard 2 Year 12 Student obook assess
| | |
| --- | --- |
| ISBN: | 9780190312152 |
| Binding: | obook code (digital) |
| Published: | 15 Jan 2019 |
| Availability: | Available |
| Series: | |
$62.95 AUD
$71.99 NZD
Add To Cart
Description
obook assess is a cloud-based obook that students can use anywhere, anytime on any device.

obook assess provides students with access to:
a complete digital version of the Student book with added note-taking and bookmarking functionality
targeted instructional videos by a team of Australia's most experienced mathematics teachers designed to help students prepare for assessment tasks and exams
interactives
a range of support sheets for every chapter, designed to consolidate and extend understanding of key points from the syllabus
investigations, including problem solving tasks and application tasks
a range of worksheets for additional practice in each chapter
spreadsheets for students to develop their ICT capacity and cover key syllabus applications
a range of interactive, auto-correcting, multiple-choice assess quiz questions.
Contents
CHAPTER 1: Investments, depreciation and loans
CHAPTER 2: Non-right-angled trigonometry
CHAPTER 3: Rates and ratios
CUMULATIVE REVIEW CHAPTERS 1–3

CHAPTER 4: Simultaneous linear equations
CHAPTER 5: Bivariate data analysis
CHAPTER 6: Network concepts
CHAPTER 7: Annuities
CUMULATIVE REVIEW CHAPTERS 4–7

CHAPTER 8: Non-linear relationships
CHAPTER 9: The normal distribution
CHAPTER 10: Critical path analysis
CUMULATIVE REVIEW CHAPTERS 8–10

Note: Contents subject to change prior to publication
Authors
John Ley
John is a passionate and innovative mathematics educator. He is currently completing his PhD in mathematics education, while lecturing and tutoring at Australian Catholic University and the University of Western Sydney. John has held an array of teaching positions including Head of Mathematics, Assistant Principal and Acting Principal. An experienced senior marker for the HSC, John was a member of the 2012–2014 assessment committees, setting the HSC calculus course examinations. John is the lead author of the Oxford Insight Mathematics series for NSW.

Michael Fuller
Michael has been involved in Mathematics in NSW for many years. He held the position of Head of Mathematics at Killara High School in Sydney for 24 years. In his retirement, Michael is now a key author on the Oxford Insight Mathematics series for NSW.

Daniel Mansfield
Daniel is a Lecturer in Mathematics at UNSW Sydney. In 2015 he was presented with a Vice Chancellor's Award for Teaching Excellence, and in 2017 he won one of the KPMG Inspiring Teacher Awards. He has previously created online professional development courses for secondary school teachers, and presented on the subject of Networks at the 2017 MANSW Annual Conference.