Psychology for Queensland Units 3&4 Student workbook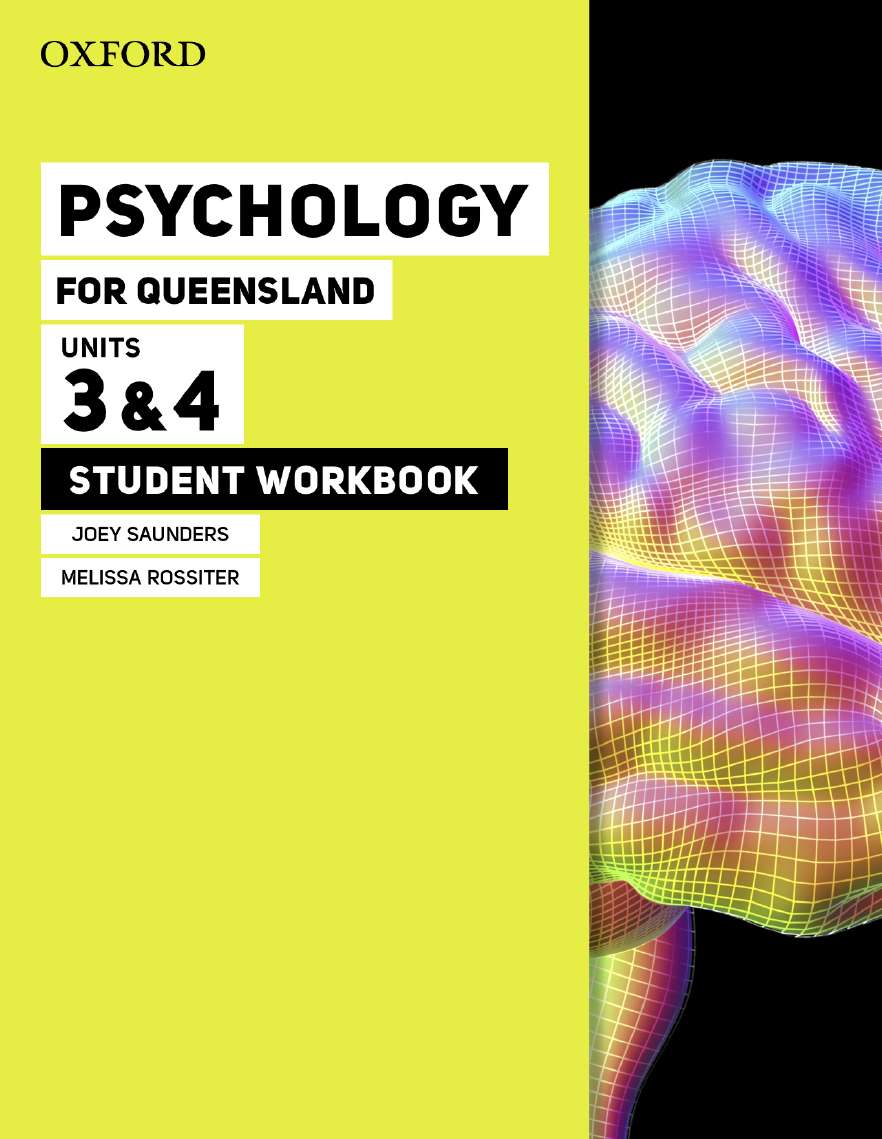 Psychology for Queensland Units 3&4 Student workbook
| | |
| --- | --- |
| ISBN: | 9780190320393 |
| Binding: | Paperback |
| Published: | 14 Oct 2019 |
| Availability: | 999 |
| Series: | |
$24.95 AUD
$28.99 NZD
Add To Cart
Description
Psychology is offered as a Senior Science subject in Queensland for the first time from 2019.

The new syllabus is designed to help develop the 21st-century skills and knowledge students need for success in their future work and life.

As EPAA Secondary Publisher of the Year 2017, 2018 and 2019, Oxford University Press is committed to helping teachers and students in Queensland reach their full potential.

Psychology for Queensland Student workbooks are standalone resources designed to help students succeed in their internal and external assessments. With an engaging design, full-colour photos and relevant diagrams throughout, the Student workbooks include:
a Toolkit chapter focused on internal assessments and cognitive verbs
Data drill activities that help students develop the key skills in analysis and interpretation required for the Data test
Experiment explorer activities that support the modification of a practical as required in the Student experiment
Research review activities that allow students to practise how to evaluate a claim and identify credible sources for the Research investigation
Exam excellence activities that allow students to practice multiple choice and short answer questions in preparation for the external examination
handy study tips throughout the chapters
practice internal assessments for the Data test, Student experiment and Research investigation
write-in worksheets for all mandatory and suggested practicals
answers to all activities and practice assessments.
Contents
Chapter 1 The Psychology Toolkit
Responding to cognitive verbs
The Data test
1A Data Drill
The Student Experiment
1B Experiment Explorer
The Research Investigation
1C Research review

UNIT 3: INDIVIDUAL THINKING

Chapter 2 The nervous system and the brain
2A Data drill
2B Experiment explorer
2C Research review
2D Exam excellence

Chapter 3 Neurons and neurotransmitters
3A Data drill
3B Experiment explorer
3C Research review
3D Exam excellence

Chapter 4 Visual perception
4A Data drill
4B Experiment explorer
4C Research review
4D Exam excellence

Chapter 5 Influence on visual perception
5A Data drill
5B Experiment explorer
5C Research review
5D Exam excellence

Chapter 6 The fallibility of visual perception
6A Data drill
6B Experiment explorer
6C Research review
6D Exam excellence

Chapter 7 Understanding memory
7A Data drill
7B Experiment explorer
7C Research review
7D Exam excellence

Chapter 8 Brain structures involved in memory
8A Data drill
8B Experiment explorer
8C Research review
8D Exam excellence

Chapter 9 How we remember and forget
9A Data drill
9B Experiment explorer
9C Research review
9D Exam excellence

Chapter 10 Learning
10A Data drill
10B Experiment explorer
10C Research review
10D Exam excellence

Unit 3 Practice Assessment
Data test
Student experiment
Research investigation

UNIT 4: THE INFLUENCE OF OTHERS

Chapter 11 Social Psychology
11C Research review
11D Exam excellence

Chapter 12 Status and power in groups
12C Research review
12D Exam excellence

Chapter 13 Pro- and Anti-social behaviour
13C Research review
13D Exam excellence

Chapter 14 Aggression
14C Research review
14D Exam excellence

Chapter 15 Attraction and relationships
15C Research review
15D Exam excellence

Chapter 16 Attitudes and bias
16C Research review
16D Exam excellence

Chapter 17 Stereotypes, prejudice and discrimination
17C Research review
17D Exam excellence

Chapter 18 Community and culture
18C Research review
18D Exam excellence

Chapter 19 Cultural diversity
19C Research review
19D Exam excellence

Unit 4: Practice Assessments
Research investigation

Chapter 20 Practical manual
Answers
Authors
Joey Saunders
Joey Saunders has taught Psychology across VCE and IB extensively and was an expert writing team member in the QCAA Psychology syllabus development. Joey is currently Senior Science Psychology Teacher and Acting head of house at Ipswich Girls Grammar School.

Melissa Rossiter
Melissa Rossiter has taught Psychology for the past 20 years. She is a senior examiner for the IB and was an expert writing team member in the QCAA Psychology syllabus development. Melissa is currently teaching at St Peters Lutheran college where she is the coordinator of Psychology and the extended essay.
Sample Pages