Biology for VCE Units 1&2 Student Book+Student obook pro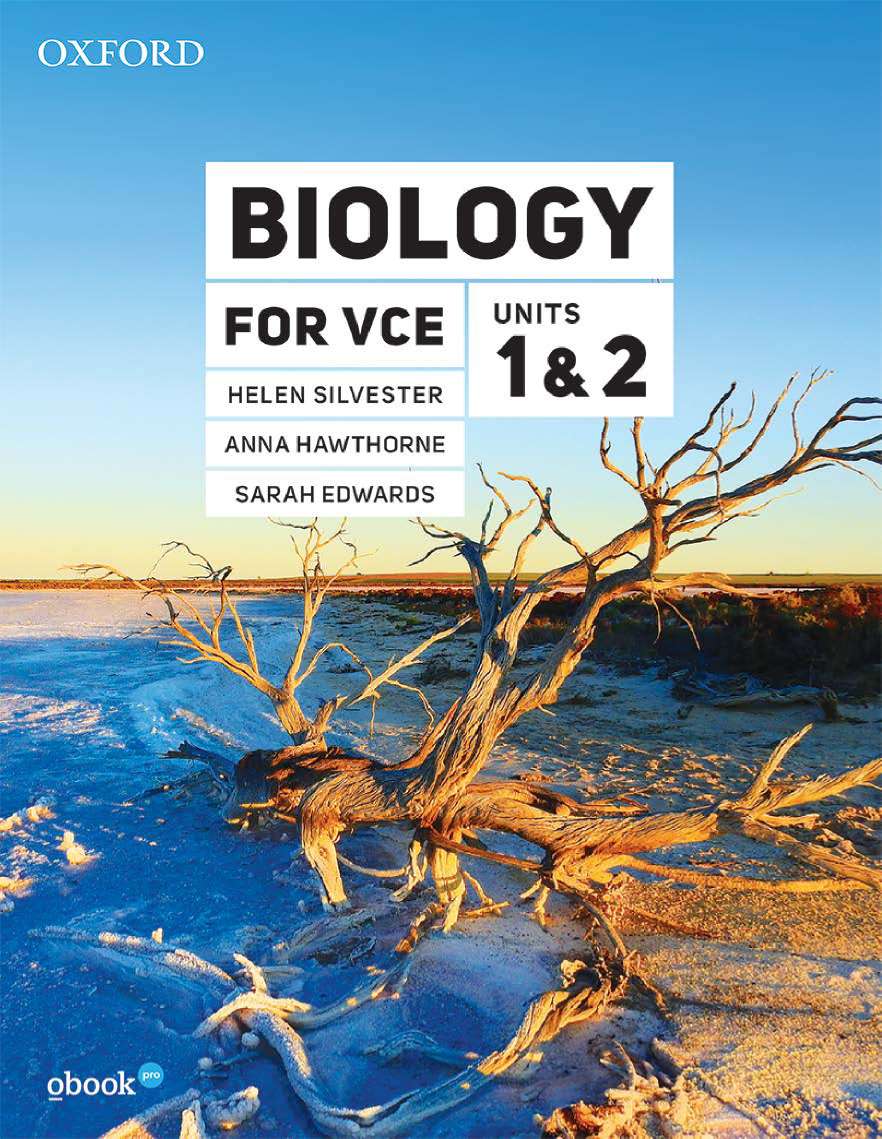 Biology for VCE Units 1&2 Student Book+Student obook pro
| | |
| --- | --- |
| ISBN: | 9780190325527 |
| Binding: | Paperback + obook |
| Published: | 11 Nov 2021 |
| Availability: | Forthcoming |
| Series: | |
$79.95 AUD
$91.99 NZD
Add To Cart
Description
VCE Biology is changing with a revised Study Design scheduled for implementation from January 2021.
Biology for VCE is a new series that provides everything you need for assessment success. The series includes Student books, Student workbooks and a suite of digital resources, assessment tools and exam preparation materials.
You can trust our expert Victorian authors and award-winning publishing team to support you with the tools needed to confidently implement the new Study Design, save time while lesson planning and ensure the best learning outcomes for your students.
Biology for VCE Units 1 & 2 covers Study Design content from Unit 1: How do organisms regulate their functions? and Unit 2: How does inheritance impact on diversity?
The Student book features a simple, engaging design with targeted on-page features that support student understanding and progression and is backed by an extensive offering of digital resources for teachers and students via the obook assess platform.
Contents
Chapter 1: Biology toolkit

UNIT 1: HOW DO ORGANISMS REGULATE THEIR FUNCTIONS?
Chapter 2: Cell structure and function
Chapter 3: The cell cycle
Chapter 4: Biological systems
Chapter 5: System regulations
Chapter 6: Chromosomes and genomes
Chapter 7: Genotypes and phenotypes

UNIT 1 Practice SACs

UNIT 2: HOW DOES INHERITANCE IMPACT ON DIVERSITY?

Chapter 8: Inheritance
Chapter 9: Reproduction
Chapter 10: Adaptation and diversity
Chapter 11: Practical work

UNIT 2 Practice SACs

UNITS 1 & 2 Practice exam questions

Glossary
Index
Appendix: Periodic table
Authors
Helen Silvester (Lead author): Helen Silvester has been an educator for over 20 years and has held Head of Science positions in a number of schools. She was shortlisted for the 2014 and 2017 Prime Minister's Secondary Science Prize for Excellence in Science Teaching in Secondary Schools and was Victoria's representative for the BHP Billiton Science Teachers Awards. Helen has a wealth of experience writing and reviewing and has been an active participant in the Australian Science Teachers Association (ASTA), Australian School Science Information Support for Teachers and Technicians (ASSIST) and Science Teachers Association Victoria (STAV). Helen has also worked as a researcher at Walter and Eliza Hall Institute and the Royal Children's Hospital. Currently Helen is Director at the STEAM-focused Casey Tech School.
Anna Hawthorne (Author): Anna Hawthorne has been an educator for five years and has a wide range of experience teaching Science 7–10, Maths 7–10 and VCE Biology at Mentone Girls' Grammar. She is currently designing a Science and Enterprise elective for Year 10 students.
Sarah Edwards (Author): Sarah Edwards has been an educator for ten years and has taught at Mentone Girls' Grammar. Sarah has a wealth of experience teaching Science 7–10 and Biology, and was a previous Head of Science in New Zealand. Sarah currently works as a STEAM educator at Casey Tech School.
Michelle Moore (Lab technician): Michelle Moore is an extremely respected and highly experienced laboratory technician with 40 years of experience in various areas of research and education. Michelle has an Associate Diploma in Applied Science and worked in high school laboratories for over 20 years. Michelle currently works alongside Helen Silvester and Sarah Edwards at Casey Tech School.
Dr. Gary Simpson (Reviewer): Dr. Gary Simpson has a wealth of experience teaching VCE Biology, Environmental Science and Geography. He currently teaches Junior Science 9–10 at Woodleigh High School and was previously Head of Science. Gary received ACEL's inaugural Teacher Leader Award in 2007 and was inducted into the Zoos Victoria Hall of Fame in 2015.
Dr. Kyi Muller (Reviewer): Dr. Kyi Muller is a highly-trained biology researcher and educator with over 8 years teaching experience. She has a doctorate in marine biology and has taught biology in both the UK and Australia. Kyi has worked at Haileybury for the last four years as Head of Science and more recently as the Director of Innovation and Entrepreneurship, working across all year levels and campuses. She is extremely passionate about science education and was previously the Program Director for Curious Minds – an Australian Government initiative to increase girls' access to STEM education. Kyi was also awarded the 2019 Graeme Clarke Science Innovation in Schools Award.